Let the speculation Dwayne Johnson might be joining the Marvel Cinematic Universe continue as The Rock reacts overwhelmingly and positively in favor of Tom Holland returning as Spider-Man to the MCU.
Following the earlier news that saw Disney and Sony jointly announce Tom Holland and Spider-Man will continue to be a part of the MCU, Holland reacted on Instagram with a video of Leonardo DiCaprio from The Wolf of Wall Street that sees a worried bunch of stock brokers react to DiCaprio's character telling them, "I'm not f–ing leaving!"
Dwayne Johnson also reacted to the Spider-Man news as he commented on the video with two big words: "F–k. Yes."
Check out the screenshot: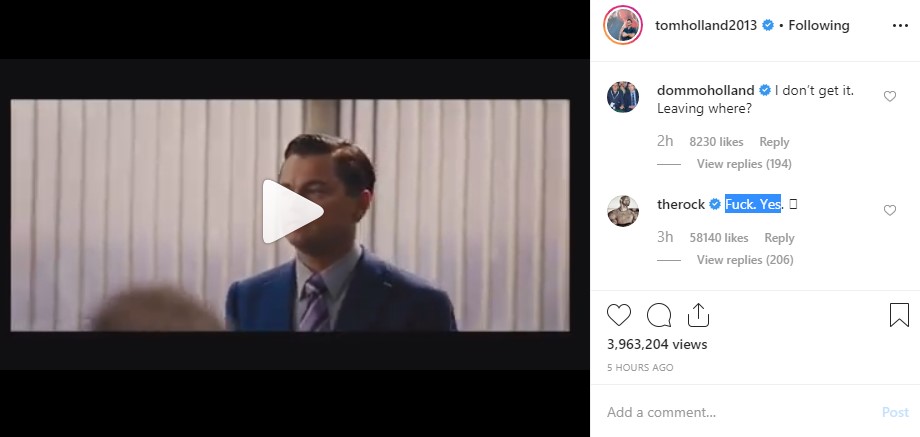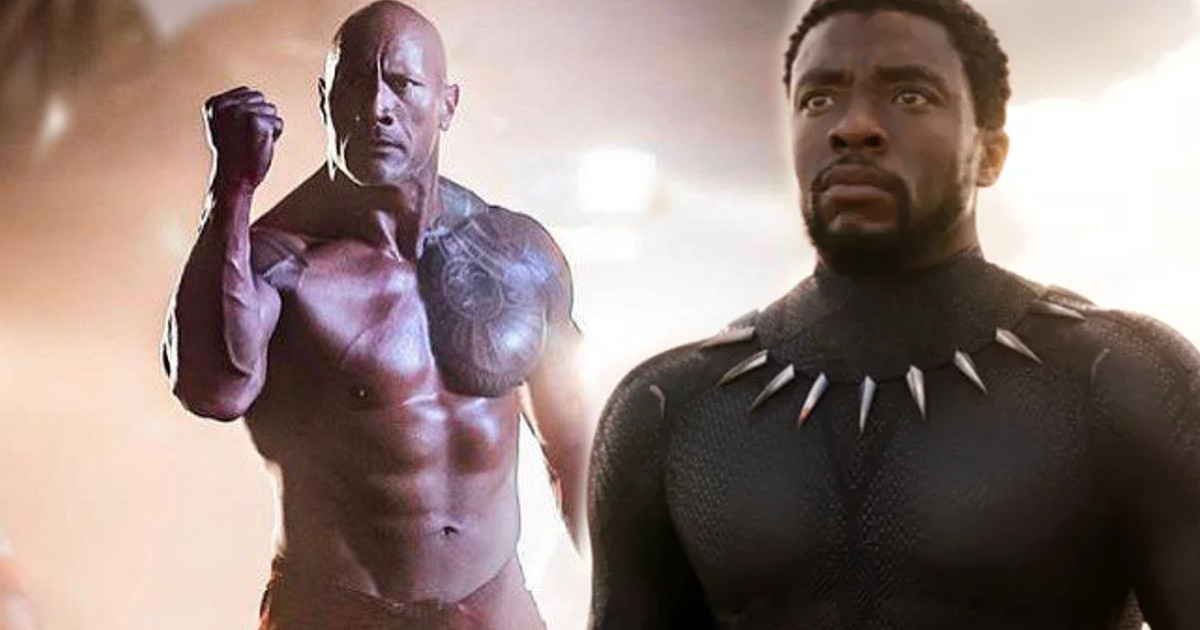 Dwayne Johnson coming to Marvel?
Regarding the possibility of Dwayne Johnson coming to Marvel, as The Rock is slated to star as Black Adam in the DCEU, while it is considered to be rumor at this time, it has been said it could be happening.
The rumor mill first started to churn when I was the first to report on how Dwayne Johnson revealed that he was going to have a dinner meeting with Marvel Studios president Kevin Feige, which followed the release and success of The Avengers: Endgame.
Following the realization that Dwayne Johnson was going to meet Kevin Feige, speculation then led to The Rock possibly having some sort of voice role in a Marvel movie, similar to his Fast and Furious co-star, Vin Diesel, who voices Groot in the Guardians of the Galaxy movies, but is also starring as a different comic book character with Bloodshot. So possibly Johnson could star as Black Adam in the DCEU, but voice a Marvel character in the MCU.
The Thing from the Fantastic Four actually came up as a potential voice contender for Johnson, as the FF are now back with Disney Marvel.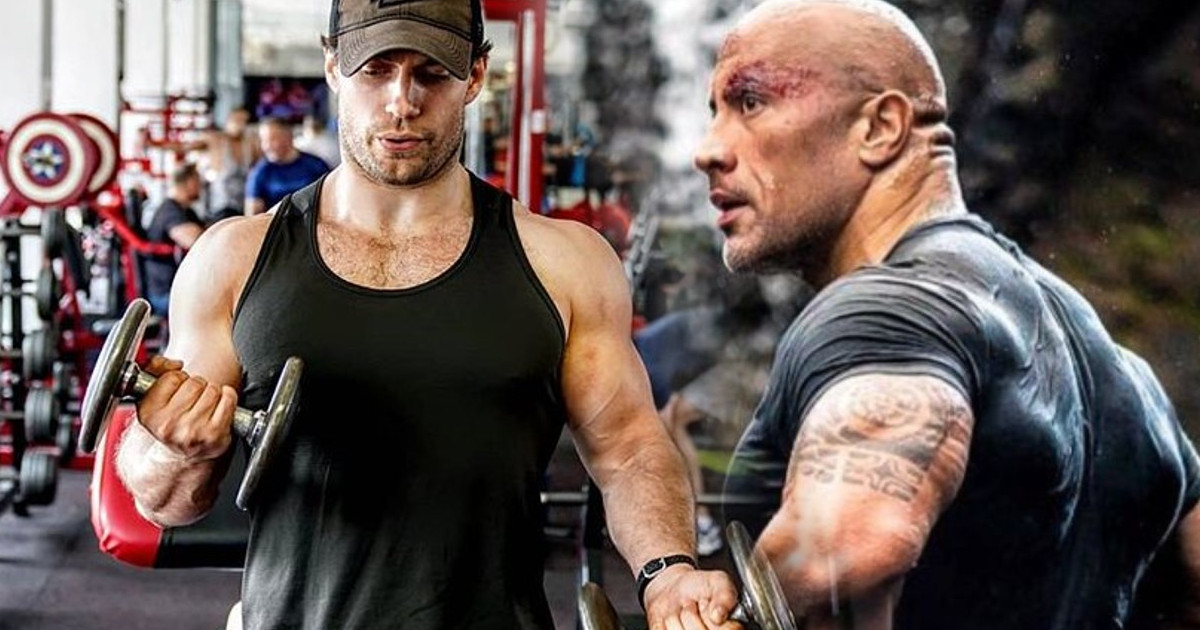 Dwayne Johnson, Henry Cavill coming to MCU?
However, things got more interesting with a rumor that said both Dwayne Johnson and Henry Cavill may be coming to the MCU. Interestingly enough, on two separate occasions, both Johnson and Cavill teased the Captain America shield (see below).
Rumors have it that Dwayne Johnson is in deep talks with Kevin Feige to play the villain of Black Panther 2 with Namor. What's pretty interesting is that similar to Black Adam, Namor is more or less considered an anti-hero. For Henry Cavill, he is said to possibly be playing the US Agent in the MCU.
The rumor has it that Dwayne Johnson isn't happy that WB is slashing his budget on Black Adam, so The Rock might be headed to Marvel. What should be further noted is that both Johnson and Henry Cavill share the same manager; so with it also said J.J. Abrams is recasting with a younger Superman, we see things (no pun intended) might be a bit rocky at WB with Johnson and Cavill and that they both might head to greener pastures at Marvel.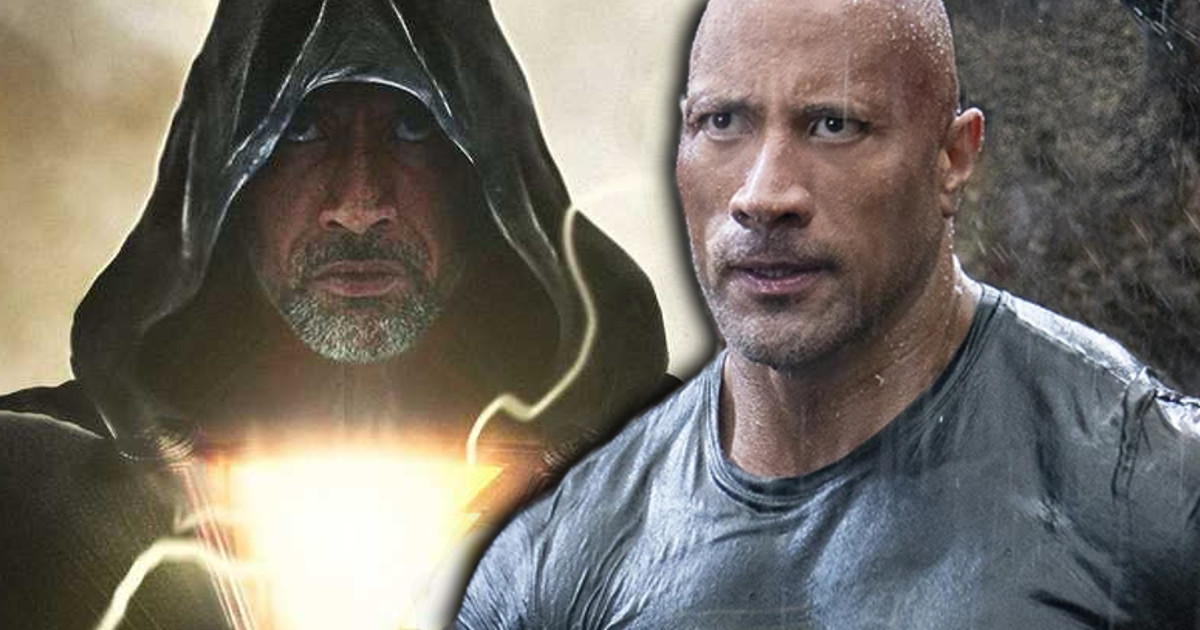 Dwayne Johnson name drops Spider-Man not Black Adam
We're not done yet talking about Dwayne Johnson potentially coming to Marvel, though, as The Rock recently appeared on a talk show where he was asked about playing a superhero role, which – oddly enough and out of character – saw Johnson not plug Black Adam.
Dwayne Johnson appeared on the The Kelly Clarkson Show where he didn't mention Black Adam at all, but did name drop Marvel movies — including Spider-Man.
Here are the two pics with The Rock and Henry Cavill sporting Captain America shields: