I guess Shazam! can't strike lightning twice as Fury of the Gods is currently bombing on Rotten Tomatoes and also explains why the reviews have been only allowed to be posted at the last minute, a day prior to the film's release.
The first movie released in 2019 has a Rotten Tomatoes Score of 90% and an Audience Score of 82%, the sequel?
With the first batch of reviews posted, Shazam: Fury of the Gods has a current Rotten Tomatoes Score of 66%. Talk about a misfire!
Update: Score has dropped to 53%.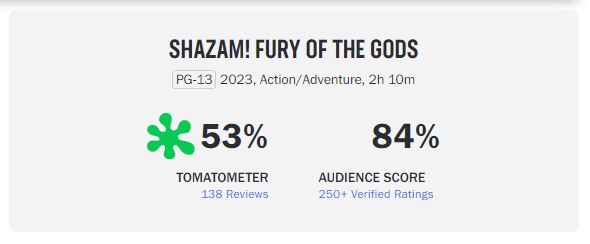 More bad news comes that the movie is tracking for a dismal opening, possibly as low as $25 million, but maybe as high as $35 million if word of mouth is any good. The first film opened to $53 million and brought in over $365 million worldwide.
However, with the critics slamming the movie, you have to wonder what the fans will think as Shazam: Fury of the Gods already has some things going against it including that the DCU is getting rebooted under James Gunn so why bother to go see the movie?
Similar to Black Adam which also bombed, but possibly not as big as Fury of the Gods, the sequel also has a big cameo from one of Zack Snyder's DCEU actors and characters, which just like the return of Henry Cavill as Superman, isn't doing anything for the movie. Where are all the Snyder Cultists who want DC and Justice League sold to Netflix? They're not watching Superman and Wonder Woman.
We also once again see the first reactions that hit social media are nothing but shill reviews as much like every other movie they are invited to by the studios – just like Thor: Love and Thunder and Ant-Man and the Wasp: Quantumania – there was nothing but good things said. Wonder what it means for Dungeons and Dragons: Honor Anong Thieves?
A rumor also offers that Zachary Levi is done with the role, which is likely judging by the box office and reviews.
Below you can check out what the negative reviews have to say.
Shazam: Fury of the Gods directed by David F. Sandberg is now in theaters with Thursday previews and officially opens Friday.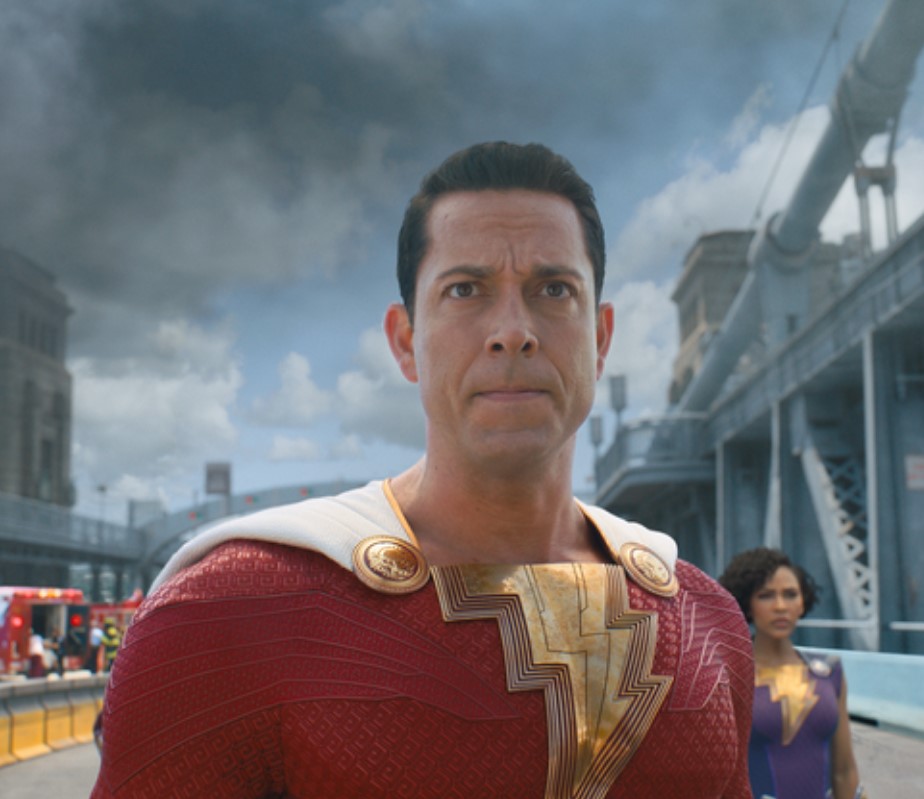 What do the Shazam: Fury of the Gods negative reviews say?
The best parts of this new movie are drowned out by pointless CGI monsters and tedious action sequences. – The Wrap
Coasts on the residual good vibes and talented cast of its much-superior predecessor. – Screen Crush
May be a shoddily made Skittles ad masquerading as a superhero riff, but it's Levi's performance that sends it into the stratosphere of cringe. Here's hoping this is not only Shazam's last outing but the nail in the coffin of the smarmy superhero as well. – Tribune News Service
Messy and mirthless, it resounds as the death knell for this interconnected cinematic enterprise's current iteration. – The Daily Beast
Shazam! Fury of the Gods is a film with close-to-zero nutritional value. – Little White Lies
Fury of the Gods lands in the frustrating middle: a film that isn't without promise, but feels far too messy and corporatised to have any real affection for. – Independent UK
In terms of representation, you couldn't ask for more. And that's just as well, because in terms of entertainment, you could barely get less. – Daily Telegraph UK
This follow-up lacks much of the appeal of its predecessor. While the film provides the elaborate action set pieces, colorful villains and save-the-world plot mechanics expected of the comic book movie genre, some of the magic is missing. – Hollywood Reporter
The real story here is that a superhero saga that seemed to hold out possibilities of lifesize quirkiness and delight winds up getting squashed into the shape of any other superhero franchise. – Variety
An exhausting, dull and convoluted superhero comedy that's low on wit, laughs and palpable thrills. – NYC Movie Guru
A disappointing step down from the hilarious, moving, contained and refreshing first film. – Nestor Cine Desde Hollywood
Disappointment awaits with Shazam 2 spilling forth as yet another tedious sample of same-same. It's a severe case of sequelitis…Even the dragon that turns up half-way through looks like it's on furlough from the Harry Potter franchise. – jimschembri.com
Fury of the Gods is overloaded, so while the film is never dull it's also wildly incoherent. – Punch Drunk Critics
Shazam! Fury of the Gods loses much of the charm of 2019's Shazam!, by overloading on bad jokes, cluttered storylines, and formulaic action scenes. It's a failed attempt to be a wisecracking, high-quality superhero movie. – Culture Mix
Messy and mirthless, it resounds as the death knell for this interconnected cinematic enterprise's current iteration. – The Daily Beast
Shazam! Fury of the Gods feels like another safe step to develop the DCEU, so it fails to spark genuine excitement. – Flick Feast
It has a lot of good ideas, but has difficulty weaving them into a coherent story. – United Press International
Between a sequence that feels like a direct Skittles commercial, and a pandering attempt to bring another hero into this film, Fury of the Gods will likely leave you rolling your eyes more than it'll have you cheering or laughing. – Collider
While it has some moments to keep superhero fans midly entertained, Shazam! Fury of the Gods is a lacklustre finale of sorts to the ill-fated DCEU – HeyUGuys