Dungeons & Dragons: Honor Among Thieves premiered tonight at the SXSW convention in Austin, Texas where the first reactions are in and offer the flick is very funny, a hoot, fun, and silly.
As we've said before, worth a mention is that all the first reactions to movies that hit social media are always on the positive side so bear that in mind (they raved about Ant-Man and the Wasp: Quantumania and even praised Thor: Love and Thunder).
Reactions and reviews are also comparing the film to James Gunn's Guardians of the Galaxy movies, just like I said, so take that for what it's worth.
Co-director Jonathan Goldstein also said at SXSW that "nobody had done [a film adaptation of the game] justice," so I guess he means he did D&D justice.
Goldenstein also said when it comes to the fantasy genre that includes Game of Thrones and Lord of the Rings, "there's not a lot of laughs and there's not a lot of fun, and that's what we hoped we did with this film."
I played D&D as a kid and don't remember any goofiness, but maybe they played the game in a different way.
Speaking of, they also recently said they like making men look like a joke and find it "fun and fresh."
Again, I don't recall playing D&D where the men just stand by and watch while the women do all the fighting, which is what early remarks said about the film.
I wonder what would happen if one of these reviewers actually came out and blasted the movie in an early reaction? I think we know the answer.
Maybe it's a good movie and a lot of fun, but it's not D&D to me so it might not be my cup of tea. Let me know if it's any good as I'm just tired of the dumbed-down goofiness and jokey joke one-liners.
How many of these reviewers actually played D&D?
Dungeons & Dragons: Honor Among Thieves opens on March 31, 2023.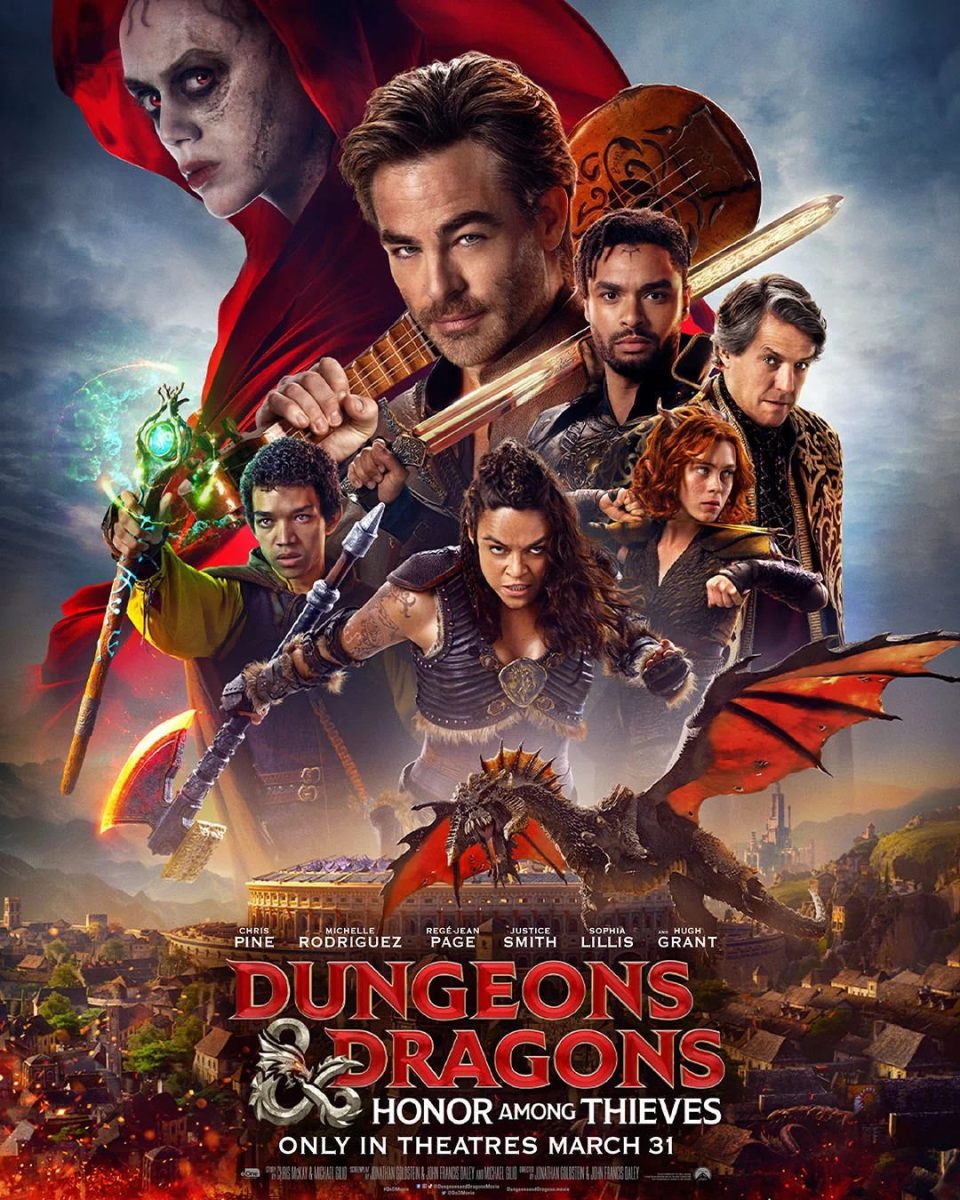 Dungeons & Dragons: Honor Among Thieves reactions:
DUNGEONS AND DRAGONS: HONOR AMONG THIEVES is a hoot. I could never recap the plot on the fly but it wholeheartedly embraces its weird fantasy/comedy tone. Please note that I have never played D&D in my life but I still had a great time. #SXSW pic.twitter.com/vzc4qwJBUF

— Katie Carter @ #SXSW (@katiel_carter) March 11, 2023
DUNGEONS AND DRAGONS: HONOR AMONG THIEVES is a hoot. I could never recap the plot on the fly but it wholeheartedly embraces its weird fantasy/comedy tone. Please note that I have never played D&D in my life but I still had a great time. #SXSW pic.twitter.com/vzc4qwJBUF

— Katie Carter @ #SXSW (@katiel_carter) March 11, 2023
#dungeonsanddragons is awesome. It's super fun, *very* funny, and loaded with action set pieces that are both inventive, well staged and look great. Also Chris Pine sings and @HackedOffHugh is perfect. Huge recommend. pic.twitter.com/ZogLhW5KCm

— Steven Weintraub (@colliderfrosty) March 11, 2023
The new DUNGEONS AND DRAGONS movie is a whole lot of fun. Once you settle into the world, it turns into one of the most entertaining fantasy films I've seen in awhile. Great characters, wild quests, crazy creatures & it's very funny. BIG recommend from me#DnDHonorAmongThieves pic.twitter.com/GOYtX3FT3b

— Erik Davis (@ErikDavis) March 11, 2023
Since it's premiering tonight I can say that DUNGEONS & DRAGONS: HONOR AMONG THIEVES is fantastic. One of my favorite movies in a long time. Funny, exciting, and had its own distinct, awesome personality. pic.twitter.com/TURFLuKMlY

— Brian Lynch (@BrianLynch) March 11, 2023
#dungeonsanddragons: Honor Among Thieves is a big, fun fantasy movie w/ a great ensemble lead by the always charming Chris Pine. Some of the practical costumes r truly amazing & there's even some fun cameos. If you're looking for a fun popcorn movie give #dungeonsanddragonsmovie pic.twitter.com/QN2c2IoDSp

— Joseph Deckelmeier (@joedeckelmeier) March 11, 2023
I didn't expect to enjoy #DungeonsAndDragons as much as I did, a fun movie with a lot of charisma from the entire cast, which reminds me of the great blockbusters of the 2000s. I'm glad we're leaving behind the excess of CGI, and are turning to the use of real sets and puppets pic.twitter.com/MhJ51VCe5P

— Sergio Muñoz Esquer @ SXSW (@ElSergioMunoz) March 11, 2023
#DungeonsandDragons: HONOR AMONG THIEVES captures the chaotic fun of a campaign with friends. Colorful characters, seriously great action direction, and imagination out the wazoo… very pleasantly surprised by this one. Sleeper hit incoming. pic.twitter.com/9rMqpS3w2t

— James Preston Poole @ SXSW (@JamesPPoole) March 11, 2023
Dungeons & Dragons: Honor Among Thieves emulates the energy of Guardians of the Galaxy and The Avengers with a chaotic story.

Daley & Goldstein deliver on humor & fantastical, continuous shots while the cast looks to be having a good time.

Michelle Rodriguez rocks. #SXSW pic.twitter.com/NtOjvm4uqO

— The Brandalorian (@BrandonDavisBD) March 11, 2023
DUNGEONS & DRAGONS: HONOR AMONG THIEVES is a total blast and the perfect film to open #SXSW2023! Never played the game, but it's a fun movie for EVERYONE! Great action, VFX, really funny & a big heart! Great chemistry in cast w/ CHRIS PINE, MICHELLE RODRIGUEZ, REGE-JEAN PAGE! pic.twitter.com/UAwJ8qvMvX

— Scott Mantz (@MovieMantz) March 11, 2023
DUNGEONS & DRAGONS: HONOR AMONG THIEVES (2023): The wonderful thing about roleplaying with friends is that it is both deeply silly and deathly serious. The wonderful thing about HONOR AMONG THIEVES is that the filmmakers understand that balance from start to finish. #SXSW pic.twitter.com/Ic7yUXr12w

— Matt Monagle (@mattmonagle) March 11, 2023
DUNGEONS & DRAGONS: HONOR AMONG THIEVES: Uh, folks? This is outstanding. A tight as a drum screenplay brought to life by a game cast. Hilarious without ever feeling embarrassed by the material. I fell in love early and it never waned.

— Jacob Hall (@JacobSHall) March 11, 2023
dungeons & dragons: honor among thieves goes HARD!!! i loved the cast's chemistry together and you can tell so much love went into this movie. also justice smith kills it 🐉⚔️ pic.twitter.com/Pcb4gXMo8I

— leia 💋✨🎞 (@leiassunsets) March 11, 2023
'DUNGEONS & DRAGONS: HONOR AMONG THIEVES' is better than you're expecting. Laugh out loud hilarious, inspired action, and creative visuals from start to finish.

It's not perfect but I would easily watch more of these. Never doubt Jonathan Goldstein & John Francis Daley #SXSW pic.twitter.com/burJBwSuz4

— Andrew J. Salazar @ SXSW (@AndrewJ626) March 11, 2023
These faces genuinely represent how fun the new #DungeonsandDragons movie is! FINALLY they made a D&D movie for fans and non-fans alike, AND this cast is magical. You're gonna love this one!#DnDMovie #SXSW #dungeonsanddragonsmovie pic.twitter.com/tY8QCLGLme

— The Hollywood Outsider (@buypopcorn) March 11, 2023
Even at a bloated length, DUNGEONS & DRAGONS: HONOR AMONG THIEVES glides along on the charisma and talent of Chris Pine, Michelle Rodriguez, Hugh Grant, and a scene-stealing Regé-Jean Page. A crowd-pleasing action-adventure-comedy with fun Easter eggs for D&D players. #SXSW2023 pic.twitter.com/hdrLzF1vlt

— Dancin' Dan in AustinLand (@SXSW) (@dancindanonfilm) March 11, 2023
#dungeonsanddragons surprised me with its heart. It's expectedly very funny, but Rege Jean Page stole it for me. Lillis and Rodriguez are both given some real showcase action set pieces. Ensemble really works well

— Alan French 🔜 SXSW2023 (@TheAlanFrench) March 11, 2023