Jason Momoa takes to social media to offer that Zack Snyder has shown him the "#SnyderCut" of the Justice League movie and that it is sick, with Momoa also thanking Snyder for casting him as Aquaman.
Momoa posted video of himself with Snyder on Instagram offering, "SNYDER CUT Well let's be honest if it wasn't for this man we wouldn't have Aquaman I love u Zachary Synder. Mahalo for showing me the Synder cut. Here is a token of my appreciation. Leica Q2 for inspiring me as an artist through and through @leicacamerausa I wish I was a better actor but I can't lie. The Snyder cut is ssssiiicccckkkkkk #luckymesucksforu#q2 #leicaforlife @cruelfilms aloha j."
The video sees Jason Momoa thank Snyder for casting him as Aquaman.
"I wouldn't be here today and my career if it wasn't for him," Momoa said. "Because he made Aquaman. He gave me an opportunity, called me in your office, forever indebted to you, like family, you know that. I love you. I love you both."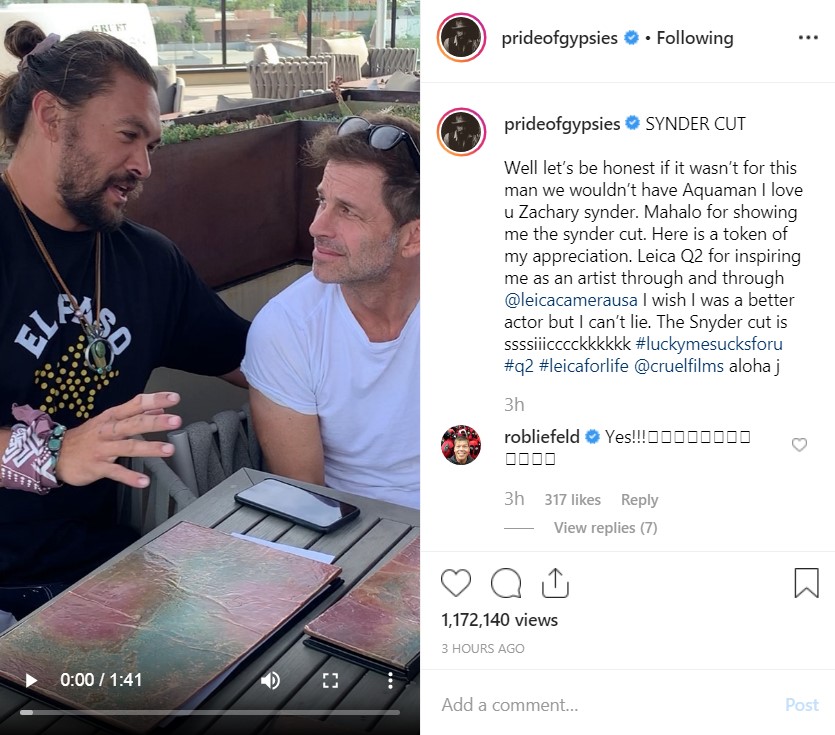 Justice League Snyder Cut exists
Jason Momoa first appeared as Aquaman in Batman vs. Superman followed by Justice League and then was featured in the solo flick from James Wan that made over a billion dollars at the box office. A sequel is now in development which will see James Wan return to direct that gets released December 16, 2022.
Zack Snyder is presently developing projects for Netflix which includes the zombie movie Army of the Dead, starring Dave Bautista, and a Norse anime series.
Regarding the Justice League Snyder Cut, it is unknown if it will ever get released, as Warner Bros. owns the rights, but fans have been campaigning and petitioning for its release, including most recently at the San Diego Comic-Con.
Recently saw details for the Snyder Cut made known including that it would have ended with Wonder Woman chopping the head off of Steppenwolf just as Steppenwolf entered a Boom Tube, which then saw his head rolling at the feet of Darkseid on the planet Apokolips.
Further details and images made known also include images of Darkseid, details on Cyborg scenes, and BTS images.