Amber Heard teases a return to Aquaman 2 as Mera on her social media, which follows her recent appearance in Zack Snyder's Justice League movie, where we see the actress has censored her Instagram account.
"Before Aquaman took the last pages out of this book," posted Heard on Instagram.
However, fans are unable to comment on any of Heard's posts as they state, "Comments on this post have been limited."
Only certain people are allowed to comment as we see there is only one reply on the most recent post with Jason Momoa commenting with smiley face tears emojis.
Amber Heard Mera Aquaman 2 tease: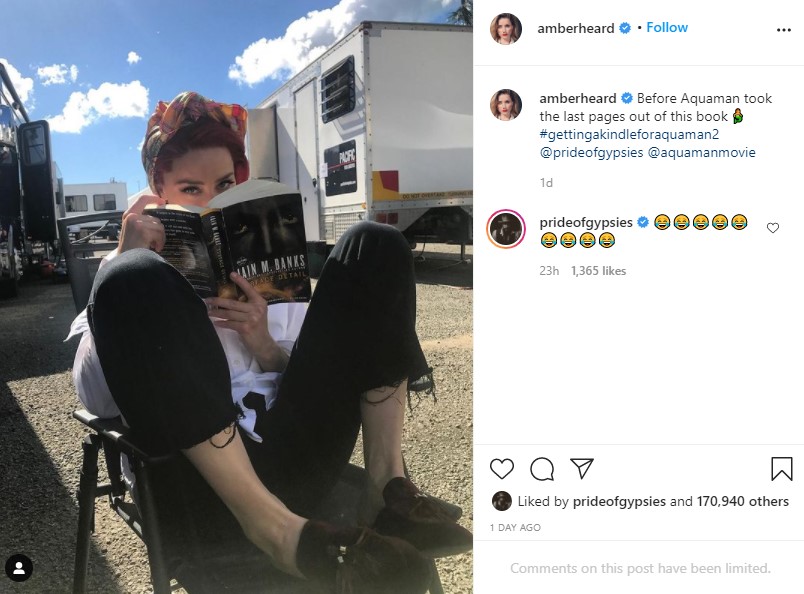 Amber Heard Instagram comments disabled due to Johnny Depp controversy
Most likely the comments have been limited due to the Johnny Depp controversy and the rumors that Amber Heard's role in Aquaman 2 as Mera has been severely limited.
A lot of fans support Johnny Depp, whom Warner Bros. fire from Fantastic Beasts 3, in regards to allegations of abuse, but those fans support Depp who has claimed Heard is the abuser. While Depp has been fired, Zack Snyder brought Amber Heard back for his Justice League movie, for some reason, and Heard returns for Aquaman 2.
Heard actually touched upon all the rumors surrounding Aquaman 2 last November.
"I'm super excited about the amount of fan love and the amount of fan appreciation that Aquaman has acquired and that it has garnered so much excitement for Aquaman and Mera that it means we'll be coming back," Heard told EW. "I'm so excited to film that. Paid rumors and paid campaigns on social media don't dictate [casting decisions] because they have no basis in reality. Only the fans actually made Aquaman and Aquaman 2 happen. I'm excited to get started next year."
Recently also saw Heard say she is a big nerd while filming the Zack Snyder Justice League reshoots, which sounded like spin in an attempt to connect with the fanbase and do damage control.
"I'm super excited about [Zack Snyder's Justice League]. We just wrapped on reshoots and I just love nerds. I f---ing love nerds, excuse my language," Heard said. "He's a perfect example, Zack [Snyder] is a perfect example of a nerd. You know, I got into this project on The Stand because of another true, die-hard nerd, which is Josh Boone, who connected all of us on this project as he was adapting the book for Stephen [King]. And I think it's just a good rule of thumb to follow, especially in this genre which I love. It's like follow the nerd, the nerd passion is where you want to be."
Aquaman 2 has a Dec. 16, 2022 release directed by James Wan also said to star Patrick Wilson, Temuera Morrison, Yahya Abdul-Mateen II, and Pilou Asbæk.