Blink (or is that blip) and you may have missed it as Spider-Man: Far From Home features a Nova Easter Egg.
Ordinarily, I don't post spoilers, but this one really isn't anything big (or is it), and I have been fielding questions about the Spider-Man: Far From Home Nova Easter Egg on social media; so here goes.
During their plane trip to London, the in-flight entertainment offers four choices, one of which is "Nova: Einstein Rosen Bridges," with the other three including "The Snap," "Finding Wakanda," and "Hunting Hydra."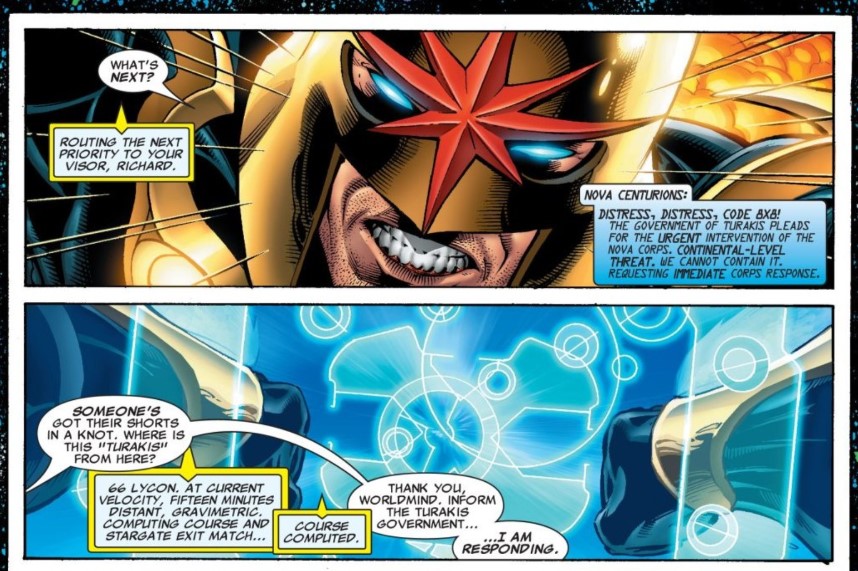 Spider-Man: Far From Home Easter Egg but which Nova?
"Nova: Einstein Rosen Bridges" also happens to feature Stellan Skarsgård back as Dr. Erik Selvig. Recall that Einstein Rosen Bridges was the explanation given during the Thor movies for the Bifrost Bridge that transports people between Asgard and other worlds (i.e. Midgard, aka, Earth).
Obviously, Marvel Cosmic fans will recognize Nova as the human rocket Richard Rider who shot to stardom in the stellar Marvel Comics event, Annihilation, but the Spider-Man: Far From Home Nova Easter Egg is from the PBS television science show that airs around the world and is inspired by the UK show, Horizon. So we see Selvig is appearing on the show to explain wormholes and such. Far From Home's closing credits also confirm it's from the TV show as well as their logo is used.
However, I'll be on the optimistic side as certainly whoever included the Nova Easter Egg had to recognize comic and cosmic fans would question it to be Nova, so hopefully, it is some sort of nod to Richard Rider.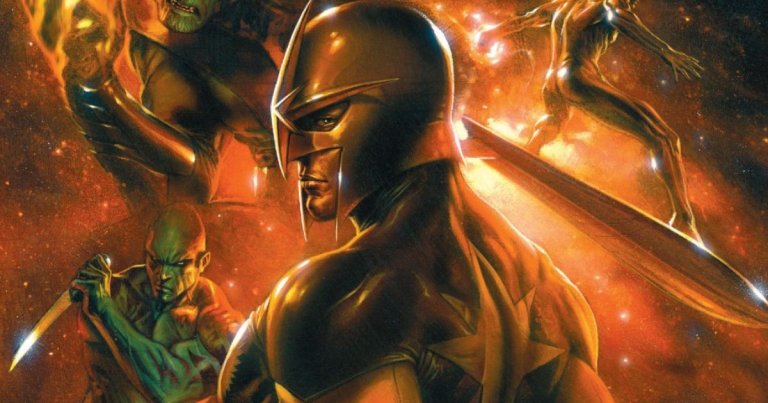 Richard Rider Nova in the MCU?
Long story short, Richard Rider Nova was a part of the original Guardians of the Galaxy script that was on the more serious and science-fiction side. James Gunn came on board and rewrote Guardians to his liking which made the movie and characters goofier including having Star-Lord as the only human in the film, hence Richard Rider Nova was cut.
Lately, there have been rumors and talk of a potential Nova MCU movie, with Marvel Studios president Kevin Feige offering that it is possible.
Marvel Comics is also re-releasing the stellar Annihilation Omnibus and Funko is releasing a limited edition comic book shop exclusive Richard Rider Funko POP! figure, with the character also becoming somewhat prominent in the comics again (not that the comics have anything to do with the movies and vice versa).
As I've said a few times before, I hope if Nova does make his way to the MCU that it is a pretty close version of the Annihilation event and 2007 Nova series. Fans think that possibly the start of Infinity War may offer a way of introducing Nova into the MCU, which is similar in ways to what happened at the start of Annihilation (read the prologue).