Exactly as I predicted, the late release of the Morbius reviews doesn't spell good news for the film as the flick's Rotten Tomatoes Score is drained of blood.
For whatever reason (well, we might know now), Sony only allowed the Morbius reviews to be released a day prior to the movie debuting for Thursday previews, and they ain't good.
With 51 reviews presently accounted for, the Morbius Rotten Tomatoes Score stands at 20% which is up from a couple of hours ago as it was only at 16%.
Update: With 127 reviews, Morbius is at 17%; the Audience Score is at 64%.
If the score holds, that would put Morbius among the lowest of anything to come from "Marvel," on par with the likes of Inhumans (11%), Iron Fist (37%), Ghost Rider: Spirits of Vengeance (18%), Ghost Rider (26%), the two Punisher movies (29%), and DC's Zack Snyder movie Batman vs Superman (29%) and Batman and Robin (12%). Ouch.
The box office isn't expected to be much better as Sony is only estimating Morbius to open to $33 million.
I'm actually looking forward to Morbius and to be honest, I'm not expecting it to be Spider-Man: No Way Home, but having this many bad reviews now has me worried. How bad could it be?
Check out what some of the reviews have to say below.
Details on the post-credit scenes here.
Morbius opens on April 1 directed by Daniel Espinosa who recently confirmed a Spider-Man exists in the universe, and the film also stars Matt Smith, Adria Arjona, Jared Harris, Al Madrigal, and Tyrese Gibson.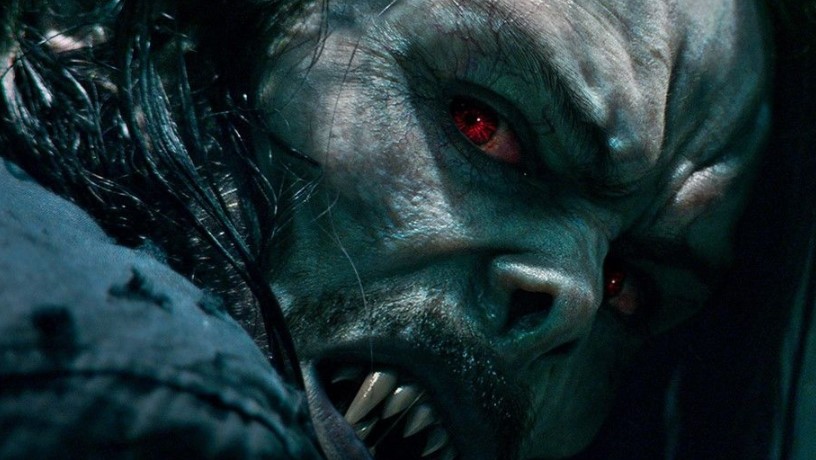 What the Morbius reviews say:
Review: Jared Leto becomes a bat man, but not that Batman in "Morbius"https://t.co/dQumYQq9VN

— TIME (@TIME) March 31, 2022
'Morbius' Review: Jared Leto in a Vampire Supervillain Origin Story That's Neither Original Nor a Good Story https://t.co/LC31BXGsjn

— Variety (@Variety) March 31, 2022
#Morbius debuts to 19% on Rotten Tomatoes — based on 47 reviews —

"One of the worst popcorn blockbuster experiences in recent memory" pic.twitter.com/s8wKOqqUha

— Culture Crave — (@CultureCrave) March 31, 2022
#Morbius REVIEW (no spoilers)

I LIKED IT! ————#Marvel #SpiderMan #JaredLeto #Sony #SonyMarvel https://t.co/U7euyXjMlR

— Grace Randolph (@GraceRandolph) March 31, 2022
Grace Randolph's review of Morbius — pic.twitter.com/TBG87tQXVw

— emu (@emmonvfx) March 31, 2022
the first #Morbius review on RT —— pic.twitter.com/pYMl74jYhz

— Matthew Bass (@MatthewBass_) March 30, 2022
#Morbius, starring #JaredLeto as a scientist-turned-vampire, is as generic as a Marvel movie could be — nothing more than a flimsy time-killer. https://t.co/huFYAth7rA

— Owen Gleiberman (@OwenGleiberman) March 31, 2022
Morbius is an origin story that lacks fangs and bite, marred by shoddy computer-digital fights and an overly serious tone that does the darkened flick no favors.

Our review: https://t.co/uKvAbUFodA pic.twitter.com/IiUlLIxIHL

— IGN (@IGN) March 31, 2022
'MORBIUS' is the definition of a studio product designed only to take your money on the promise of a greater "universe" on the horizon and CGI Jared Leto flying around for 2 hours.

Read our ★ ★ review… https://t.co/TrHUetFQKq

— DiscussingFilm (@DiscussingFilm) March 31, 2022
'Morbius' Review: Spider-Man Spinoff Starring Jared Leto Has More In Common With DC's Batman Than Marvel's Web Slinger https://t.co/nMQ1AhaWtw

— Deadline Hollywood (@DEADLINE) March 31, 2022
#Morbius is the Sony Marvel universe's first major disappointment. Our review: https://t.co/jk34JghQ5p

— Collider (@Collider) March 31, 2022
GOOD GOD#Morbius… horrendous editing, script, and story. Leto and Smith's acting couldn't make up for poorly written characters. The CGI made me feel like I was watching Fantastic Four '05, which is a far better film. Echoing another tweet I saw, it's a "charisma vacuum" 3/10 pic.twitter.com/Tb33ZFm3Iq

— Leo Rydel – Geekly Goods (@LeoRydelGG) March 31, 2022