Sony continues to build its Spider-Man spinoff universe as it is reported Marc Guggenheim is writing a Jackpot movie.
Guggenheim actually wrote Jackpot for Marvel Comics, and of course is known for the Arrowverse and a script for the Green Lantern movie, and it was also recently announced Guggenheim is writing the Prophet movie, based on the Rob Lifield Image Comics character.
Deadline describes the Jackpot flick as "a feature about a crime-fighting mom in the comics" and that "Sony Pictures is determined to expand its Marvel Spider-Man universe headlined by a female superhero."
Speaking of the comics, Jackpot is Sara Ehret, a pregnant woman who gets her powers as a result of infecting herself with an experimental treatment for Parkison's disease.
She falls into a coma, wakes four months later, and finds out she has superpowers when Spider-Man is chasing a villain as debris is falling onto her family, but she holds up the debris and saves them. Sara then decides to start a career as a super-hero.
Jackpot's powers include super-strength, invulnerability, and agility, and she carries a grappling hook launcher, and she is a skilled biologist.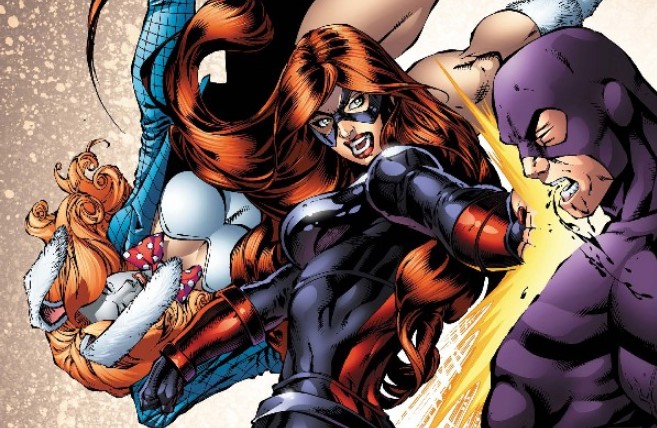 Sony continues its Spider-Man spinoff universe
Sony's plans for its Spider-Man spinoff universe include the Jared Leto Morbius (The Living Vampire) movie which comes out March 19, 2021, and Venom 2 starring Tom Hardy is out June 25, 2021.
It's also been reported at one time or another that Sony has plans in place for a Kraven The Hunter movie, possibly Sinister Six, Silk, Nightwatch, Madame Web (new details announced), and more.
Recently saw the writer behind a planned Silver Sable and Black Cat movie offer the flick probably isn't going to happen but may get a TV series of some sort.
Sony is also developing Spider-Man 3 with Marvel Studios, which hits Nov. 5, 2021, and the Sony Spider-Man: Into Spider-Verse animated sequel has an Oct. 7, 2022 release.