The Hulkster himself, Hulk Hogan, reacts to the latest image of Chris Hemsworth where the Thor actor shows off his potential 24-inch pythons (or bigger?!).
Hemsworth is set to play Hulk Hogan in a biopic that is headed to Netflix.
"My brother has that Hogan Pump on Jack, looks like he could slam Andre brother HH #hogansbeachshop #chrishemsworth," Hogan posted on Instagram a day ago.
Hulk Hogan body slammed Andre the Giant during their legendary match at Wrestlemania 3, so with Chris Hemsworth set to play the Hulkster, perhaps "Thor" will get another chance to take down a "giant" in the biopic as well (but, much like Hogan, will Hemsworth be able to kick out?!).
Regarding the image, it's from the set of Marvel's Thor: Love and Thunder as the movie recently completed filming where Chris Hemsworth can be seen with gigantic Hulkamania-sized pythons.
"That's a wrap on Thor Love and Thunder, it's also national don't flex day so I thought this super relaxed photo was appropriate," posted Hemsworth Tuesday on Instagram. "The film is gonna be batshit crazy off the wall funny and might also pull a heart string or two. Lots of love, lots of thunder! Thank you to all the cast and crew who made this another incredible Marvel journey. Buckle in, get ready and see ya in cinemas!!"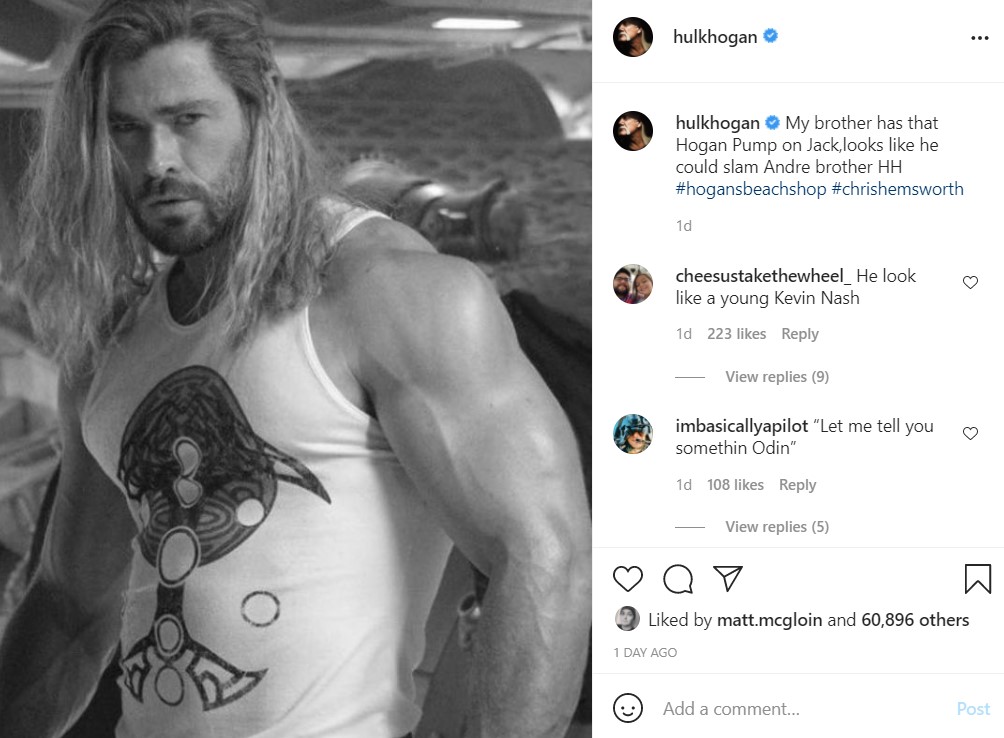 Hulk Hogan reacts on social media to Chris Hemsworth's muscles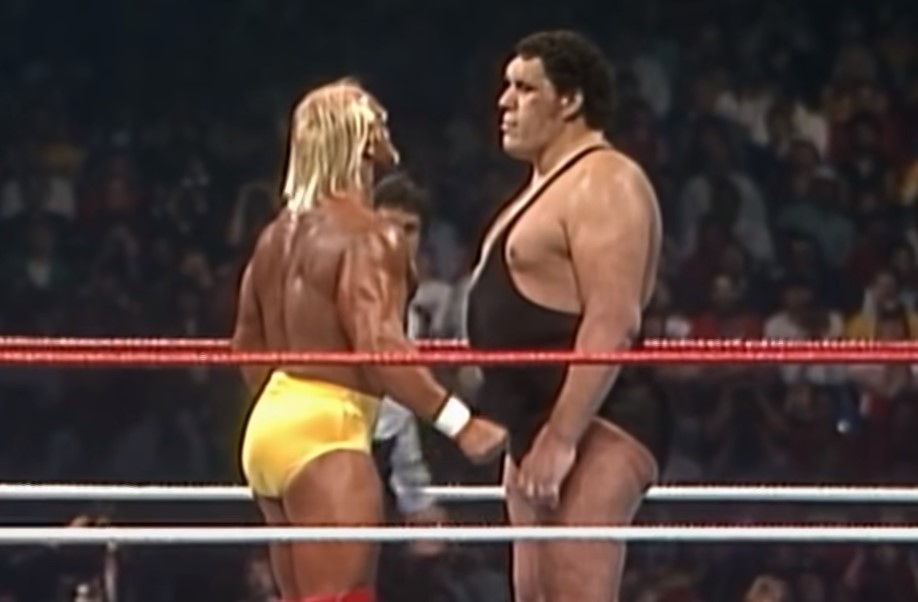 Hulk Hogan vs Andre the Giant – Wrestlemania 3
Chris Hemsworth putting on more size than ever for Hulk Hogan role
It's also been previously said that Chris Hemsworth is going to get his biggest ever for the Hulk Hogan flick.
"As you can imagine, the preparation for the role will be insanely physical," said Hemsworth back in July of 2020. "I will have to put on more size than I ever have before, even more than I put on for Thor. There is the accent as well as the physicality and the attitude."
Hogan also said last November that the actor is ready but may be lacking a certain something.
"He's already there! He's ready BROTHER!!! But is he good-looking enough to play me lol," posted Hogan on Instagram last November.
As we see from the images below, Hemsworth has his work cut out for him as the Hulkster is still pretty jacked!
The Hulk Hogan biopic on Netflix is described as centering around the origin story of the Hulkster and the rise of Hulkamania with Joker director Todd Phillips said to be directing and producing and that Hogan, real name Terry Gene Bollea, will be acting as a consultant and executive producer.
Hulk Hogan still jacked:
Chris Hemsworth's muscles: