Watch out Dwayne Johnson. Watch out Henry Cavill. Chris Hemsworth is one ultra-jacked dude as the actor shares a photo to commemorate the completion of filming on Marvel's Thor 4!
While Hemsworth may or may not have skipped leg day, the actor is shown with gigantic arms on the set of Thor: Love and Thunder along with director Taika Waititi who also returns as the voice of Korg.
"That's a wrap on Thor Love and Thunder, it's also national don't flex day so I thought this super relaxed photo was appropriate," posted Hemsworth Tuesday on Instagram. "The film is gonna be batshit crazy off the wall funny and might also pull a heart string or two. Lots of love, lots of thunder! Thank you to all the cast and crew who made this another incredible Marvel journey. Buckle in, get ready and see ya in cinemas!!"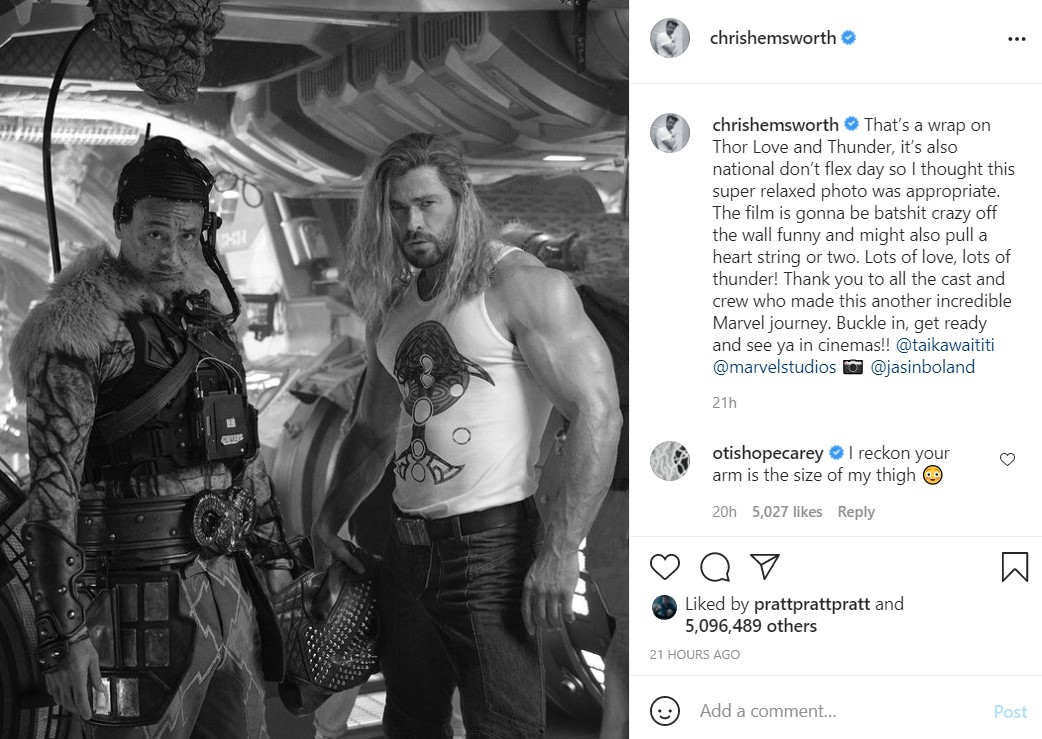 Stars offer congrats to Chris Hemsworth
Aquaman star Jason Momoa also chimed in in the comments, "Congratulations, bro."
Fellow Avengers star, Hawkeye actor Jeremy Renner, also commented, "Congrats brother !!!"
Dwayne Johnson, who is also super-jacked for his DC movie, Black Adam, said, "Congrats by brother," and cocktail and muscle emojies.
Jaimie Alexander, who is rumored to return as Sif in Thor 4, also commented with a crying smiley emoji.
Shang-Chi actor Simu Liu also took notice of the muscles of Chris Hemsworth and commented, "Jesus Christ I need to get in shape."
Leslie Jordan, known for American Horror Story, Will & Grace and lots more joked in the comments, "I'm not scared. Without your hammer, you're nuthin.'"
Check out more pics below of Chris Hemsworth's muscles, and it's also known that Hemsworth will be starring in the Hulk Hogan biopic for Netflix playing the man with the 24-inch pythons, brother, where it has been said Hemsworth will be his biggest ever, and he also happens to be rumored for none other than He-Man, the most powerful man in the universe.
Thor: Love and Thunder has a May 6, 2022 release date also starring Natalie Portman, Tessa Thompson, Chris Pratt, and Christian Bale is playing the villain of the movie, Gorr the God Butcher.
Chris Hemsworth's muscles: