Henry Cavill reveals that he was feeling a bit sluggish while exercising, but that he went on Reddit to get through the workout.
Posting as part of his Instagram story, Henry Cavill said, "Feeling mega lethargic this morning! This was definitely a grind to get through. Nothing that Reddit couldn't fix though [smile emoji]."
Henry Cavill didn't go into further detail, but maybe he was reading a DC Movie board.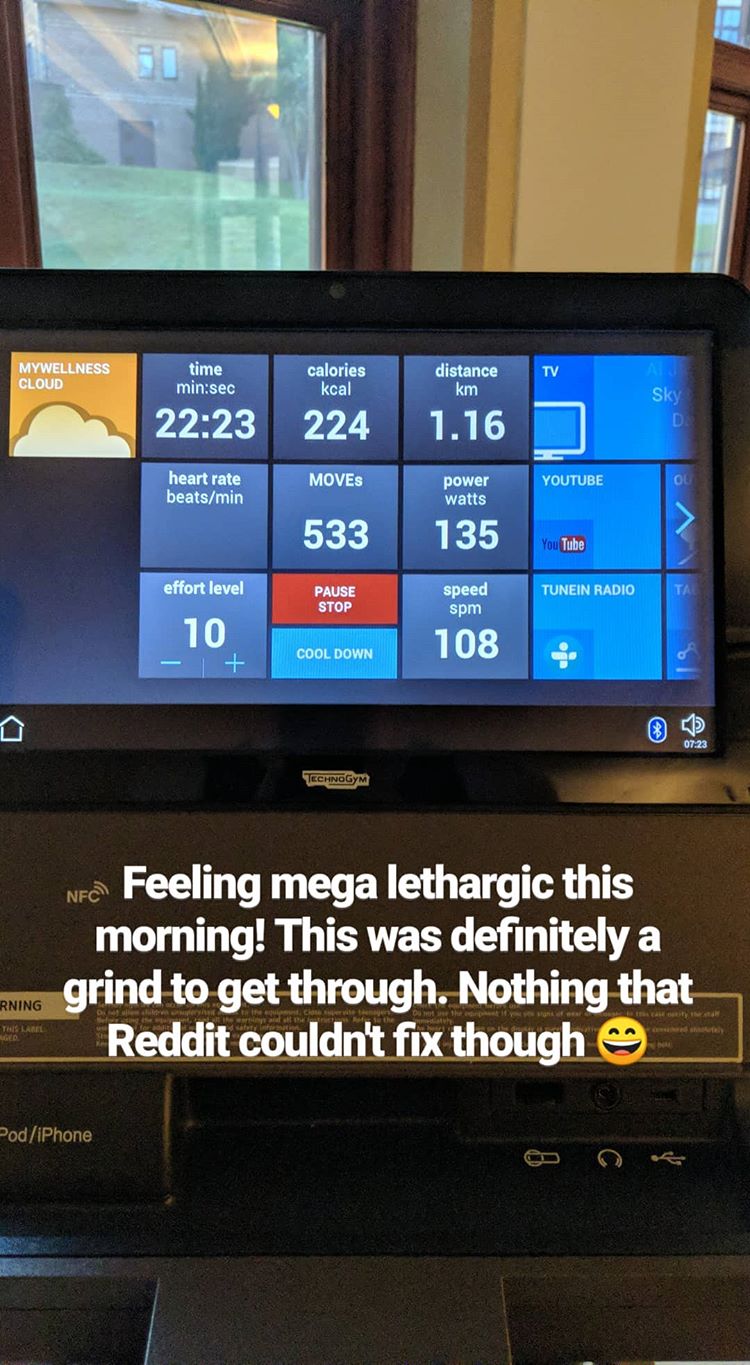 Henry Cavill in super shape
The image above reveals that Henry Cavill traveled 1.16 kilometers (0.72 miles) in 22 Minutes and 23 seconds at a speed of only 1.93 miles per hour, so yeah, it seems as if definitely Henry was feeling a bit sluggish.
No worries though, as Henry Cavill is still in super shape.
Henry Cavill is an avid weight lifter having bulked up to play the role of Geralt of Rivia, the monster hunter, for the upcoming Netflix series The Witcher, revealing that he was inspired by former seven-time Mr. Olympia Phil Heath.
Since Henry Cavill has recently been cast in the Enola Holmes movie in which he plays Sherlock Holmes opposite Millie Bobby Brown, it could be possible that Cavill is trying to shed some of that muscle he put on for The Witcher.
Earlier in the month also saw the Superman actor recently tease an early morning run in Italy while fasting.
Future for Henry Cavill is bright
Regarding a return to Superman, it is presently unknown. What is known, unfortunately, is that for some reason Warner Bros. passed on a Superman Man of Steel 2 movie and a Green Lantern film pitch from Cavill and his Mission Impossible director Christopher McQuarrie who actually said it was pretty sweet, but also said it will never get made.
Reports from Comic-Con also saw it said that Henry Cavill told fans he dropped out of the Superman role to do The Witcher, as nothing was moving forward regarding the role.
I was also told that J.J. Abrams will be doing Superman and Green Lantern films and will recast Superman with a younger actor.
The latest rumor actually has Henry Cavill Marvel bound along with Dwayne Johnson.
Regardless of Superman, the future for Henry Cavill seems bright as he is a terrific actor.
Check out some recent pics of Henry Cavill: