Henry Cavill recently finished filming on the new Netflix series The Witcher, and now the Superman actor takes to Instagram to show off a new image of his super muscles where we see he gets photobombed by none other than Captain America.
The 36-year-old actor shows off a pic of his bulging biceps on Instagram with advice about going to the gym where, in the background, can be seen the Marvel Captain America barbells by Onnit that were released back in 2016.
"Having a little flashback to my days in Budapest on The Witcher and found this photo. I like it because it shows that it doesn't take huge weights everyday to achieve results," Cavill posted. "I was doing everything I could in a busy busy schedule to try and get something in, whenever I could. During this period I learned that it's not the weight that matters, it's the workout.
"So if you're shy about going to the gym because there is always someone next to you using mahoosive weights, don't be," Cavill continued. "You do your weights, just make every workout count. You might end up looking better than the fella or lady next to you that's using those heavy weights. I also wanted to give a massive shout-out to Adam at Flex Gym. Adam went out of his way to help make sure I could get some training in, no matter the time of day or night, he'd open the gym so I could throw some weights (big or little!) around. Thank you my friend. I hope to see you soon! @FlexGymBudapest #YouDoYou #GymStuff."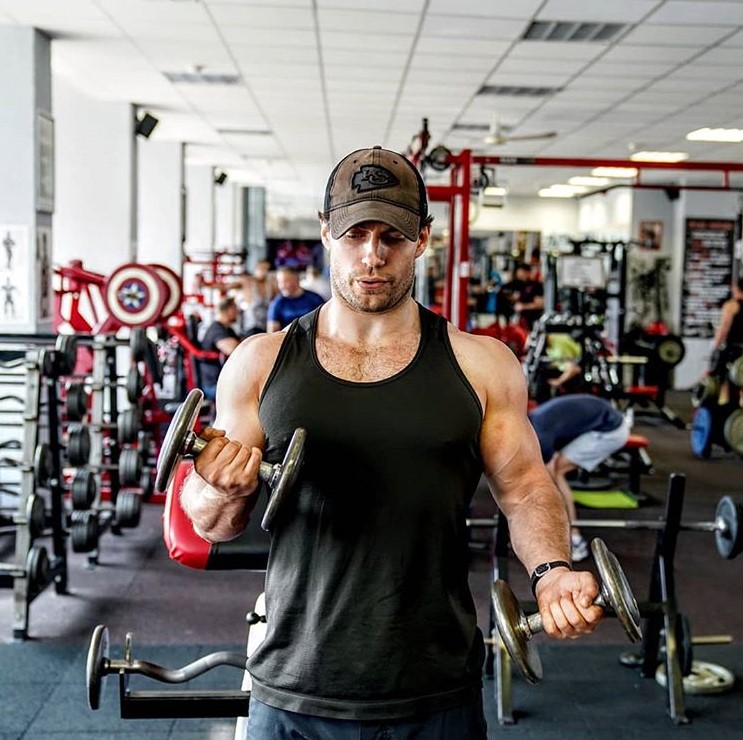 Henry Cavill is jacked and in super shape
Though he played Superman in three DC films, Henry Cavill got into the biggest and best shape of his life for The Witcher series. Cavill previously let it be known he was inspired by 7-time Mr. Olympia Phil Heath, who happened to give the above image and post an "arm muscle" emoji.
"Phil Heath in particular has caught my eye not only for his achievements but also for his genuinely humble and informative approach to his messaging. All this while being a 7x Mr Olympia," Cavill posted back in February.
Regarding The Witcher, which will be an 8-episode series air on Netflix, Henry Cavill plays Geralt of Rivia, described as a solitary figure who struggles to find his place in a world where people often prove more wicked than beasts, but when destiny hurtles him toward a powerful sorceress, and a young princess with a dangerous secret, the three must learn to navigate the increasingly volatile Continent together.
More pics of Henry Cavill in super shape while filming The Witcher in Budapest, Hungary: