Henry Cavill appeared this weekend at the San Diego Comic-Con for The Witcher where he spoke about Superman and a Man of Steel 2.
A fan met Henry Cavill at Comic-Con and asked about Superman, with Cavill offering that he is interested in doing a proper sequel to Man of Steel and that he thinks there are more stories to tell about Supes' story.
The fan says that Henry Cavill still wants to play the character and wants a Man of Steel 2.
The fan offers on Twitter (see tweets below) that Henry Cavill said he wants to explore how it affects someone with absolute power and that there are so many stories to tell about what makes the character tick (Cavill and director Chris McQuarrie pitched WB Man of Steel 2).
Regarding Henry Cavill and his future with the DCEU, the fan says that Henry dropped out of the role when he took on The Witcher, as Superman wasn't being used in any future projects.
The fan says Henry Cavill pulled out of the role because WB had no plans to use him, but that he is willing to play Supes again one day.
Interestingly enough, the news of Henry Cavill departing the Superman role fits with info I was told at Comic-Con about J.J. Abrams wanting to recast a younger Superman.
Update: A second Twitter user who spoke to Henry Cavill at Comic-Con offers more of the same: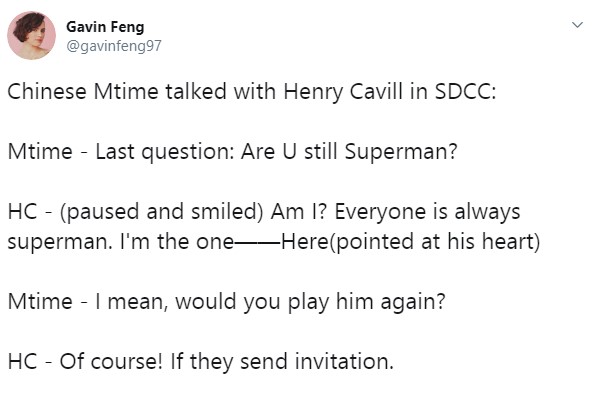 Original article continues:
Check out the Henry Cavill Superman Man of Steel 2 tweets from the fan: