It's claimed that Henry Cavill contacted Marvel following the Superman news in regards to the reboot from J.J. Abrams and Ta-Nehisi Coates.
The rumor comes from scooper Daniel RPK, via Twitter, where it's claimed, "Henry Cavill reportedly contacted Marvel after the Superman news."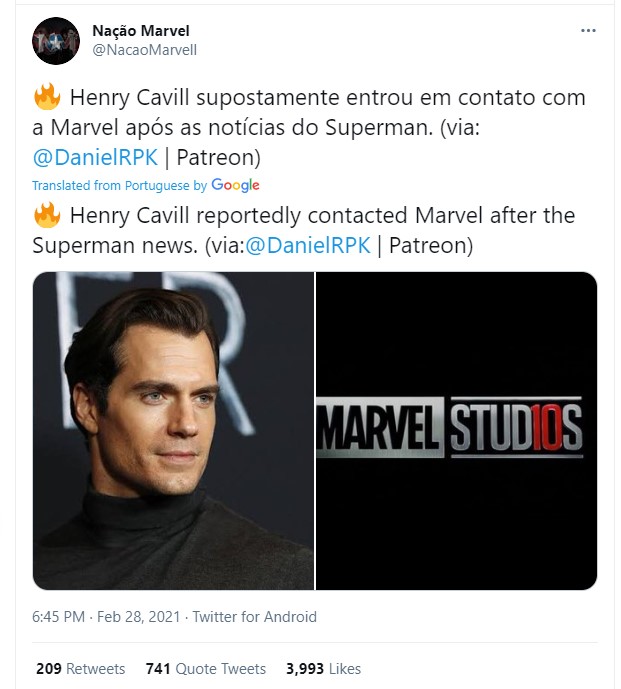 Big things coming for Henry Cavill teased by Dany Garcia
Interestingly enough, Cavill's manager recently teased big things for who is thought to be Cavill but couldn't say anything because of signing NDAs. Maybe it's for Marvel?
Regarding the Superman reboot, it's claimed that Henry Cavill is out as the Man of Steel as Abrams and Coates are going with a Black Superman.
This isn't the first time that Henry Cavill has been rumored for Marvel as both Dwayne Johnson and Cavill were rumored to be talking with Marvel because it was said they were both unhappy with DC. While things seemed to have worked out for Johnson with Black Adam, the same presently can't be said for Cavill as Superman, so maybe Cavill wants to jump ship to Marvel. Possibly, Cavill and his team think Kevin Feige would do them right while WB hasn't.
Rumors have offered that Henry Cavill could play US Agent (with Johnson as Namor), but U.S. Agent looks to be appearing in The Falcon and the Winter Soldier, so that doesn't seem to be happening.
Additional rumors have also offered Henry Cavill could play the new Wolverine in the MCU or Captain Britain which would be an obvious fit.
What is also interesting is that around those initial Marvel rumors, Cavill posted an image of himself with Captain America weights in the background, though that could have just been a coincidence.
Henry also recently teased possible involvement in Mass Effect which followed the news of the new Supergirl casting.
Henry Cavill lifts weights with Captain America in the background: