The Godzilla vs. Kong box office is off to a huge start as it so far has absolutely destroyed that of Wonder Woman 1984.
Godzilla vs. Kong roared to a $122 million international opening and has set a new benchmark for the biggest international box office debut by a Hollywood film during the pandemic era (via Deadline).
While some DC shill fans think it's an unfair comparison, we can simply point to the fact that when WW84 was released in theaters, the movie theaters in China were not closed.
The Wonder Woman 1984 box office absolutely tanked in China - just like it did everywhere else -  as WW84 brought in only around $45 million in China -  half of the total of the first Wonder Woman movie.
For comparison, Godzilla vs. Kong opened in China with $70.34 million.
More good news for GVK comes from it learned that the GVK Chinese box office topped the $66 million start of 2019's Godzilla: King Of The Monsters, which again, at least in China, proves the movie theaters shut down, and the coronavirus, are not factors.
So as pointed out by a Twitter user, Wonder Woman 1984 is about to finish its box office run with only a $45.9 million domestic haul, and when the international numbers are added, WW84 only made $165.9 million -- something Godzilla vs. Kong will probably beat within its first week or two.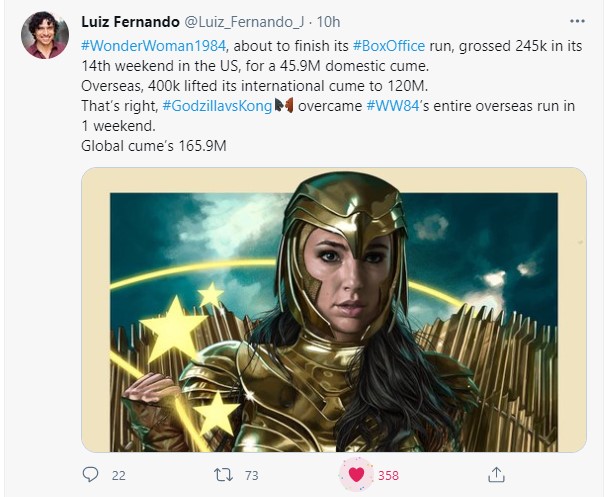 Godzilla is king
I'm betting Warner Bros. is kicking themselves for releasing WW84 on HBO Max and paying Patty Jenkins and Gal Gadot as if the flick made a billion dollars (lol). Maybe they should have watched the movie first as it was simply atrocious. 
It's now rumored Patty Jenkins has been booted from Wonder Woman 3 and some fans in the comments on the above Twitter thread are calling for Jenkins' dismissal.
Warner Bros. also recently made an announcement that its 2022 slate of movies will first get released in theaters and not on HBO Max, which is the opposite approach of its 2021 plan, something I think is due to WW84 and the Snyder Cut not doing as well as hoped on HBO Max.
The Snyder Cut is actually confirmed to have had fewer views on HBO Max than WW84 which proves only the hard-core fans watched it. Those same fans are now pointing to the "Restore The Snyder Verse" hashtag out-trending The Avengers: Endgame on Twitter as evidence for the support of the Snyder Cut, but the notion is downright laughable. Again, the views on HBO Max (especially in the U.S.) is what counts, not a small number of Twitter users tweeting the hashtag hundreds of times.
Godzilla is still the king.
Update: Godzilla has also topped WW84 on HBO Max, as Godzilla vs Kong scored the highest viewership, also clobbering Zack Snyder's Justice League.