Last week saw the unfortunate news that the Ghost Rider HULU series has been canceled prior to it ever getting released, which was followed by Gabriel Luna taking to social media to thank the fans.
Gabriel Luna posted the following on Instagram where it sounds like he is completely done with the role:
To everyone who loves Robbie and Ghost Rider, THANK YOU. I've had the time of my life playing those two guys and I was ready to rock on the new show. The news was surprising, but I've always known that the nature of this business is that until you're there, on the day, doing the thing it could still go away. Even then, that next day on the job ain't guaranteed. Thanks to Loeb, @marvel, @felipesmithart and everyone who helped bring Robbie to life on the page and the screen. —— I'm focused now on our promotions for @terminator. We'll be bringing Terminator:Dark Fate to theatres in just over a month! Hope to see everyone there when it opens on The Day of The Dead, Nov. 1st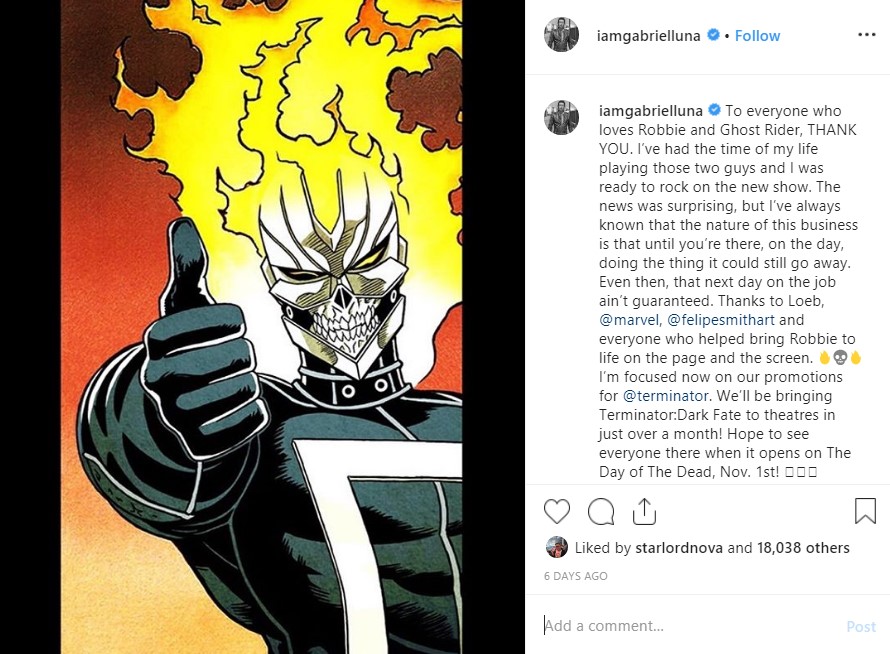 Why was Ghost Rider canceled?
Marvel TV first announced the Ghost Rider HULU series starring Gabriel Luna, which was going to spin-off from Marvel's Agents Of SHIELD, back in May.
Details included that an official synopsis was released and that executive producer and showrunner Ingrid Escajeda was super psyched:
Marvel's Ghost Rider centers on Robbie Reyes, played by Gabriel Luna, who also stars in the upcoming Terminator: Dark Fate, as the quintessential antihero, who lives on the Texas/Mexico border, consumed by hellfire and supernaturally bound to a demon. When he unleashes the Rider, Robbie brings vengeance for the innocents he encounters but struggles to control the power he wields. Marvel's Ghost Rider is executive produced by Ingrid Escajeda, who will serve as showrunner, Paul Zbyszewski, and Marvel Television's Jeph Loeb.

"I couldn't be more excited and honored to be handed the reins to a Marvel character as beloved as GHOST RIDER. This story hits every note for me—my love for grounded yet conflicted characters and my desire to scare the $&!# out of people! It's important to me to find a take that thrills existing fans as well as wider audiences and I believe we've done just that," said Executive Producer and Showrunner, Ingrid Escajeda.
Regarding why the series has been canceled at HULU isn't exactly known, but it has been reported by a writer at Deadline that she "heard" — "Hulu and the Ghost Rider team had reached a creative impasse which could not be resolved, leading to the streamer's decision not to move forward with the series."
Interestingly enough, two days prior to the series cancellation, a rumor offered that Marvel Studios president Kevin Feige wants to use Ghost Rider in the MCU.
Did Kevin Feige cancel Ghost Rider?
It's known that Marvel Studios doesn't get along with Marvel TV, which suggests that Marvel Studios and Kevin Feige may have had something to do with the Ghost Rider HULU cancellation if Feige wants to use the character in his MCU movies.
A recent rumor offers that Feige wants to go with a female Ghost Rider for Doctor Strange 2, which fits with his Phase 4 plans.
Another rumor is stating that Feige had nothing to do with the Ghost Rider cancellation and that Marvel Studios and Marvel TV are mending their relationship, and also that the real reason it was canceled is that the show was too costly, but if that is the case, my question would be: Why announce the show in the first place? Obviously you know it is going to be costly with all the CGI, right? And if the Ghost Rider HULU series was canceled because of budget concerns, what's that say for Helstrom?
There is no evidence to suggest Feige and Marvel TV are mending their relationship, and I'm leaning more toward Feige canceling the series, much like I think Feige also had a hand in canceling the Marvel TV Daredevil Netflix shows because his MCU Disney Plus series will be airing on the Disney streaming network. ABC and Marvel TV's Agents of SHIELD is also ending next Summer.
It's a shame, as the Gabriel Luna Ghost Rider was done really well, and it even connected to Johnny Blaze, so instead of getting Feige's (most likely) PG cornball attempt at the Spirit of Vengeance, we could have gotten a really cool mature Ghost Rider horror series on HULU.
Does anybody really want to hear popcorn jokes from Ghost Rider to appease a general zombie audience? Nope.