The NCAA has announced that its remaining collegiate winter and spring championships in all sports have been canceled, which includes the upcoming March Madness basketball tournament.
Initially, the NCAA announced that a limited number of fans, such as family, would be able to attend the March Madness tournament, but today saw the NCAA announce the cancellations.
NCAA coronavirus announcement:
NCAA cancels remaining winter and spring championships

Today, NCAA President Mark Emmert and the Board of Governors canceled the Division I men's and women's 2020 basketball tournaments, as well as all remaining winter and spring NCAA championships. This decision is based on the evolving COVID-19 public health threat, our ability to ensure the events do not contribute to spread of the pandemic, and the impracticality of hosting such events at any time during this academic year given ongoing decisions by other entities.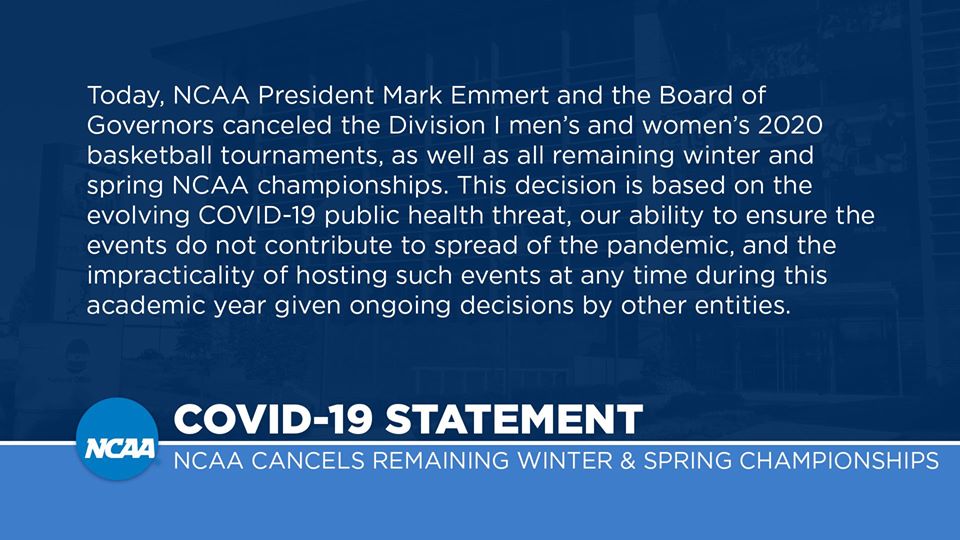 The tourney was slated to kick off March 17 and 18 with games in Dayton, OH.
I'm actually going to Las Vegas at the end of March and was going with the plan on attending a sportsbook to watch the games, so I guess I'll have to find something else to do.
The coronavirus scare has also led to the cancellations or delays surrounding film releases, as James Bond, FF9 and A Quiet Place 2 have seen their release dates changed.
The NBA and MLB have also delayed their current seasons, and actor Tom Hanks and his wife have tested positive for the virus.
Disneyland in California has also closed, with WonderCon also postponed.