California Gov. Gavin Newsom has once gain closed down movie theaters, all restaurants, and bars due to the coronavirus.
Deadline offers that due to 8,358 new cases reported in the state over the past 24 hours and with over 7,000 deaths in the state, that Gavin announced he is requiring counties to close their restaurants, movie theaters, family entertainment centers, wineries, zoos, bars, gyms, and churches for indoor service:
NEW: #COVID19 cases continue to spread at alarming rates.

CA is now closing indoor operations STATEWIDE for:

-Restaurants
-Wineries
-Movie theaters, family entertainment
-Zoos, museums
-Cardrooms

Bars must close ALL operations.

— Gavin Newsom (@GavinNewsom) July 13, 2020
NEW: As #COVID19 cases and hospitalizations continue to rise, 30 counties will now be required to CLOSE INDOOR OPERATIONS for:

-Fitness Centers
-Places of Worship
-Offices for Non-Critical Sectors
-Personal Care Services
-Hair Salons and Barbershops
-Malls

— Gavin Newsom (@GavinNewsom) July 13, 2020
As of July 14, according to the California Department of Health (CDPH) website, California, a population of near 40 million, has 336,508 positive cases of coronavirus, which makes up less than 1% of the population at 0.84127%.
The CDPH also reports California has 7,087 deaths, making up 0.0177175% of the population.
The CDPH also notes that 67.2% of the deaths come from the 70+ age group, which makes up 8.5% of total cases.
As a result of the shutdowns across the world, California's film industry has come to a standstill as movies such as DC's The Batman and Marvel's Shang-Chi have been forced to stop production, though it has been reported filming on various projects is supposed to start in August.
California COVID-19 by the Numbers: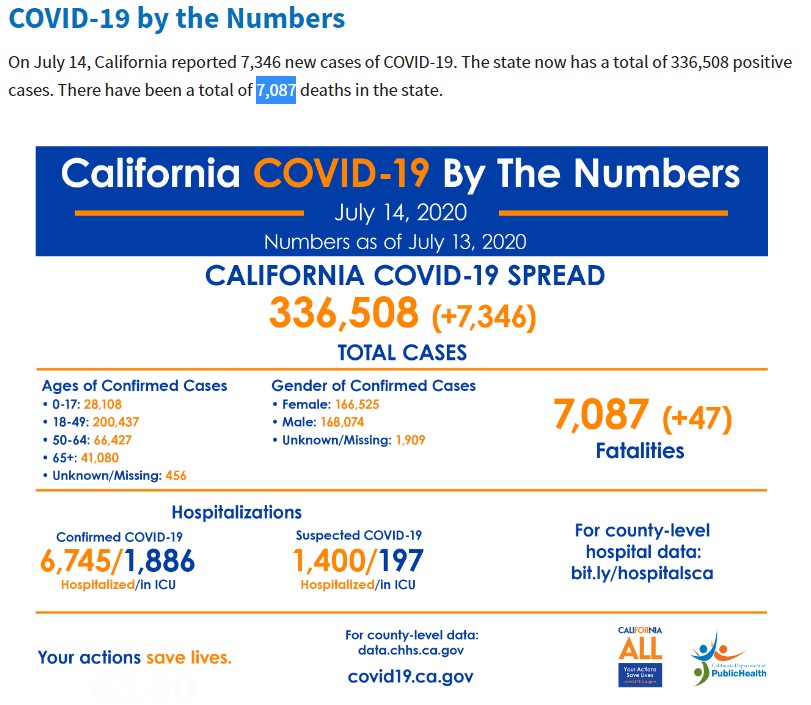 Cases and Deaths Associated with COVID-19 by Age Group in California :