Brie Larson is back at it, showing off sexy images of herself on social media with the latest of her "happy place" while enjoying a book in a hot tub wearing a bathing suit as well as half-naked pics.
On Saturday, Brie Larson posted an image of herself on Instagram noting, "Take me back to my happy place."
The book she happens to be reading is "Conversations on Love: Lovers, Strangers, Parents, Friends, Endings, Beginnings" by Natasha Lunn which features "interweaving personal essays and revealing interviews with some of the most sought-after experts on love."
Update: Brie Larson also teases the new logo for The Marvels.
Brie Larson Hot Tub Happy Place:
Brie Larson shows off new dress:
That's not all, as the Captain Marvel actress also shows off her half-naked superhero bod as she posted images wearing a skimpy dress of some sort with black boots over a week ago.
Brie Larson trains for Captain Marvel:
Brie Larson returns as Captain Marvel for The Marvels which is currently filming for which she has been training heavily, hence why she is in such good shape:
Brie Larson images and video:
Additional images and videos from social media include Brie Larson promoting her partnership with Nissan, eating a raspberry tart, making homemade pasta, wearing a dress that didn't harm snakes, playing a Taylor Swift song, laying in a field of flowers, and more: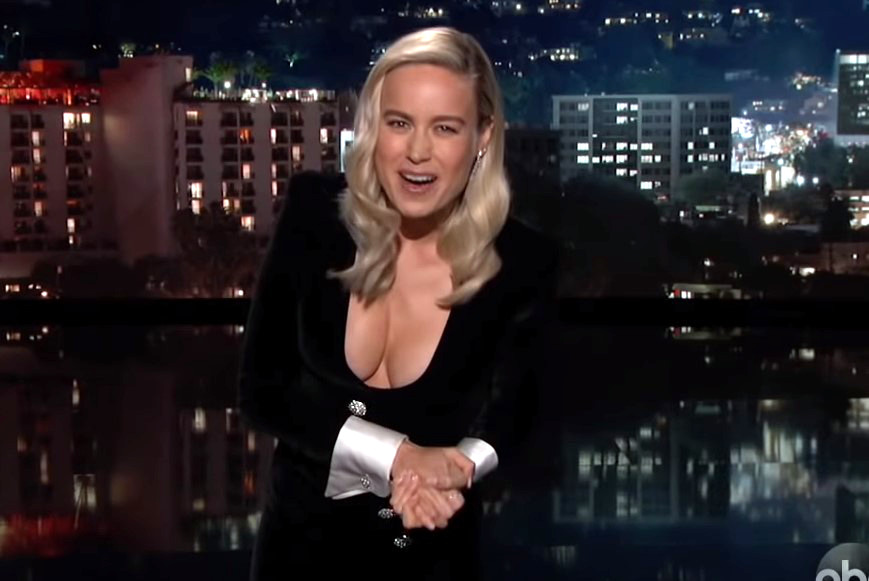 Brie Larson repairing her image?
As of late, Brie Larson has been showing off a bit of skin on social media as previously she posted pics of herself wearing kinky boots and a no-pants Rodarte sweater outfit.
It's thought the 32-year-old actress might be attempting to repair her image which kicked off back in 2019 when she wore that low-cut sexy dress on Jimmy Kimmel.
Brie Larson found herself in the hot seat while filming Captain Marvel and The Avengers: Endgame as she attacked "white dudes" and promoted her own political agenda, which wasn't received well by a majority of fans. It's also been said her fellow Avengers actors didn't like her, and she also butted heads with Chris Hemsworth in interviews (watch below).
However, Larson has been pretty much silent about white dudes except for kissing them and the politics and instead has apparently been trying to swoon the fanboys with sexy images of herself. Is it working?
The Marvels gets released Feb. 17, 2023.