Zack's Snyder choice to play Catwoman in his DCEU movies happens to be his Watchmen actress Carla Gugino.
While we never got a chance to see Carla Gugino suit up as Catwoman, recall Gugino provided the voice of "Ship," the Kryptonian robot, in both Man of Steel and Batman vs. Superman.
In a recent interview with The Nerd Queens YouTube channel, Zack Snyder talked about Carla Gugino as Catwoman.
"Probably I would say Carla's Catwoman [is perfect]. You would have to say, there's a flashback to ten years ago, where they were a thing," Zack said referring to Catwoman and Batman. "And then he had to arrest her, I don't know what happened, or he had to let her go, and it tweaked him. And now, who knows what she's doing now, she's running some sort of international antiquities or something, and he needs to retire, and they find each other. Yeah, I do think Carla is – yeah, she is good."
It's actually been said that in Snyder's DCEU movies, Selina Kyle and Bruce Wayne were married at one time, but divorced before the events of Batman vs. Superman.
Years ago prior to Batman vs. Superman, Gugino also voiced her support for playing Catwoman when a fan brought up the possibility on social media.
"Bring it!" she responded in July of 2015.
Following the interview, Zack Snyder took to the Vero app to tease the following image of Batman and Catwoman.
Zack Snyder also recently talked about his Darkseid plans for Justice League 2, how much he is a fan of the Jared Leto Joker, and revealed cool new art for Darkseid and Martian Manhunter.
Zack Snyder: Batman and Catwoman from Vero: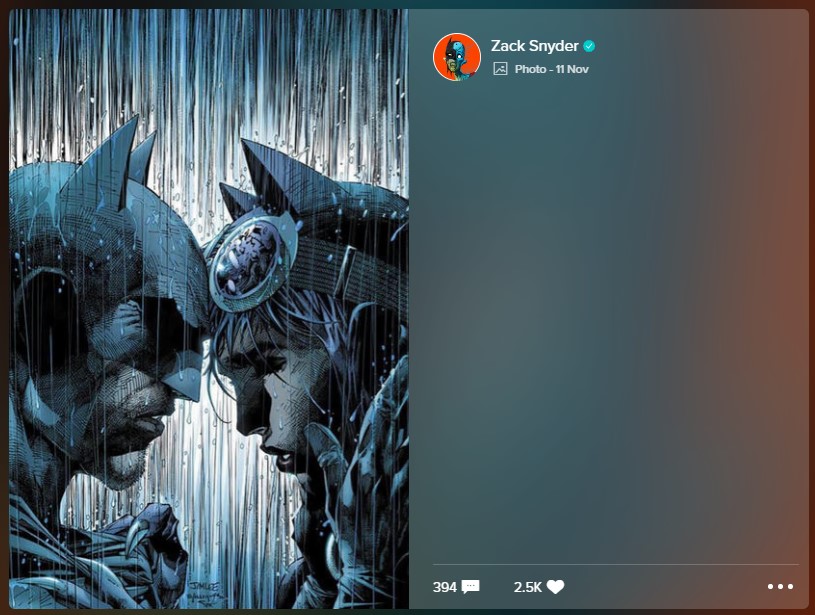 Snyder Cut gets released in 2021 on HBO Max
The Snyder Cut of the Justice League movie gets released in 2021 on HBO Max, possibly in March, which will be an all-new take and completely different than the theatrical release.
Zack recently filmed new scenes involving Ben Affleck, Amber Heard, Ray Fisher, Joe Manganiello, Jared Leto, and more.