Zack Snyder makes it clear the Snyder Verse is over and won't be continuing as the director of Justice League responds to a fan that Warner Bros. doesn't want him.
In a post on Vero, Zack Snyder released a behind-the-scenes image of the John Stewart Green Lantern scene that Warner Bros. put the kibosh on (see below).
Not only did Zack offer the Green Lantern scene won't see the light of day, but when a fan remarked, "Thank you, sir, for everything, WB does not deserve you at all!!" Snyder replied, "Nor want me."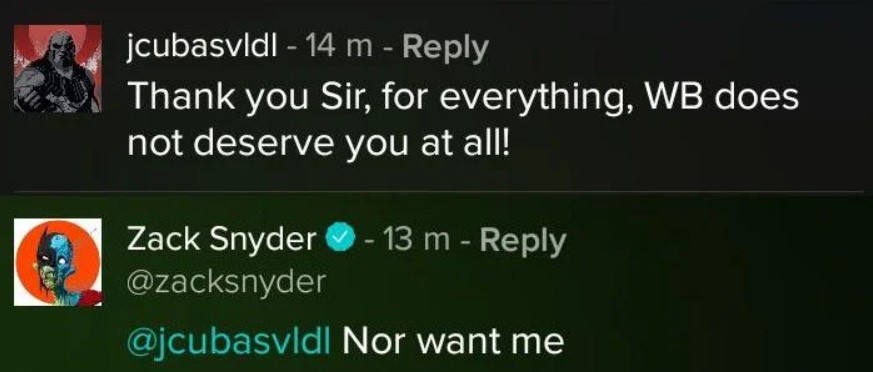 Warner Bros. "crossing the line"
Just a couple of days ago saw Zack respond to Warner Bros. releasing the 4k trailer of Whedon's Justice League movie with a line from his Army of the Dead flick coming to Netflix.
"Crossing the line," Snyder said.
Now we know that Zack wasn't kidding around, as again, Zack makes it clear Warner Bros. doesn't want him or the Snyder Verse.
Regarding the Green Lantern scene for Zack Snyder's Justice League, Zack originally wanted to end the flick with Green Lantern John Stewart, but Warner Bros. said no as they have plans for the character (I'm guessing Abrams), so Zack went with Martian Manhunter.
A fan also questioned if the Green Lantern scene will ever see the light of day, but Zack replied, "I don't think so but I have a rad still."
The actor that played John Stewart in Zack's Justice League is Wayne T. Carr who also shared a behind-the-scenes look at his Green Lantern.
Wayne T. Carr as Green Lantern John Stewart: