You heard it here first as Comic-Con insiders filled in yours truly that Tom Welling would be appearing in Crisis On Infinite Earths, and now the Smallville actor confirms involvement in the upcoming mega-event crossover series.
Last week on Instagram saw Tom Welling tease that he was filming something in South Africa, which saw a fan comment, "I hope you're in Crisis on Infinite Earths."
Welling responded with, "Duh!!!"
The response by Tom Welling is an obvious indicator he will be returning as Clark Kent and Superman from Smallville for the Arrowverse Crisis On Infinite Earths crossover.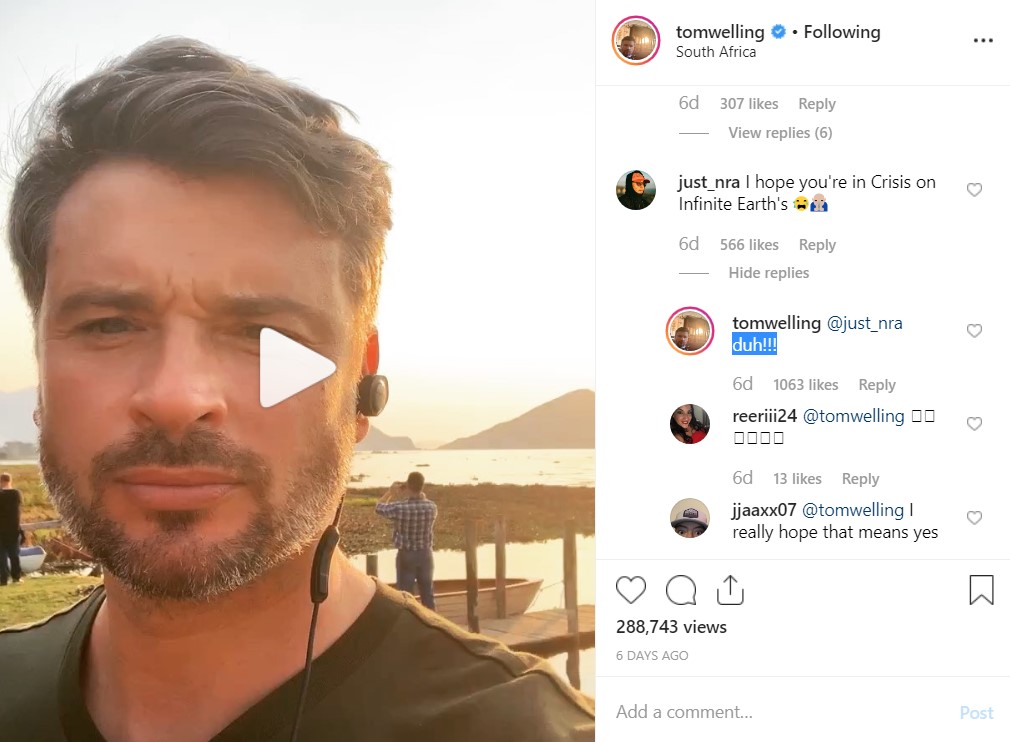 Tom Welling back for Crisis On Infinite Earths from Smallville
Recall that while at Comic-Con I said Tom Welling would be back for Crisis, and I was also told that Lynda Carter was wanted back as Wonder Woman from the '70s TV series; however, Arrowverse producer and writer Marc Guggenheim has subsequently said that Carter probably won't be appearing in the crossover.
Additional details I have been told include that Burt Ward will be playing Robin from the '66 Batman TV series Earth, that characters from the DC Universe Titans series will be appearing, and that they even want some sort of appearance and connection to the DCEU. Guggenheim did confirm what I was told was true, which is obviously contingent on everything being worked out with the actors, lawyers, the studio and what have you.
I was also told that Crisis will be a way of connecting all the WB movies, TV shows and streaming services and that it will somehow do a soft reboot of the DCEU and DC universe (I was told Abrams is on Green Lantern and Superman).
Smallville's Michael Rosenbaum also happens to be rumored to be returning for Crisis as Lex Luthor, with Lana Lang actress Kristin Kreuk also offering that she wouldn't mind returning.
Regarding Tom Welling, he was last seen becoming Superman in the Smallville series finale way back in 2011, so we can speculate for Crisis that Welling will be an older and experienced Man of Steel.
Tyler Hoechlin from Supergirl will also be back as Superman along with Brandon Routh as the Kingdome Come version from the comics, with Kevin Conroy playing a live-action version of Batman.
Crisis On Infinite Earths kicks off in December.
Find more rumors and info here.