A rumor surfaced on Reddit claiming that the J.J. Abrams and Ta-Nehisi Coates Superman movie is dead; however, the info was made up and is not true.
Monday saw a Redditor post a screengrab involving the Heavy Spoilers YouTuber where it's said that the YouTuber heard the Ta-Nehisi Coates Superman is dead.
The post quickly went viral with near 250 up-votes and over 100 comments, which saw a reply on Twitter from KC Walsh who stated the rumor isn't true.
"The Ta-Nahasi Coats Superman film is not DEAD, the script isn't done yet or even due till December, it has not been killed or green lit, those rumors being spread it is Dead are 100% false and Coats is still working on the script for WB," tweeted Walsh.
It turns out, the screengrab was faked and that the Heavy Spoilers YouTuber didn't state that or have anything to do with the claims that the J.J. Abrams and Ta-Nehisi Coates Superman movie is dead.
"This is fake. I haven't said this shit nor have I heard it. Weird that someone would post this but it's completely made up. @TheDenofNerds hit me up before and I had no idea what he was talking about and only just realised now because @TheCulturedNerd sent a screenshot," Paul of Heavy Spoilers tweeted. "Reddit have sorted it. Cheers everyone."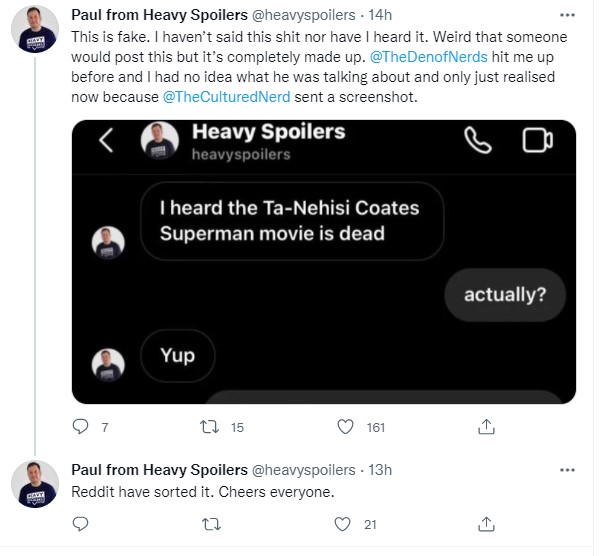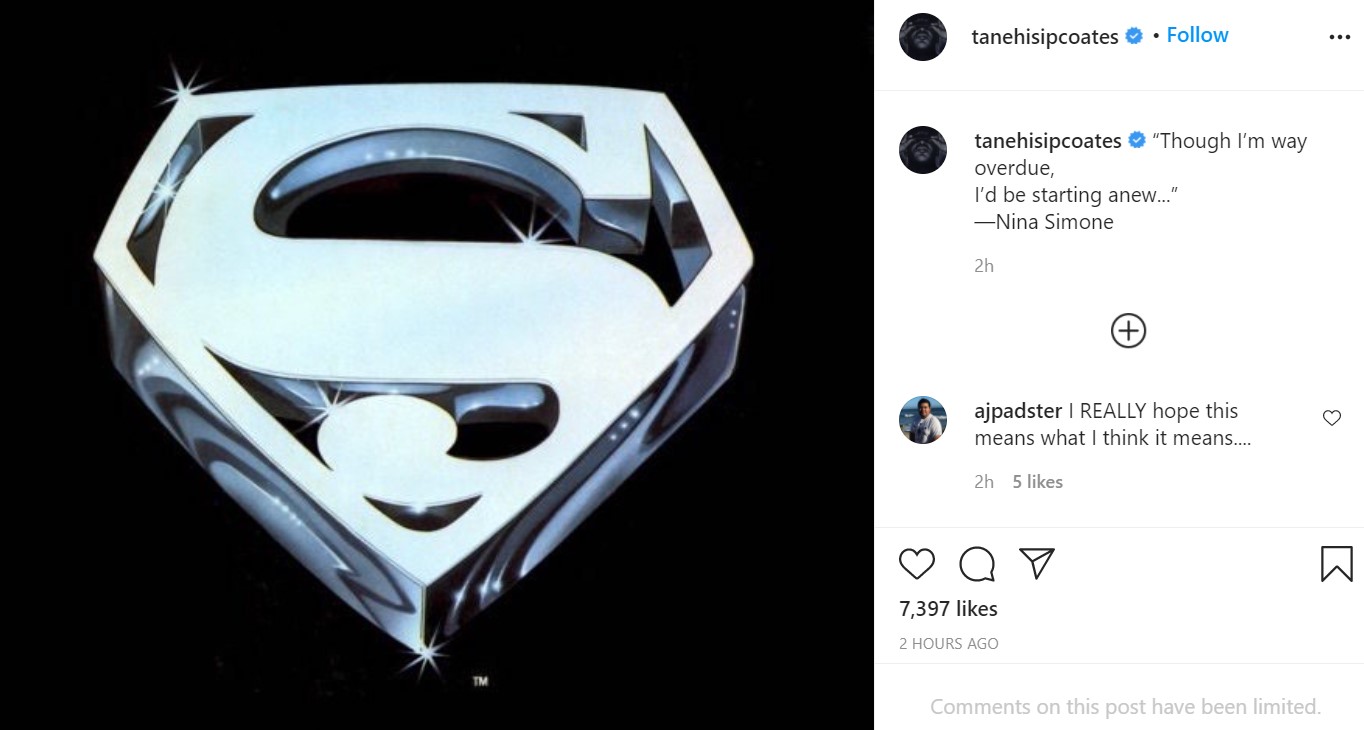 J.J. Abrams and Ta-Nehisi Coates Superman is woke
Regarding the J.J. Abrams and Ta-Nehisi Coates Superman movie, the project was announced earlier this year with details including that it will feature a woke Black Superman.
Previously released details have offered that Ta-Nehisi Coates – described as a left-wing political activist – is creating the Black Superman to be "Kal-El in the vein of the original Superman comics and will have the protagonist hail from Krypton and come to Earth" where Warner Bros., Abrams, and Coates are considering "the film to be a 20th century period piece."
It's also further been said by The Hollywood Reporter that J.J. Abrams can't direct the movie because he is white: "Putting Abrams at the helm would be 'tone-deaf.'"
And it's also thought Abrams and Coates' woke Superman will be replacing the Richard Donner and Christopher Reeve version, the most popular rendition of the Man of Steel.
Recently also saw DC Comics replace the original Clark Kent Superman with a gay version, and DC Comics also got rid of "Truth, Justice, and the American Way."
Michael B. Jordan is also producing and may star in the Val Zod limited event HBO Max series, which is about an alternate Black Superman, not the Clark Kent version (Jordan previously said he is against the woke version, and a Marvel writer also said the Abrams and Coates Black Superman is lazy and beneath Idris Elba).