A Secret Invasion series is rumored in development that will connect to Captain Marvel from the newly branded Marvel TV Studios, along with a second "A-List" show.
Details include that the Secret Invasion TV series is adapting in part the 2008 Marvel Comics event crossover from Brian Bendis and Leinil Francis Yu that dealt with a radical religious sect of Skrulls invading the Earth who believe Earth is religiously and rightfully theirs and who impersonate various Marvel superheroes using their shapeshifting abilities, which prominently featured Spider-Woman.
It's said the Marvel Studios TV series will tie in with the upcoming Captain Marvel movies (the sequel is getting a new writer and director), and we can guess that since the first Captain Marvel movie as well as Spider-Man: Far From Home showed the Skrulls working with SHIELD, that the Skrulls in Secret Invasion are not a part of that same group, again as in the comics the invaders are a part of a separatist religious sect (or maybe they are one and the same?).
It's further guessed that SWORD may come into play, who are confirmed to be debuting in the Elizabeth Olsen WandaVision Disney Plus series.
As noted, worth a mention is that Marvel Comics is launching a new Skrull invasion event with Empyre in April (see below) that features an assault on Earth from the combined forces of the Skrull and the Kree who are led by their new emperor, Hulking. It's also said Meet The Skrulls from last year, about an embedded family of Skrull operatives, with also have a major role in the Empyre event.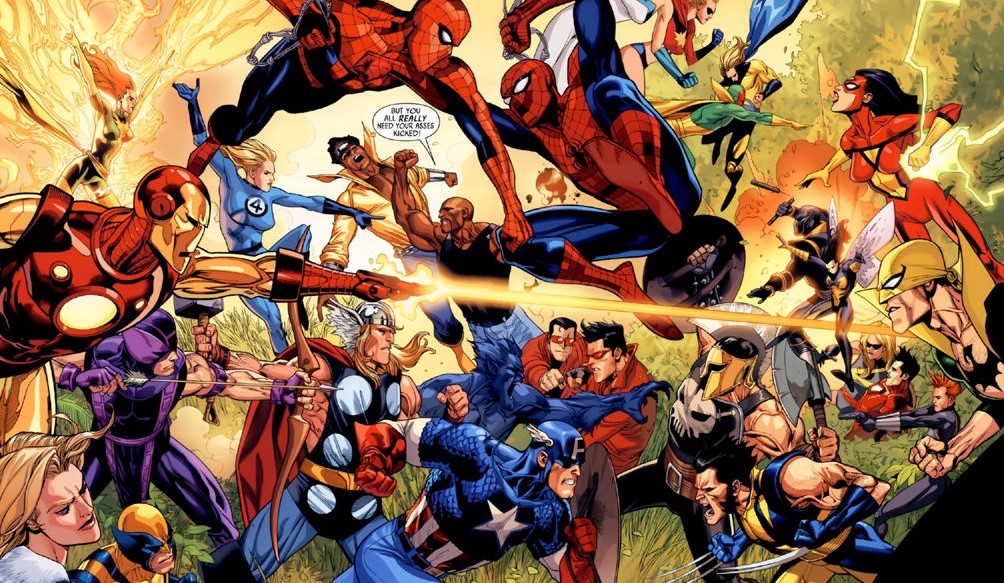 Marvel developing two new shows: Secret Invasion and an A-Lister series
Kevin Feige is now running Marvel Comics, so it's probably safe to assume that the comics are basically a testing-ground for various stories the MCU has in mind, which has been the case basically for years.
Regarding the second series from Marvel TV Studios, it's said to be an A-Lister live-action TV series for Disney Plus, something as big as Tom Hiddleston as Loki, though it is unknown which actor or character will be featured in the series.
In addition to taking over the comics, Kevin Feige has been named the new Chief Creative Officer of Marvel which also sees Feige in charge of the movies and TV divisions; Feige booted Marvel TV and rebranded it recently to Marvel TV Studios with the announcement of the MODOK cast.
Marvel Comics Empyre Skrull invasion event:
EMPYRE #1 (of 6)
AL EWING & DAN SLOTT (W) • VALERIO SCHITI (A) • Cover by JIM CHEUNG
Avengers Variant Cover by ALEXANDER LOZANO
Fantastic Four Variant Cover by MICHAEL CHO
Kree/Skrull Variant Cover by TONY DANIEL
Variant Cover by DAVID FINCH
Variant Cover by TBA
VARIANT COVER BY TBA
PARTY VARIANT COVER BY TBA
PREMIERE VARIANT COVER BY JIM CHEUNG
HIDDEN GEM VARIANT COVER BY TBA
2–PACK ACTION FIGURE VARIANT COVER BY JOHN TYLER CHRISTOPHER
BLANK VARIANT COVER AND SKRULL GREEN VARIANT COVER ALSO AVAILABLE
• The Kree and the Skrulls have united under a new emperor – and their war fleet is on a collision course for our world.
• On the moon, the Avengers are ready to strike with the full power of Earth's Mightiest Heroes. Approaching from outer space, the Fantastic Four are seeking a diplomatic solution.
• If the two teams can't work together to save the day, things can only get worse…
56 pGs./Rated T+…$5.99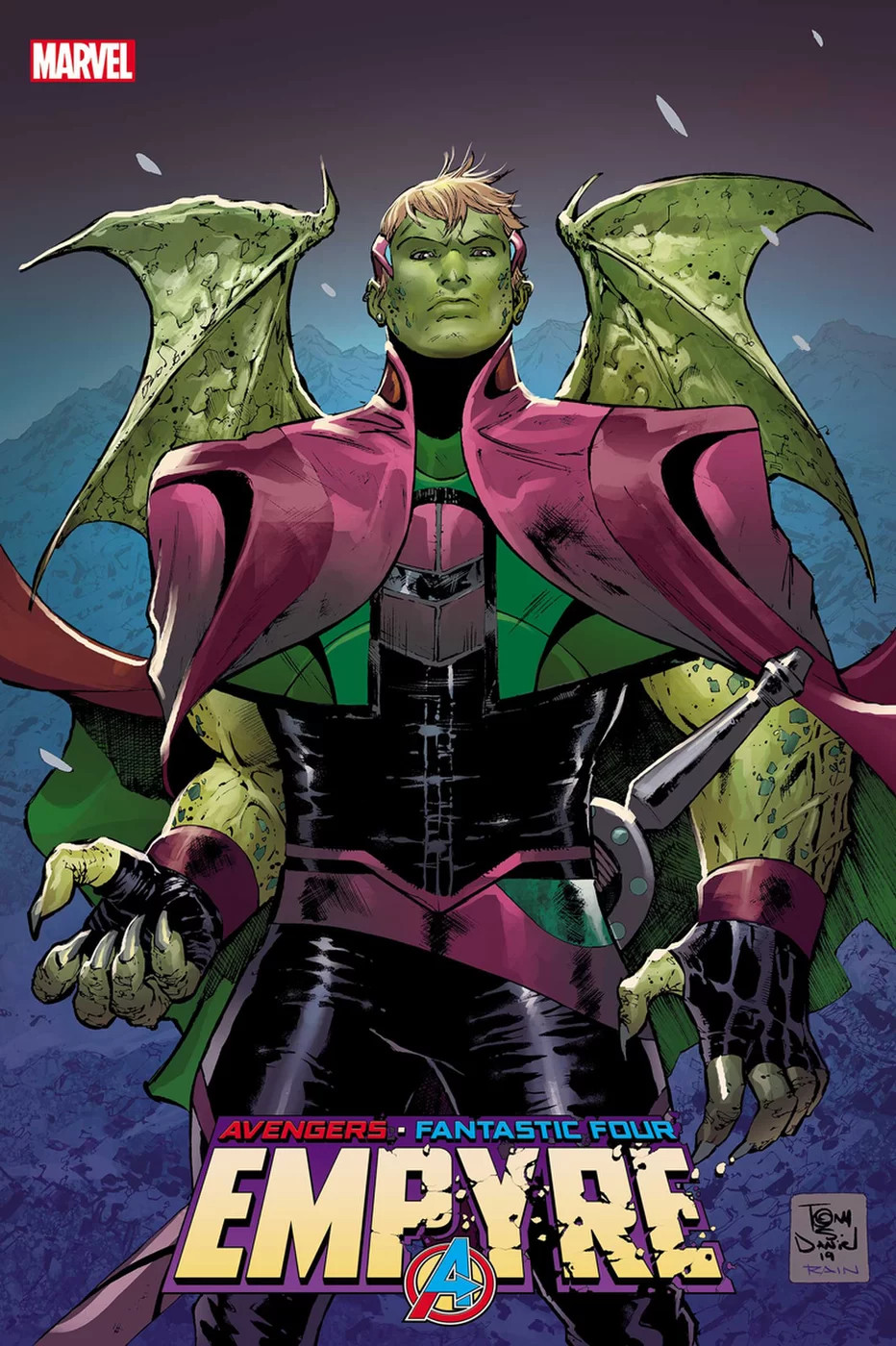 EMPYRE #2 (of 6)
AL EWING & DAN SLOTT (W) • VALERIO SCHITI (A) • Cover by JIM CHEUNG
Avengers Variant Cover by Alexander Lozano
Fantastic Four Variant Cover by Michael Cho
Kree/Skrull Variant Cover by Tony Daniel
Variant Cover by TBA
2-PACK ACTION FIGURE VARIANT COVER BY JOHN TYLER CHRISTOPHER
• Three Avengers are trapped on the moon as war breaks out on Earth – and an ancient enemy reveals a scheme decades in the making!
• Meanwhile, the Fantastic Four fight against a creeping horror that might destroy them all – starting with the Thing!
• Captain Marvel is their last, best hope… But if Carol Danvers survives, what will she become?
40 PGS/Rated T+….$4.99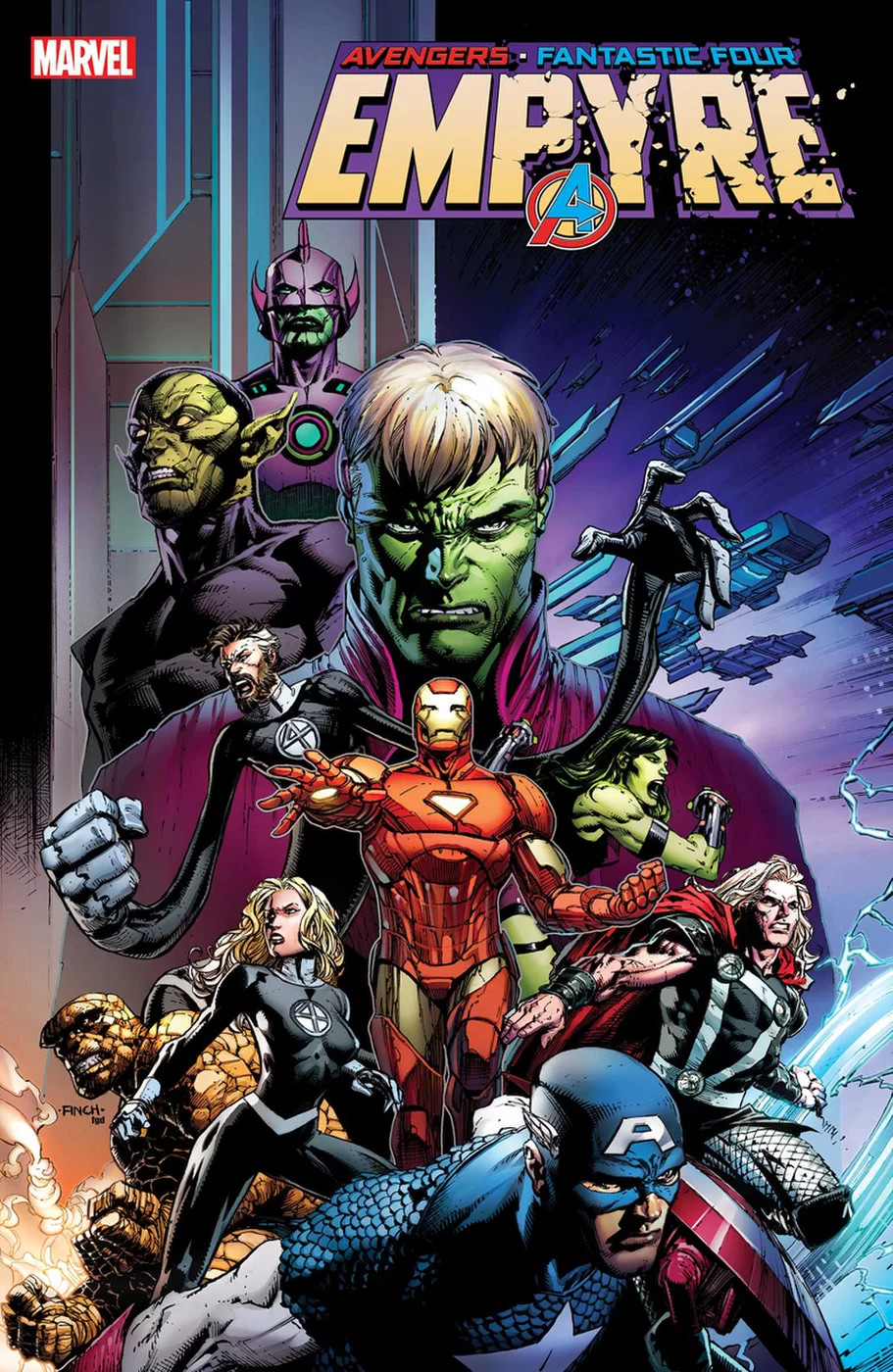 (via Bleeding Cool)