Robert Pattinson still looks super skinny for his role as the Batman and the new DC Bruce Wayne.
The 33-year-old actor has been recently spotted out in the wild at a hotel in Paris at the Dior Homme fashion show looking all Bruce Wayne-like where he doesn't look that much bigger than when he appeared as the vampire heart-throb Edward Cullen in the Twilight movies.
According to Goggle, Robert Pattinson is listed at a height of 6'1″ but only at a weight of a buck-sixty-five.
For comparison, The Dark Knight actor Christian Bale is around the same height but has an added twenty to thirty pounds of muscle, and Pattinson can't even compare to outgoing-Batman Ben Affleck who stands at a hefty 6'4″ at a weight of around 225 lbs or so.
Fan posts image with Robert Pattinson:
Robert Pattinson too skinny for The Batman?
There is actually a rumor going around that Robert Pattinson has had trouble packing on the pounds for the role of Batman, which interestingly enough saw Ben Affleck's trainer respond with an offer to help.
The rumor also has it that as a result of Pattinson not being able to put on weight, that production has to be delayed for a couple of weeks.
We can guess if the rumor has any merit to it that the delay centers around creating the new Batsuit, as obviously if Robert Pattinson is still trying to pack on pounds, they have to wait to create the finished design of the suit as it needs to fit the 33-year-old actor.
That said, Matt Reeves has started filming The Batman in London with Robert Pattinson spotted on a motorcycle as Bruce Wayne, but he hasn't been spotted in the new Batsuit as of yet.
It's thought the new Batsuit reveal might be coming soon, possibly at the end of this month or in February, as it is reported Glasgow, Scotland will be the setting for Gotham City which will feature the new Batmobile; so maybe Robert Pattinson will be seen wearing the new Batsuit as well, which still gives him a couple of weeks to a month or so to continue to try packing on weight for the role.
I'm actually not too worried about Robert Pattinson looking too skinny for the role as they could simply not show him shirtless in the movie, and the new Batsuit can obviously hide a lot if need be.
A fan also whipped up this cool Robert Pattinson as Bruce Wayne magazine cover for The Batman (fan art) which shows promise: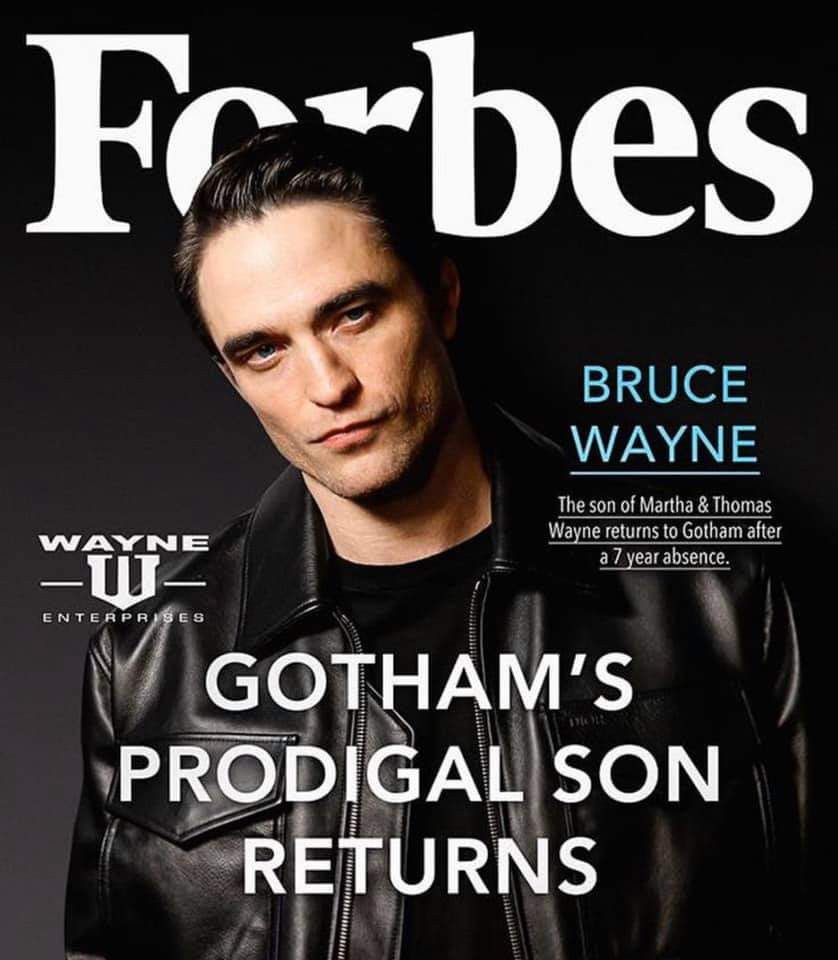 The Batman has a June 25, 2021 release directed by Matt Reeves, co-written by Reeves and Mattson Tomlin, Michael Giacchino is scoring the music, and the film also stars Zoë Kravitz as Selina Kyle, aka Catwoman, Colin Farrell as Penguin, Andy Serkis as Alfred Pennyworth, Paul Dano as Riddler, Jayme Lawson as Bella, and John Turturro as Carmine Falcone, with Peter Sarsgaard in an unknown role thought to be Two-Face.