Mortal Kombat absolutely annihilates Zack Snyder's Justice League in terms of the number of premier views on HBO Max, where the "Snyder Cut" still remains the lowest watched movie on the streaming service.
The info again comes from Samba TV who claims to be able to measure streaming through polling audiences in terrestrial TV homes.
Mortal Kombat is said to have been watched by 3.8 million U.S. households in its opening weekend on HBO Max, while the Snyder Cut was only watched by 1.8 million.
That means over 52% more households watched Mortal Kombat than Zack Snyder's Justice League.
The movie based on the popular video game franchise also obliterated Wonder Woman 1984, as WW84 was watched by 2.2 million households, and Mortal Kombat even stomped out Godzilla vs Kong's reported 3.6 million households.
Mortal Kombat also took home the best opening at this weekend's box office, bringing in $23.3 million.
Update: Samba TV revealed the following infographic: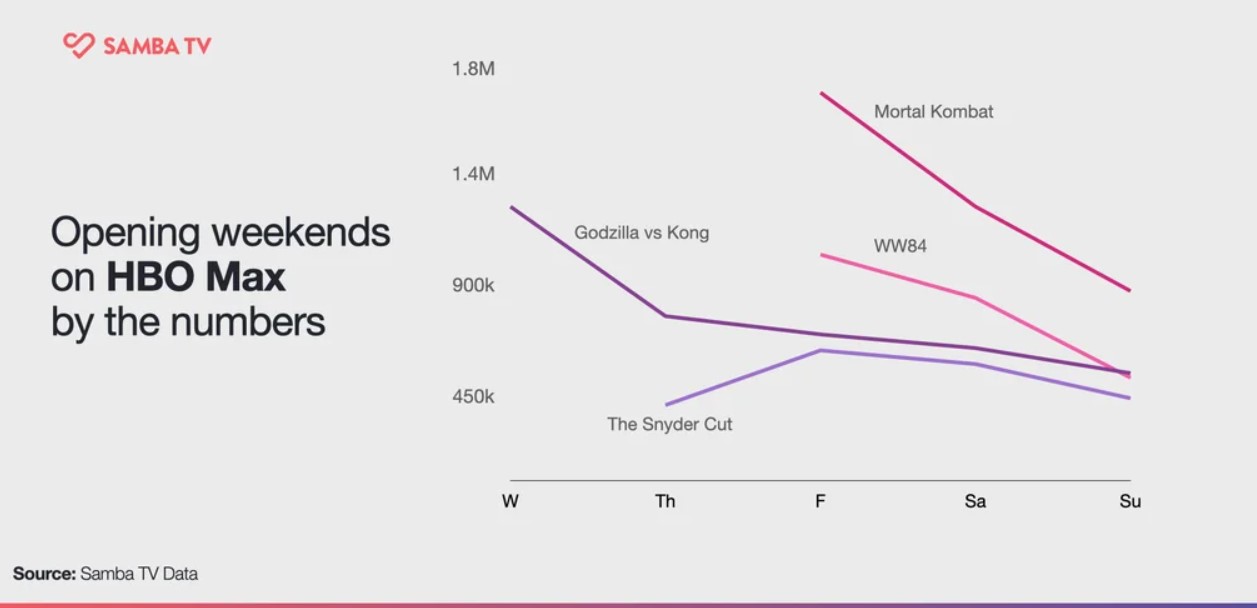 Original article continues:

Snyder Cut didn't do all that well on HBO Max
Regarding why the Snyder Cut didn't do all that well on HBO Max, it probably didn't help that it was released as a four-hour-long movie, as my normie friends have told me they haven't watched it all the way through.
It also is beginning to seem the campaign to #RestoreTheSnyderVerse really isn't as big as thought, as again, the numbers for the Snyder Cut on HBO Max seem really low.
I'll also add it probably didn't help that Zack Snyder insulted the fanbase when he went on the Geeks + Gamers YouTube channel who raised over 100k for his charity, and it definitely didn't help when Snyder revealed his Justice League sequel plans, which are simply atrocious.
Ray Fisher also hasn't helped things.
A recent rumor has since offered the Snyder Verse is done for as the higher-ups at WB don't want it.