With Batwoman Season 2 now filming, Javicia Leslie has revealed the first look at herself in the cowl as the character.
"Look out, Gotham, I'm suited up and ready to go… But just wait until Ryan Wilder puts her own spin on the Batsuit," posted Leslie on Instagram.
First look at in the Javicia Leslie Batwoman suit: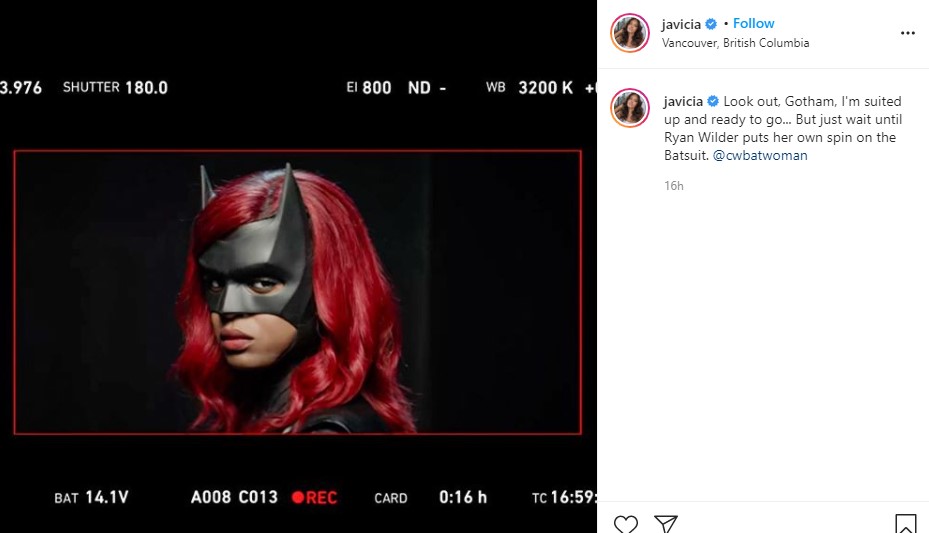 Batwoman will get a new suit for Season 2
True to Leslie's words, it has been confirmed that the new Batwoman will also get a new suit for Season 2 as at the recent DC FanDome virtual con, the executive producers on the series explained how "representation" is important to the new suit.
"How can we be sure that Ryan isn't hiding what makes her awesome, with this suit?" said EP Caroline Dries. "So it's going to be a bit of an evolution. We'll see the suit evolve early on in the season. Ryan is like, 'For me to feel empowered in this thing, it needs to feel like it's representing something I'm fighting for.'"
The new Batwoman suit will also feature Javicia Leslie's natural, textured hair as opposed to a wig, and it has also been said the suit will also change over time as her character, Ryan Wilder, becomes more comfortable within herself and her identity as a superhero.
"Ryan is a new character in the world of DC and she has a lot going against her. She's a girl who was a statistic of injustice the moment she was born," Dries said. "The system was not made for this person and she will constantly battle the system. She's battled with it her whole life and she will battle with it as Batwoman."
A description for Ryan Wilder offers the character is "reformed and sober" and "lives in van with her plant."
Javicia Leslie has replaced Ruby Rose in the series.
Batwoman Season 2 premiers on The CW in January.