Henry Cavill continues to rehab his injured leg which follows an accident that took place while filming The Witcher Season 2 for Netflix.
The Geralt of Rivia actor took to social media to reveal his routine involved with rehabbing his hamstring injury.
"Monday to Friday I'm up at 0430 to get a few hours rehab in before my work day starts. Some mornings are rough, but I do always get to see the dawn by the time I'm finishing up. The snow made this one even more enjoyable, if not a touch chilly!" posted Cavill on Instagram.
Henry Cavill updates hamstring injury:
Henry Cavill reveals hamstring injury in January:
Back in January, Henry Cavill also addressed his injury which was said to involve Cavill 20ft up in the air.
"We are in lockdown here [in] the UK so I'm using my once a day outdoor exercise to go for my first jog since my hamstring injury! (More on that another time). It wasn't fast, and it certainly was far, but it has been a major step in my recovery, and my first step to getting back into the groove after a Christmas that may have involved more than a few cups of mulled wine, and an exceptionally fat Turkey," said Cavill.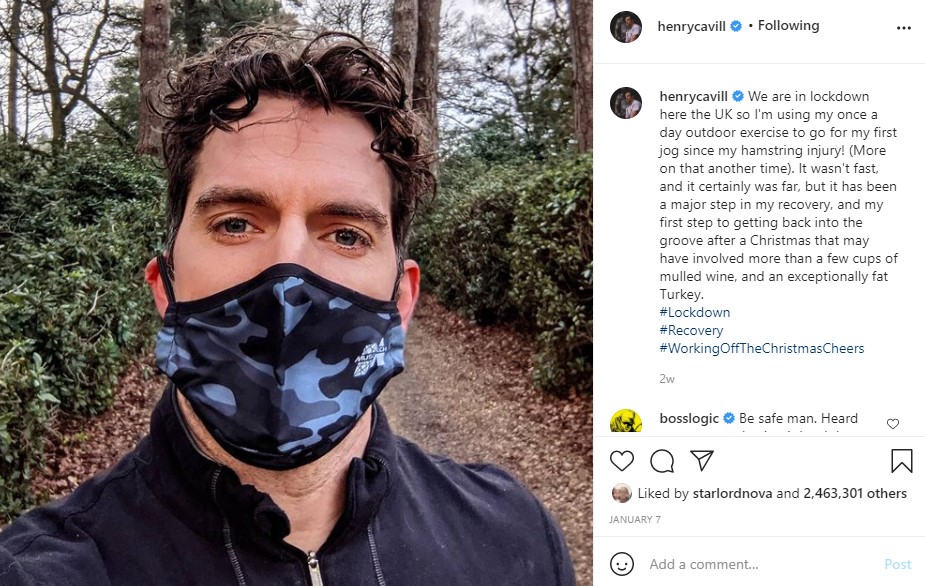 The Witcher Season 2 continues filming
It was reported in December that Henry Cavill had injured his hamstring while working at a height of 20ft in trees while wearing a safety harness.
It's been well over a month since the first report and we see Cavill is still injured, so the hamstring injury must have been pretty bad, as depending on the severance, a hamstring injury can take anywhere from around a few days to heal to three weeks or longer.
It seems the injury must have been a pull or a slight tear, so Cavill is pretty lucky things are not worse, which could have really hampered The Witcher Season 2 production even further which has already been delayed a couple of times due to the coronavirus.
Showrunner Lauren S. Hissrich recently tweeted The Witcher Season 2 continues to film: