Henry Cavill confirms that he injured his hamstring while filming The Witcher Season 2 for Netflix in the UK.
"We are in lockdown here [in] the UK so I'm using my once a day outdoor exercise to go for my first jog since my hamstring injury! (More on that another time)," posted Henry on Instagram on Thursday. "It wasn't fast, and it certainly was far, but it has been a major step in my recovery, and my first step to getting back into the groove after a Christmas that may have involved more than a few cups of mulled wine, and an exceptionally fat Turkey."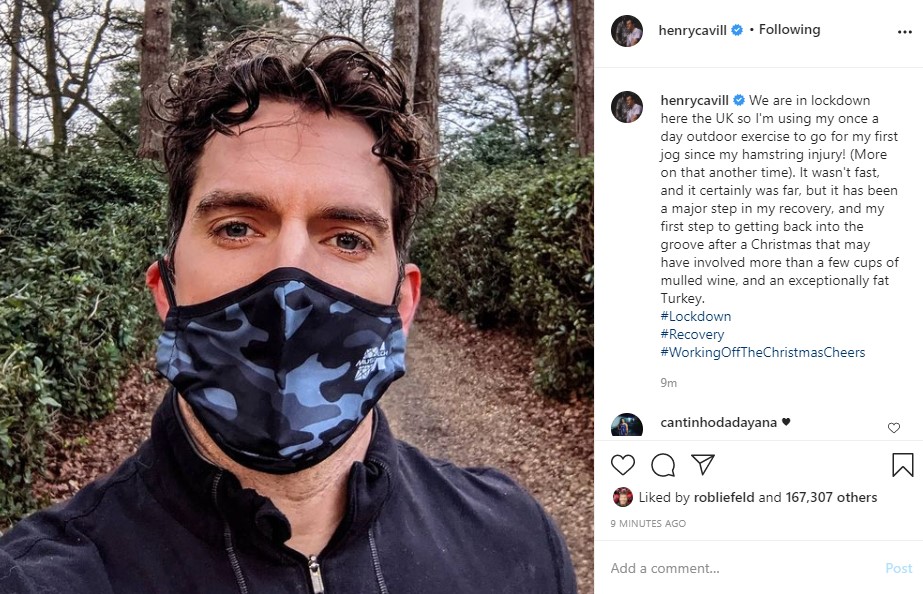 Henry injured his leg while filming The Witcher Season 2
About three weeks ago saw the report that Henry Cavill had been injured while filming The Witcher Season 2.
It was said Henry injured his leg while on an assault course, working at a height of 20 ft in trees while wearing a safety harness.
According to sources for the UK's The Sun, it's unclear what exactly happened as Henry Cavill "suddenly pulled up" and "was in a lot of pain," which I noted at the time sounded like a hamstring injury that could lead to a few days up to 3 weeks to heal.
Deadline also said Henry Cavill would be sidelined for a short period of time, with The Witcher Season 2 filming around his absence.
Following the injury, The Witcher Season 2 went on hiatus for the holidays, so we see Henry Cavill was able to take advantage of the time off to properly heal himself.
While the UK is also in another lockdown, it has been said productions are able to continue filming.
During his downtime, Henry also upgraded his PC and announced a partnership with MuscleTech.
The Witcher Season 2 is expected to air on Netflix later this year.