Green Lantern, The Flash and more are rumored for the Dwayne Johnson Black Adam movie that is set to film this summer.
A rumored list of characters said to be a part of Black Adam has hit the net which includes Green Lantern, The Flash, Hawkman, Hawkgirl, Doctor Fate, Isis, Atom Smasher, and Stargirl (not The CW version).
Regarding Green Lantern and The Flash, it's claimed to be the characters from the Justice Society of America, with the Alan Scott Green Lantern and the Jay Garrick version of The Flash.
The Alan Scott version actually predates Hal Jordan by nineteen years or so, as the character was created in 1940 who was featured in the first Green Lantern comic, but then not used for twelve years, with a new take on Green Lantern launching with Hal Jordan. DC would then revisit Alan Scott and connect him to Hal Jordan, both being Green Lanterns, but the Scott version is from an alternate universe, Earth-2.
Likewise, the Jay Garrick The Flash also debuted in 1940, and similar to Alan Scott wasn't used for a period of time which then saw DC relaunch with Barry Allen. Garrick was also brought back as being from Earth-2.
Dwayne Johnson did recently confirm the Justice Society of America when he said: "JSA. We will introduce you to that, the world to JSA."
Regarding the Hal Jordan version of Green Lantern, I've been told J.J. Abrams will be tackling a Green Lantern movie, and WarnerMedia has also announced a Green Lantern HBO Max series.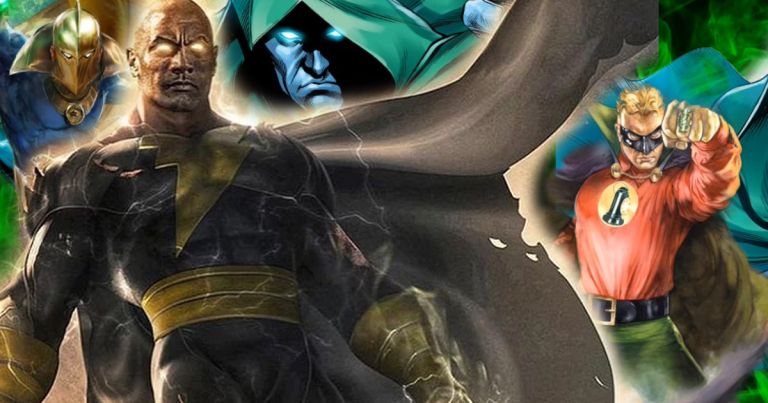 Black Adam rumored characters
Regarding the Black Adam movie, Grace Randolph offers up the leads, are, of course, Dwayne Johnson as Black Adam, with Hawkman (WB wants to cast someone in their 30s) and other lead being Isis, aka Adrianna Tomaz, who in the movie would be a victim of sex trafficking that gets the power of an ancient Egyptian goddess and powers up by saying, "I am Isis!" Isis' powers see the character's emotion affecting the environment, i.e. she is sad it gets rainy, she's angry it gets stormy, she's happy flowers bloom, etc.
It's said the supporting characters in the flick include Atom Smasher (actor in his 20s), Stargirl (actoress in her 20s; again not the one in The CW/DC Universe app series), Doctor Fate (actor in 30s) and Hawkgirl (actoress in her 20s, thought to be small role).
Black Adam has a December 22, 2021 release directed by Jaume Collet-Serra.