With rumors that Hawkman will be a part of the Black Adam movie, now Dwayne Johnson confirms the flick will introduce the JSA, the Justice Society of America.
While promoting the release of his latest movie, Jumanji: The Next Level, Johnson talked about Black Adam, offering up (via iO9):
JSA. We will introduce you to that, the world to JSA.
The JSA is a DC superhero team that consists of various characters including Hawkman, Doctor Fate, Spectre, the Atom, the Jay Garrick The Flash, the Alan Scott Green Lantern and more.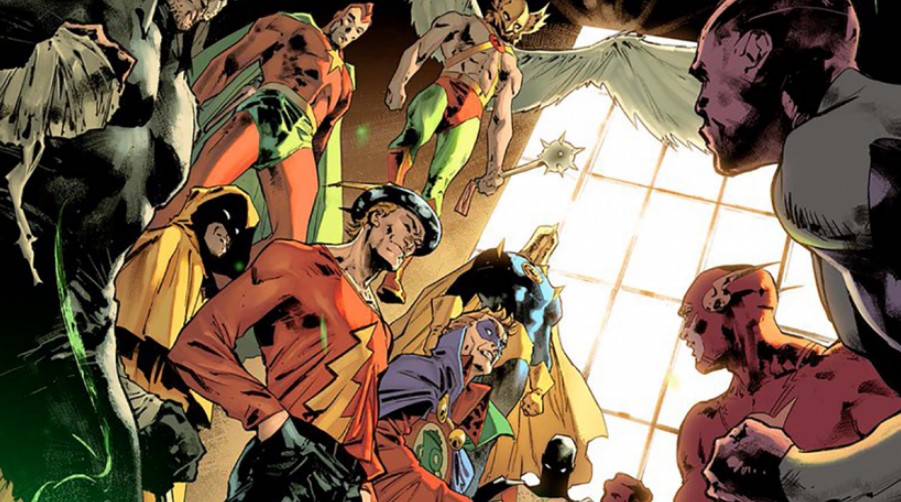 JSA rumors:
Additionally, rumors from back in July are offering up that Dwayne Johnson wants Black Adam to incorporate some sort of JSA plot, which will eventually lead to a JSA movie.
It's also said that while following the failure of Justice League, originally Warner Bros. had abandoned the concept of a shared universe, instead to focus on building around the characters, which is something the billion-dollar success of Joker proved as well as Aquaman and Wonder Woman – that they don't need a DCEU – but it's claimed Dwayne Johnson wants a shared universe, so it is happening.
Producer on Black Adam and president of Johnson's Seven Bucks Productions production company, Hiram Garcia, recently confirmed the flick takes place within the DCEU with mention of a shared universe (via CBS):
So first, because this is the same world as Shazam where everything is doing their own separate world. We have plans for our own version, we're starting to craft a DC universe there around Black Adam, Shazam and so forth and the plans for characters we have that are going to be introduced and so forth. Because ultimately we love the idea of a shared universe. I think the fans love the idea of a shared universe. They love seeing these characters interact. So we have very ambitious plans. How are we going to do that and orchestrate it and it's all in the works.
It's claimed that Warner Bros. still wants an "Avengers" type movie of their own, but that instead of Justice League, they will be going with JSA instead.
Characters rumored for the JSA on the big screen include Hawkman, Doctor Fate, Atom Smasher, Green Lantern (Alan Scott), Power Girl and The Spectre, with Felix Faust as the villain.
It's said the blueprint for the JSA will be the Geoff Johns and David S. Goyer comic from the late 90s / early 2000s.
(rumors via Lords of Long Box YouTube)