The Flash star Ezra Miller was arrested for disorderly conduct and harassment Monday night in Hawaii.
According to a press release from the Hawaii Police Department, the arrest took place shortly after midnight on Monday, March 28, 2022, when a 29-year-old man visiting from Vermont was arrested and charged for disorderly conduct and harassment after an incident at a bar in Hilo.
That man was Ezra Miller.
Update: It's claimed Ezra Miller's behavior has caused major changes to the DC movies.
Update #2: Ezra Miller as The Flash is on hold following WB emergency meeting.
Original article continues:
The press release continues, "On Sunday, March 27, at 11:30 p.m., South Hilo patrol officers responded to a report of disorderly patron at a bar on Silva Street. During the course of their investigation, police determined that the man, later identified as Ezra Miller, became agitated while patrons at the bar began singing karaoke. Miller began yelling obscenities and at one point grabbed the microphone from a 23-year-old woman singing karaoke (disorderly conduct offense) and later lunged at a 32-year-old man playing darts (harassment offense). The bar owner asked Miller to calm down several times to no avail."
The press release further notes, "Miller was arrested and charged on both offenses and total bail was set at $500. He provided the bail and was released."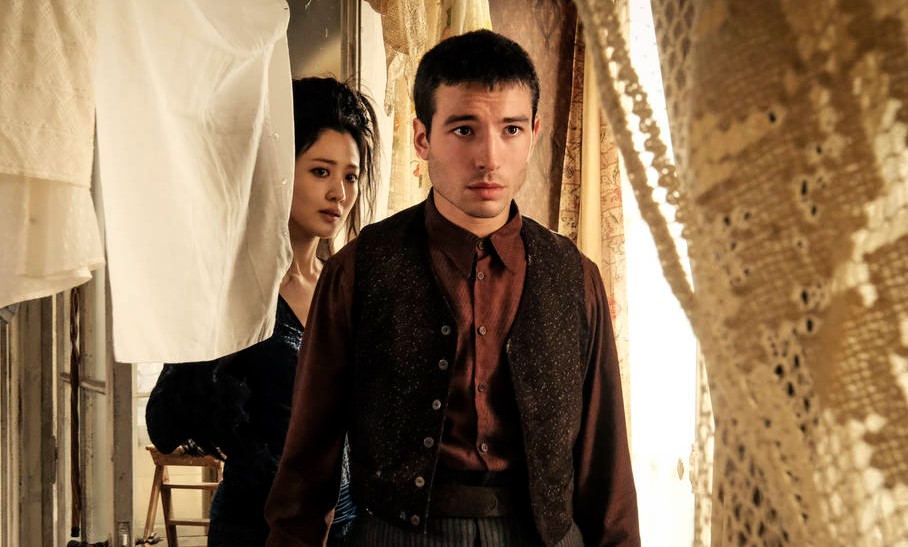 The arrest of Ezra Miller follows a number of bizarre incidents
Ezra Miller threatened to kill the Ku Klux Klan
The arrest of Ezra Miller in Hawaii is another bizarre incident in the actor's life as back in January, Miller threatened to kill the Ku Klux Klan in a post on social media.
"This is a message for the Beulaville chapter of the North Carolina Ku Klux Klan," Miller said in the video on Instagram which has been deleted along with most of his posts. "Hello, first of all. How are y'all doing? It's me. Look, if y'all wanna die, I suggest just killing yourselves with your own guns, OK? Otherwise, keep doing exactly what you're doing right now — and you know what I'm talking about — and then, you know, we'll do it for you if that's really what you want. OK, talk to you soon, OK? Byeee!"
Ezra Miller choked a woman
Back in April of 2020 while filming Fantastic Beasts 3 in Iceland, a video also surfaced showing Ezra Miller choking a woman, which at the time was said to be a serious altercation.
Since #FantasticBeasts is trending…a reminder that Ezra Miller choked & practically wrestled a fan to the ground in 2020.

He now has been arrested for disorderly conduct and harassment after yelling obscenities & lunging at a man..

Will be interesting to see how WB responds pic.twitter.com/seH8wZoc6j

— Jen –‍☠️ ⚔ –‍☠️ (@No_Reason_Jenz) March 29, 2022
Nothing became of both incidents, so it remains to be seen what will become of his arrest in Hawaii.
Ezra Miller stars in Fantastic Beasts: The Secrets of Dumbledore which gets released April 15, and Warner Bros. recently pushed back The Flash movie to June 23, 2023.
The Flash scene featuring Ezra Miller going into the Speed Force in Zack Snyder's Justice League also won favorite Oscars cheers moment.