Earlier it was announced that Captain Marvel 2 will be directed by Nia DaCosta, which may have left fans wondering who exactly that is.
I'll admit I'm not familiar with the writer and director, so I checked her social media which reveals some promise as she often tweets about comics and video games with mention of Batman, Silver Surfer, Skyrim, The Last Of Us and Fortnite.
According to her bio on Wiki, the 30-year-old Nia DaCosta is an American screenwriter and director from Brooklyn and Harlem, New York whose claim to fame is crowdfunding the Little Woods movie which starred Marvel actress Tessa Thompson. The film premiered at the Tribeca Film Festival in 2018 and was awarded the Nora Ephron Award for "excellence in storytelling by a female writer or director."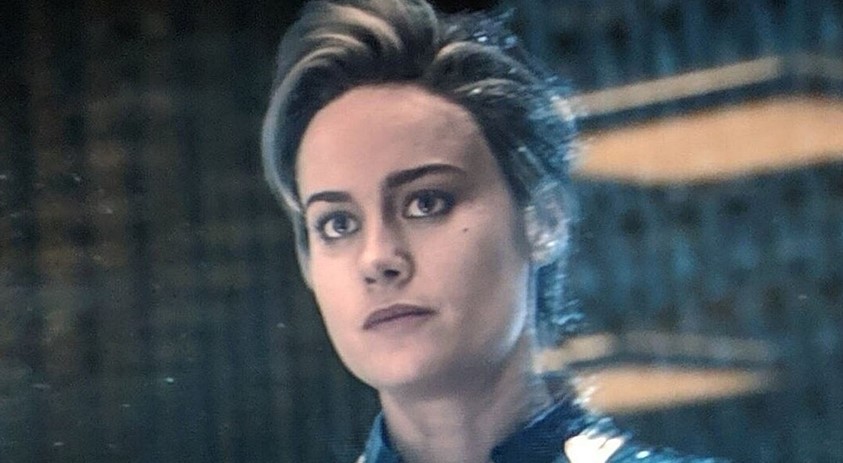 Will Captain Marvel 2 be woke?
Fans will also recognize Nia DaCosta from the upcoming remake of Candyman that has been delayed and is now due out Oct. 16 that sees her direct (watch the trailer below). Unfortunately, it has Jordan Peele attached as writer and producer, who is rather "woke," but that doesn't necessarily mean DaCosta is as woke as Peele.
Obviously, with Brie Larson still attached to Captain Marvel 2 that is more cause for concern for "wokeness" and which follows the first movie's "wokeness."
Additional concerns could come from the obvious that DaCosta has little experience and is young. To boot, more than likely, while Feige won't let DaCosta have creative freedom on the flick, it should be noted things didn't apparently work out with Anne Bowden and Ryan Fleck who directed the first Captain Marvel movie and who also had no creative control and are not returning for the sequel. We can also add that DaCosta might not be familiar with large sets and action sequences required for Marvel movies, but again, that is where Feige and the Marvel team will probably take over the movie.
Check out some tweets by Nia DaCosta below which includes her support of Justice League actor Ray Fisher.
A fan also brings up that the writer of Captain Marvel 2, Megan McDonnell, is writing the WandaVision series for Disney Plus which is confirmed to have Monica Rambeau as part of the series, who in Marvel Comics lore, happens to also be Captain Marvel as well as Spectrum, Photon and Pulsar, so maybe Monica Rambeau will appear in Captain Marvel 2.
There was also a rumor a way back that John Boyega might be up to play Nova and we see DaCosta has tweeted the former Star Wars actor.
Candyman trailer:
Nia DaCosta tweets:

Very proud of Ray for speaking out. The threat of retribution is so real which is in part how abusive and unprofessional behavior is perpetuated in our industry. Speaking up absolutely comes with consequences so I salute his bravery. https://t.co/sEbpefZlnt

— Nia DaCosta (@NiaDaCosta) July 1, 2020
This really sent me to another dimension. https://t.co/2ptBm8JMc6

— Nia DaCosta (@NiaDaCosta) June 5, 2020
Yeah! It was made by @AfuChan1 , I bought it from him at Comic-Con a couple years ago. Getting it framed right now! https://t.co/iQJGN0crKm

— Nia DaCosta (@NiaDaCosta) August 6, 2020
I'm on Twitch again and this time it's not just my voice. I will allegedly also be visible?! Corona-times are wild. https://t.co/Xq5j7luUGW

— Nia DaCosta (@NiaDaCosta) July 17, 2020
So Skyrim mods are just like "here, have a dragon, be invulnerable and also this bow will kill anyone with one hit." I'm into it.

— Nia DaCosta (@NiaDaCosta) July 14, 2020
It is probably the most addictive game I've ever played.

— Nia DaCosta (@NiaDaCosta) July 13, 2020
I will indeed be joining. (While I wait for my download –) https://t.co/9kS1JZyxzr

— Nia DaCosta (@NiaDaCosta) July 10, 2020
Spider-Man (2018)

— Nia DaCosta (@NiaDaCosta) July 10, 2020
Why do you look like a superhero in hiding

— Nia DaCosta (@NiaDaCosta) July 9, 2020
Finally finished The Last of Us Part II. Truly tremendous. And it is no small thing that two women get to have the kind of journey and character development usually reserved for men. Also this is now an Abby stan account.

— Nia DaCosta (@NiaDaCosta) July 7, 2020
Steve Rogers low key is getting to me.

— Nia DaCosta (@NiaDaCosta) June 30, 2020
Silver Surfer is like, "Gal, what did we say about empty calories?!"

— Nia DaCosta (@NiaDaCosta) June 30, 2020
Michael Keaton is Batman. Period. https://t.co/6NoRS0mtwo

— Nia DaCosta (@NiaDaCosta) June 25, 2020