With the release of the Joker deleted scene, it seems as if the viral campaign for The Batman surrounding the Riddler websites has come to an end courtesy of the Gotham City Police Department.
In conjunction with what occurred in the movie, Warner Bros. created a real website where fans could visit and interact with Riddler who would drop various riddles to solve which featured various rewards, with the latest being the Joker deleted scene and the announcement that Paul Dano is writing a Riddler: Year One comic book for DC Comics.
Now when visiting Rataalada.com (and Youareelrataalada.com), an image is shown stating, "THIS DOMAIN HAS BEEN SEIZED."
The notice continues, "The domain for Rataalada.com and Youareelrataalada.com has been seized by the Gotham Police Department pursuant to a seizure warrant issued by the Gotham City District Court under the authority of 18 U.S.C. 981, 982, Inter Alia, as part of coordinated law enforcement action by City of Gotham Police Department."
Previously when checking the source code on the page, it teased, "Nice try. You won't find anything here," but now it only says, "Goodbye <?>."
Gotham PD seizure of Riddler website notice: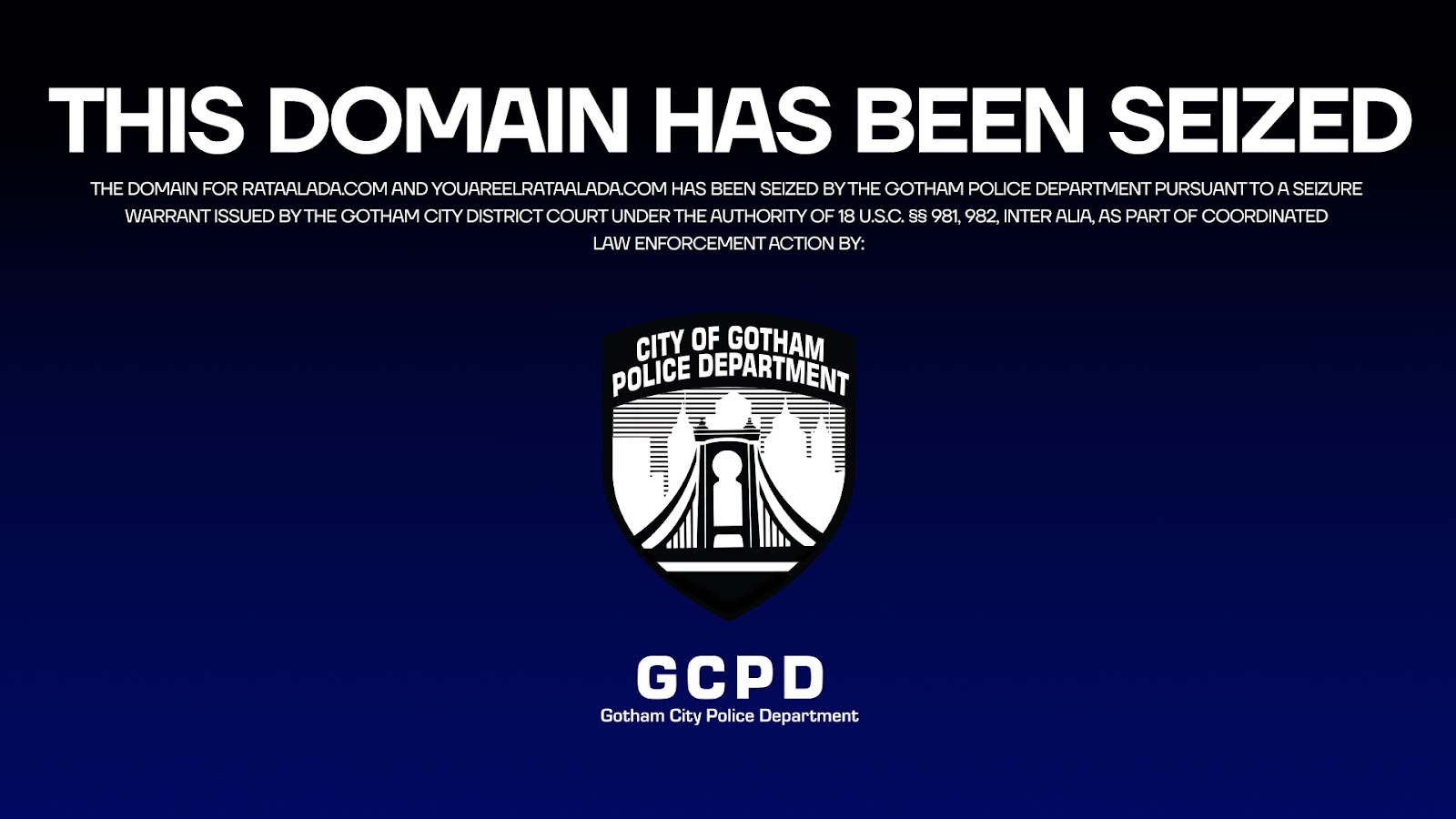 Will we see Riddler again?
At the end of The Batman, the Joker did tease Riddler that Gotham loves a comeback where the two seemingly became friends, so maybe we'll see the pair again, which possibly could be in the Arham series that is being created for the HBO Max streaming service.
Director Matt Reeves was previously developing a Gotham PD series for HBO Max, but it has since been changed to a more horror-oriented Arham Asylum series, which I think is a good call because the Gotham series recently aired on Fox and The CW has its own upcoming Gotham Knights series which is said to feature a team of mismatched fugitives who become the city's next generation of saviors, known as the Gotham Knights. Plus, HBO Max also has the Colin Farrell Penguin series in development, all of which will certainly feature the Gotham PD.
The Batman is playing in theaters and comes to HBO Max next month. The movie also stars Robert Pattinson, Zoe Kravitz, Andy Serkis, Jeffrey Wright, and John Turturro.