Actor Colin Farrell is spotted out in the wild revealing a possible look at his Oswald Cobblepot, aka Penguin, for The Batman.
While at first thought to possibly be playing Emperor Penguin due to other set pics, these new images offer that perhaps Colin Farrell is playing the genuine Penguin, which director Matt Reeves teased when he confirmed the casting news.
The pics reveal Farrell with grey hair and a darker goatee where the 43-year-old actor looks like he packed on a few pounds (via Twitter).
Update: Colin Farrell recently appeared on Ellen talking about Penguin and Batman; the look below is not for the movie.
Colin Farrell sports Penguin look for The Batman: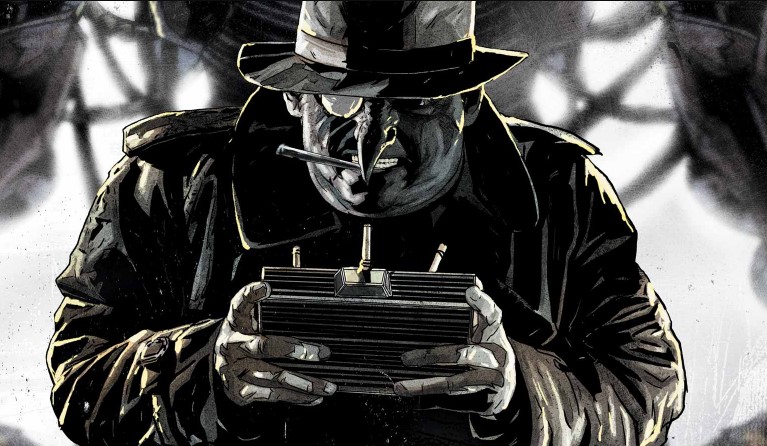 Colin Farrell plays Penguin in The Batman
In the comics, Penguin happens to be pretty lumpy with a large nose, so it remains to be seen if Colin Farrell will undergo makeup effects with an added prosthetic nose of some sort and if his hair will be changed for the flick.
Emperor Penguin, in the comics, is a different character, the once right hand to Penguin, who has blond hair and is noticeably skinnier than Oswald Cobblepot.
DC Comics officially describes Oswald Cobblepot as:
This is a villain fueled by a pathological rage that compels him to turn his odd physique, bird-like profile and awkward waddle into a well-dressed force for fear. No one knows more about what the evil forces of Gotham are up to at any given moment than he and he uses that information to blackmail, intimidate and corrupt anyone he can, especially when it's in the service of bringing down Batman.

They say you shouldn't judge a book by its cover, but they also say evil is as evil does. A master manipulator, the Penguin is usually surrounded by violent henchmen who do his bidding without question. But when it comes down to a face-to-face, expect him to unleash a deadly barrage from a variety of umbrella weapons and other ingenious devices—often taking the form of fowl. And when all else fails, the Penguin will fight as dirty as they come, hand to hand combat doesn't ruffle his feathers at all.
Earlier also saw Robert Pattinson spotted at a fashion show where he is dressed in black, reminiscent of DC's Dark Knight and Bruce Wayne.
The Batman has a June 25, 2021 release directed by Matt Reeves, co-written by Reeves and Mattson Tomlin, Michael Giacchino is scoring the music, and the film also stars Zoë Kravitz as Selina Kyle, aka Catwoman, Andy Serkis as Alfred Pennyworth, Paul Dano as Riddler, Jayme Lawson as Bella, and John Turturro as Carmine Falcone, with Peter Sarsgaard in an unknown role thought to be Two-Face.
The Batman Colin Farrell Penguin fan art: