Ant-Man and the Wasp: Quantumania which kicks off Kevin Feige's Marvel's Phase 5 absolutely bombs on Rotten Tomatoes.
With 108 reviews currently accounted for, the Ant-Man and the Wasp: Quantum Rotten Tomatoes Score is at 56%, which is Rotten.
We'll update the score as more reviews are made available and once the movie gets officially released, the Rotten Tomatoes Audience Score will become known, which with a negative Marvel movie usually has a lot higher score from fans.
If the 56% holds up, Ant-Man and the Wasp: Quantumania will be the MCU's second Rotten movie after Eternals (47%) and will join Marvel TV's Inhumans (11%) and Iron Fist (37%) as Rotten.
For the record, Ant-Man and the Wasp released in 2018 has a Rotten Tomatoes Score of 87% (Audience Score of 80%), and the first one released in 2015 has an 83% score from critics (85% score from fans).
Check out what some of the negative reviews have to say below for the third movie.
Update: With 167 reviews, the score has dropped to 51%.
Update #2: With the movie now released and 212 reviews available, the Rotten Tomatoes Score has dropped further to 48%; the Audience Score is currently at 86%.
Related: MODOK leaks revealing awful CGI.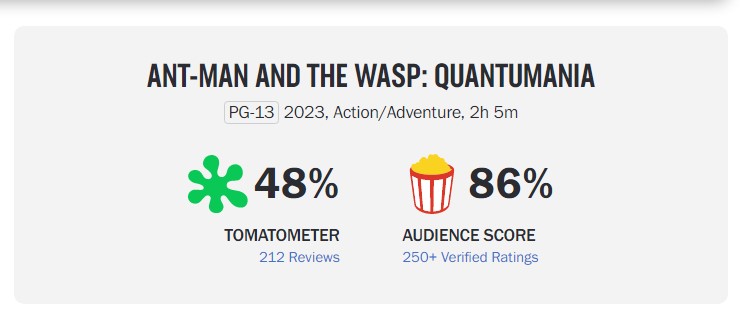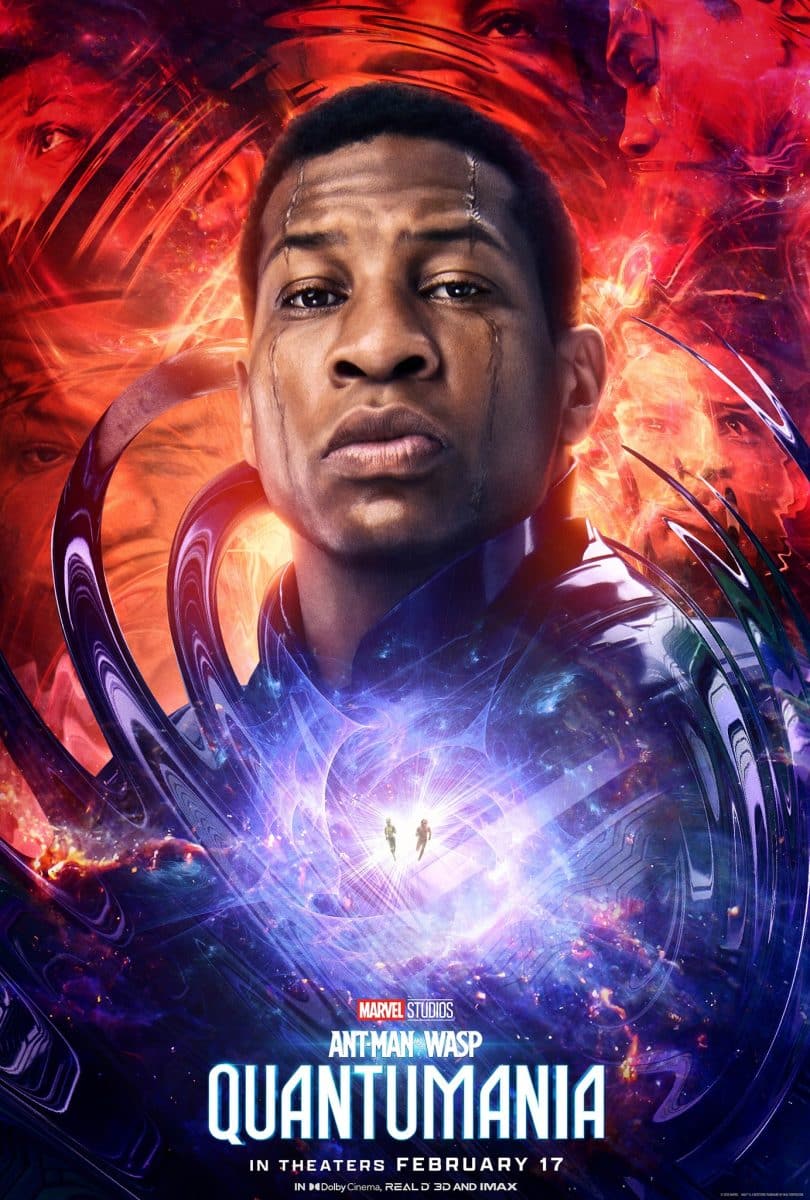 What do the negative reviews on Rotten Tomatoes have to say?
As the Ant-Man and the Wasp: Quantumania Rotten Tomatoes Score is so low, there happens to be a lot of "Rotten" negative reviews, so here is a small selection.
Ant-Man and the Wasp: Quantum Mania negative reviews on Rotten Tomatoes:
Mostly it exists as connective tissue between different eras of the MCU, displaying embarrassingly little interest in its own main characters. – The Daily Dot
If Ant-Man and the Wasp: Quantumania is a portent of the franchise's future, Marvel is in real trouble. – The Spool
Quantumania is somehow heavy without feeling substantial, almost desperate in its dourness. Even scattered with occasional wisecracks, it makes Eternals feel positively breezy by comparison. -Rolling Stone
An ultra generica and aggressively mediocre film that is intermittently elevated by the charm and charisma of its cast. – Nestor Cine Desde Hollywood
Ant-Man and the Wasp: Quantumania works on one key level, establishing Kang the Conqueror as a truly formidable and worthy villain. Yet with its plunge into inner space, "Ant-Man" comes up short in almost every other way that matters. – CNN
Majors is certainly chilling and captivating, but Kang seems like a mismatched foe for a standalone Ant-Man film and the result is a Quantumania that is trying to be too many things. – AP
What a chore this so-called entertainment is! – LA Times
Another two-hour blast from Marvel's inexhaustible multicoloured CG gunge hose. – Daily Telegraph UK
Just as readers will likely get lost in its gobbledygook subtitle, so too does Rudd get swallowed up by the consuming CGI insanity of his latest comic book extravaganza. – The Daily Beast
Quantumania is proof, if we still needed it, that bigger isn't always better. In growing to typical Marvel size, it shrinks away the fun. – Chron
It's like something a kid threw together for a science fair, hoping that sheer charm would compensate for not having any actual science content. Too bad that, for all its amusing jokes, the world onscreen mostly looks like a Marvel screen-saver. – RobertEbert.com
Midway through, as everyone on screen was restating their interest in getting home again, I thought: Same! – Chicago Tribune
Both a dispiriting reminder that the MCU has abandoned wit and that even the most clever and idiosyncratic of filmmakers can be steamrolled by the unstoppable obligations of corporate storytelling. – Globe and Mail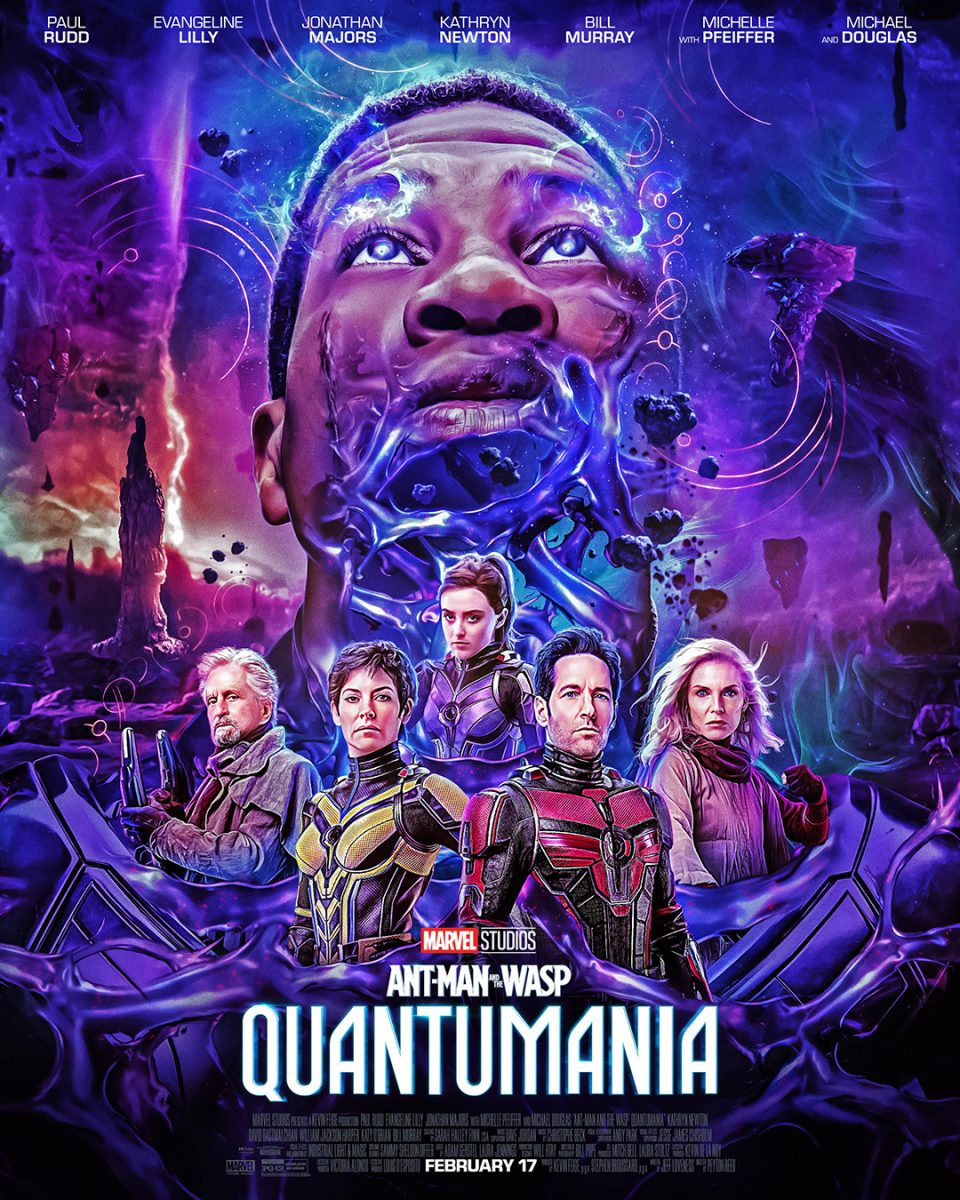 What is Ant-Man and the Wasp: Quantum about?
The flick's official synopsis describes the movie as:
In the film, which officially kicks off phase 5 of the Marvel Cinematic Universe, Super-Hero partners Scott Lang and Hope Van Dyne return to continue their adventures as Ant-Man and the Wasp. Together, with Hope's parents Hank Pym and Janet Van Dyne, the family finds themselves exploring the Quantum Realm, interacting with strange new creatures and embarking on an adventure that will push them beyond the limits of what they thought was possible. Jonathan Majors joins the adventure as Kang.
The cast includes Paul Rudd, Evangeline Lilly, Michael Douglas, Michelle Pfeiffer, Kathryn Newton and Jonathan Majors as Kang the Conqueror.
Ant-Man and the Wasp: Quantumania opens in theaters on February 17, 2023 directed by Peyton Reed, with advanced previews on Thursday, Feb. 16.