It's again claimed that Amber Heard is getting removed from Aquaman 2 and that Mera will be recast, while at the same time it's also said the actress still remains in the movie in a small role.
The latest rumor comes from Just Jared, a site known for posting celebrity images taken by the Paparazzi, which is owned by Townsquare Media, Inc., a company that happens to be the third-largest AM–FM operator in the country.
The site claims a source has filled them in that, "Warner Bros. decided to recast Amber Heard's role after screentesting the movie. They are going to be doing reshoots with Jason Momoa and Nicole Kidman."
The source adds that a new actress will play Mera in Aquaman 2 and any future DC films.
Recently did see it said that a recent test screening of Aquaman 2 actually features more from Amber Heard as Mera, and Just Jared now offers an update in that a separate source close to production says Amber Heard is still in the movie and that she hasn't been completely cut and still has a small role, but the site still sticks by their other source who says Amber Heard as Mera will be recast in Aquaman 2, and that eventually, they will update their audience.
Update: A spokesperson for Amber Heard has filled in EW.com denying that the actress has been cut and that Mera will be recast: "The rumor mill continues as it has from day one — inaccurate, insensitive, and slightly insane."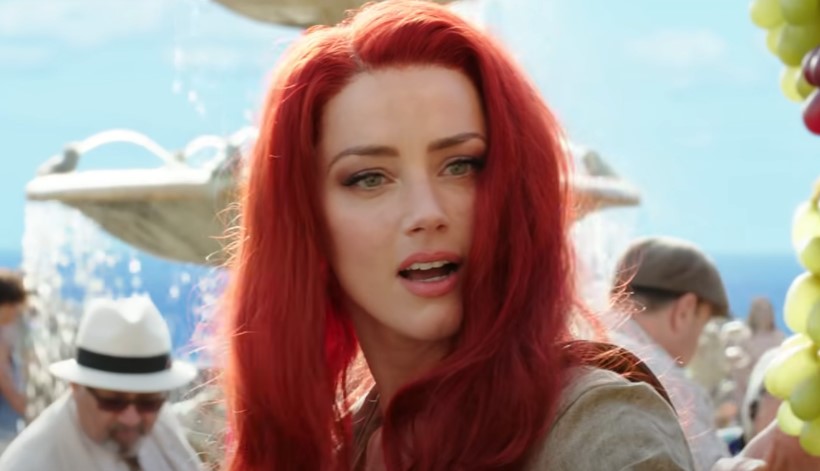 Amber Heard in or out of Aquaman 2?
The recent Aquaman 2 test screening said Amber Heard actually appears in 25 minutes of footage, more than double the earlier amount of around 10 minutes or so, along with Michael Keaton as Batman.
Testimony at the trial also revealed Amber Heard as Mera originally was supposed to have a big romantic arc with Jason Momoa in the sequel as part of earlier drafts and be featured in a major battle at the end of the film; however, it seems that due to it said Amber Heard didn't have any chemistry with Momoa in the first film that her role has been reduced in the sequel. It also came out in the trial that Amber Heard only appears as Mera in the first part of Aquaman 2 with something about a hospital and a baby as a way to write Mera out, but that Mera returns at the end of the film to help wrap things up.
As I said before, Warner Bros. could be deciding to either keep Amber Heard in Aquaman 2 or remove her depending on how long the hype train goes on for, and with it said Michael Keaton is appearing in Aquaman 2, they might have even longer to decide, because if Michael Keaton appears as Batman in Aquaman 2, The Flash movie needs to get released first, so Aquaman 2 may swap The Flash's June 23, 2023 release date.
Aquaman and the Lost Kingdom is directed by James Wan and presently has a March 17, 2023 release date.