Zachary Levi unveils the Shazam! 2 poster that was released during the recent DC FanDome virtual convention where the official title of the flick, "Fury of the Gods," was revealed.
Director David F. Sandberg tweeted a low-res version, so Levi took to Instagram on Thursday to reveal a better quality version (see below):
This poster may be unofficial, but it officially warms my heart and gets me mad excited to bring more @shazammovie to y'all as soon as humanly (or superhumanly) possible! Thanks to everyone who came out for @dccomics #fandome, including @sinbadbad for being such a team player and going along with the zany fun. #angryraccoons #rabiddogs #unicorns @flowsupps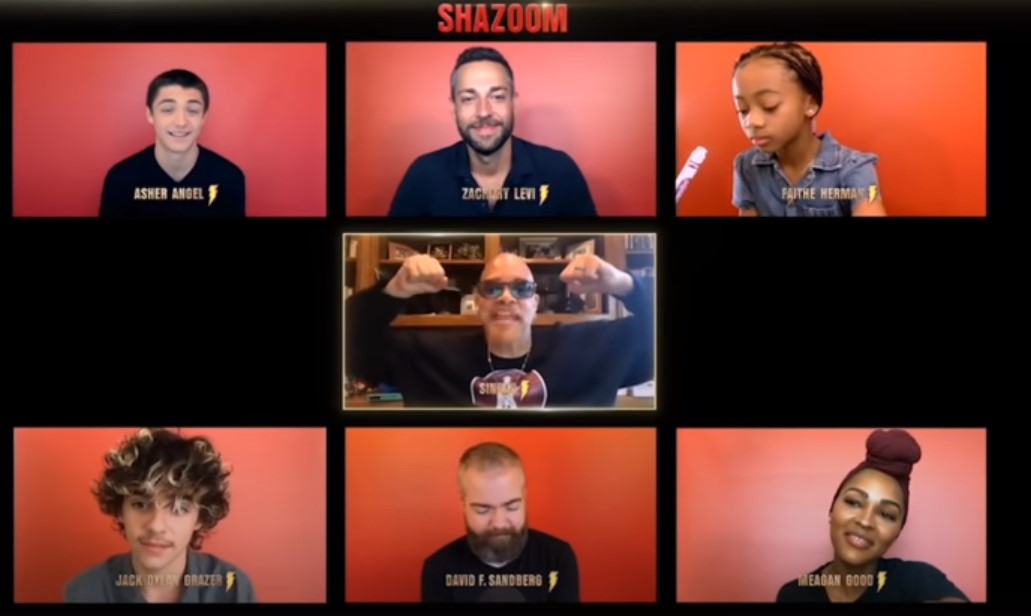 Sinbad wants to be in Shazam! 2
What is interesting is that the poster happens to feature Sinbad who appeared during the panel at DC FanDome where he stated he wants a role in the sequel, so maybe it's going to happen.
"Wait, wait, wait. Is that Sinbad the comedian?" questioned Meagan Good when Faithe Herman showed off the poster.
"Hang on a second. Somebody is trying to call in here," said Levi. "Maybe that's Adam."
Sinbad then appeared on the screen.
"What it look like, y'all!" said Sinbad with a laugh.
"It looks like you!" replied Levi. "Hold on a second. Sinbad, are you in Shazam! 2?"
"Well, you tell me, John Krasinski, am I?" joked Sinbad. "Because everybody thought I was in Shazam! one before it even existed. Google it. I'm number three on the Mandela List, alright."
"Oh, I am so confused!" laughed Jack Dylan Grazer.
"You confused!" replied Sinbad. "You try living a world where everybody, I mean everybody, I mean my family, everybody, thinks you starred in a film called Shazam! when it didn't even exist."
Levi then asked," Wait to you mean Kazaam [referencing the 1996 movie starring Shaquille O'Neal]?"
"No, no, no," said Sinbad as he pounded his fist. "People think I starred in that one, too. Shazam. Kazaam. All the Kazaams. I'm relegated to the false memories of an entire generation, man! I'm here right now to rectify this situation once and for all with a big prominent role in Shazam! 2! Thank you very much."
Levi responded, "I'm not so sure you can just demand that."
"I got range, man. I can play like anything!" replied Sinbad. "I can play like good guy, bad guy, I can play Shazam's trainer. And great news, David! I already started working out for the movie! Check this out, man [flexes]! I'm going to look so good! I'll even do nude scenes! Little booty, not a lot."
Levi quickly interjected, "Faithe! Don't draw that!"
Adam Brody then appeared in the panel and said, "The plot 2 for Kazaam 2 is going to be crazy."
"I know, man, I am going to be in that one, too!" cackled Sinbad.
Faithe revealed the poster with the official title, "Fury of the Gods."
"Starring Sinbad, finally!" said the comedian as director David F. Sandberg shook his head back and forth.
Shazam!: Fury of the Gods has a Nov. 4, 2022 release.
Shazam! 2: Fury of the Gods poster: