Wonder Woman 1984 catapults Diana Prince and Steve Trevor into the vibrant world of the '80s, something arguably more like a Marvel movie such as Guardians of the Galaxy or Thor: Ragnarok.
It's revealed that the tone of Wonder Woman 1984 is – perhaps drastically – a lot different than the first movie, which fit into the DCEU created by Zack Snyder.
The latest issue of Total Film Magazine features interviews with the cast where Chris Pine offers that Steve Trevor is the complete opposite from the character in the first movie:
"What I will say about him is that he's deeply, supremely excited," says Pine. "He's excited to be back with Diana. He's excited about this world. Tonally, what's different is, he's not world-weary. He's not jaded. It's a complete 180 from the tone of the character of the first one."

Whereas in Wonder Woman, it with the eponymous superhero who was a fish out of water, in 1984, it's Steve. "I thought it was a nice idea," he smiles. "It's a brilliant move on [director] Patty [Jenkins'] part. That's just one clear indication of a big tonal shift this time out."

In fact, Pine reveals that Jenkins had the idea some time ago to bring back Steve. "Patty, towards the end of the first one, had been marinating on an idea," he says. "So yeah, I had an idea that I would come back. I think she may have even started to break the story while we were promoting [the first film]."
Gal Gadot also added her character is a lot different as well:
"In the first movie, [Diana] really is a fish out of water, coming from Themyscira into man's world, and learning about the complexities of human life, really," Gal Gadot says. "In Wonder Woman 1984, she's been around. She's wiser. She's more mature. She's guarded. She lost all of her friends throughout the years. But she's still doing the right thing. But she is different than when we last saw her."
Regarding the big shift in tone, Gal Gadot also previously explained back in December that they wanted to give up using the sword and shield because it's too aggressive:
Wonder Woman does not carry a weapon. We had an intention to let go of the sword, because there's something very aggressive with a sword. If you have a sword, it means you need to use it. So we wanted to give that up. And we didn't feel that the shield was necessary either. She's a goddess, she can fight, she's super strong, and she has the skills. So no, she has the gauntlets. She has the lasso. She has her tiara and that's about it.
Check out a new image below featuring Chris Pine and Gal Gadot as well as the Wonder Woman 1984 covers for Total Film magazine which is available Friday.
Wonder Woman 1984 gets released Oct. 2 directed by Patty Jenkins and also stars Kristen Wiig as The Cheetah, Pedro Pascal as Max Lord, Robin Wright as Antiope, and Connie Nielsen as Hippolyta.
Wonder Woman 1984 Chris Pine and Gal Gadot: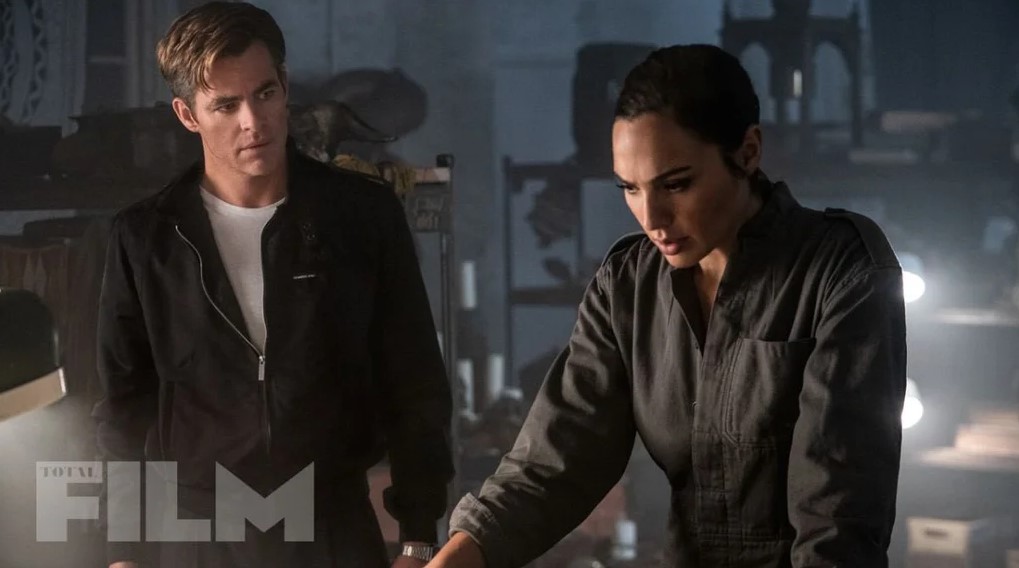 Wonder Woman 1984 Total Film magazine covers: