Gal Gadot lets it be known that her titular character in Wonder Woman 1984 will be ditching the iconic sword and shield she wielded in the previous movie and for Zack Snyder in Batman vs. Superman, and in the Justice League film.
Gal Gadot offers up that they wanted to give up using the sword and shield because it's too aggressive:
"Wonder Woman does not carry a weapon. We had an intention to let go of the sword, because there's something very aggressive with a sword. If you have a sword, it means you need to use it. So we wanted to give that up. And we didn't feel that the shield was necessary either. She's a goddess, she can fight, she's super strong, and she has the skills. So no, she has the gauntlets. She has the lasso. She has her tiara and that's about it."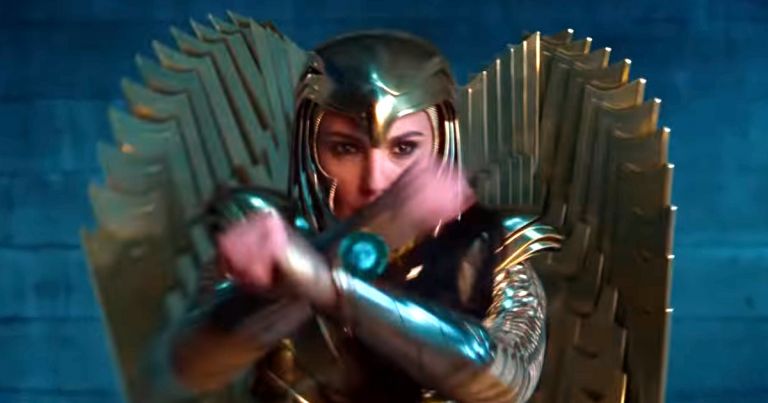 Wonder Woman will have no sword and shield but gets Golden Eagle Armor
If I had to guess, I also think the reason for ditching the sword and shield is because Wonder Woman simply doesn't need it. The villains of the flick are Maxwell Lord and Cheetah, villains hardly worth needing a god-given sword and shield to do battle against, which is something Wonder Woman needed to slay monsters such as Ares, Doomsday, and Steppenwolf.
The change also fits with the goofier approach to the film, which is something the trailer revealed, as Wonder Woman 1984 seems to be going with a less serious approach, something more similar to the MCU popcorn flicks such as Thor: Ragnarok and Guardians of the Galaxy, compared to the Snyder DCEU films and first Wonder Woman movie.
Wonder Woman does get the Golden Eagle armor, but why she would need that and not a sword and shield is anybody's guess (maybe to fly or for added protection?).
Hopefully, everything still turns out fine.
Wonder Woman 1984 gets released June 5, 2020 release directed by Patty Jenkins starring Gal Gadot as the titular character, Chris Pine as Steve Trevor, Kristen Wiig as The Cheetah, Pedro Pascal as Max Lord, Robin Wright as Antiope and Connie Nielsen as Hippolyta. Charles Roven, Deborah Snyder, Zack Snyder, Patty Jenkins, Stephen Jones and Gal Gadot are producing the film. Rebecca Roven Oakley, Richard Suckle, Wesley Coller, Geoff Johns and Walter Hamada are the executive producers.
Synopsis: Fast forward to the 1980s as Wonder Woman's next big-screen adventure finds her facing all-new foes.
Wonder Woman 1984 trailer:
(via Cine Pop)