Just as I predicted, Sony has now announced Venom 2 will be delayed as its release date has been pushed back from September 24 to October 15.
As many took notice of with the latest trailer release, the Venom 2 trailer only stated a Fall release and didn't give anything more specific.
Thursday saw Sony confirms the news of the October 15 release date, which puts the flick against Universal's Halloween Kills.
Deadline also offers Sony may release Hotel Transylvania 4 in Venom 2's old date of Sept. 24 but it's not set in stone just yet.
A week prior to Oct. 15 is the release of James Bond: No Time To Die and a week after is Dune, so the schedule is getting rather crowded.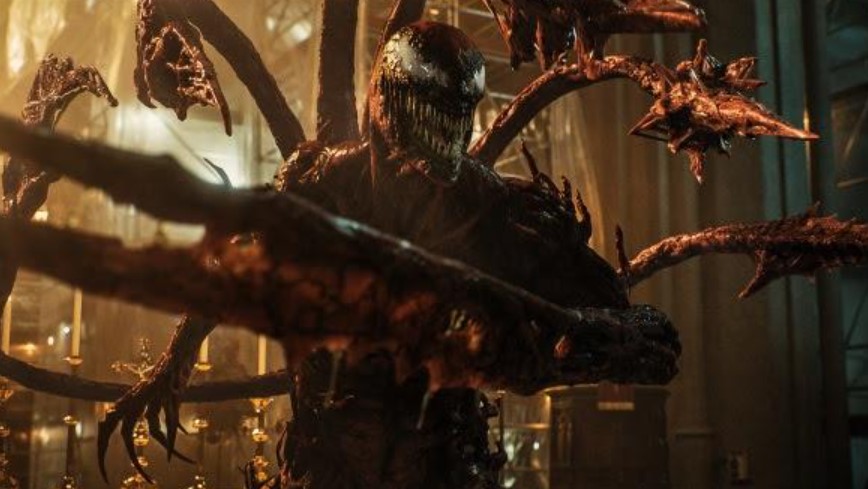 Venom 2 now gets released on Oct. 15
Regarding why the release date has been pushed back, it's claimed to be because of coronavirus concerns, but it's still not clear if that is a factor as to why people are not going to theaters as every other event has been pretty much packed with people in attendance (sports games, festivals, vacations, etc.).
The post-covid releases really haven't been any good (Black Widow) which is probably the real reason why the box office has been bombing.
Also as I wrote a few days ago, Sony may be thinking of delaying the release of Spider-Man: No Way Home as well, as marketing hasn't yet started with the movie only three months away: no trailer, no poster, no hype, nothing.
The first Venom movie made almost $900 million for Sony in 2018, so with Carnage and Woody Harrleson added to the flick, Sony obviously is hoping for a higher box office and doesn't want to gamble on fans not going to theaters.
The same can be said for Spider-Man: No Way Home out in December, as with its huge cast, it should be an easy billion-dollar movie.
(via Deadline)