Sony continues filming the Uncharted movie in Germany as Tom Holland and Mark Wahlberg have been spotted on the set.
The pics out of Berlin offer a look at Tom Holland who plays the young Nathan Drake, with Mark Wahlberg playing fellow treasure hunter Victor "Sully" Sullivan, a fortune seeker, businessman, friend, mentor, and father figure to Drake.
Recently on Instagram Live, Holland gave an update about filming and joked that he suffered an injury in a "revealing area" but that he couldn't show it on social media as he would "get shut down" if he showed off the big bruise.
"Filming is going so well. The film is like, everything I dreamed it would be," said Holland. "I mean, I don't know if you guys played the games, but I was such a huge fan of the game, and it's been going so well."
Following the completion of filming on Uncharted, Tom Holland will start to film the untitled Spider-Man 3 for Marvel and Sony.
More pics are up at Just Jared.
Tom Holland, Mark Wahlberg on the set of Uncharted: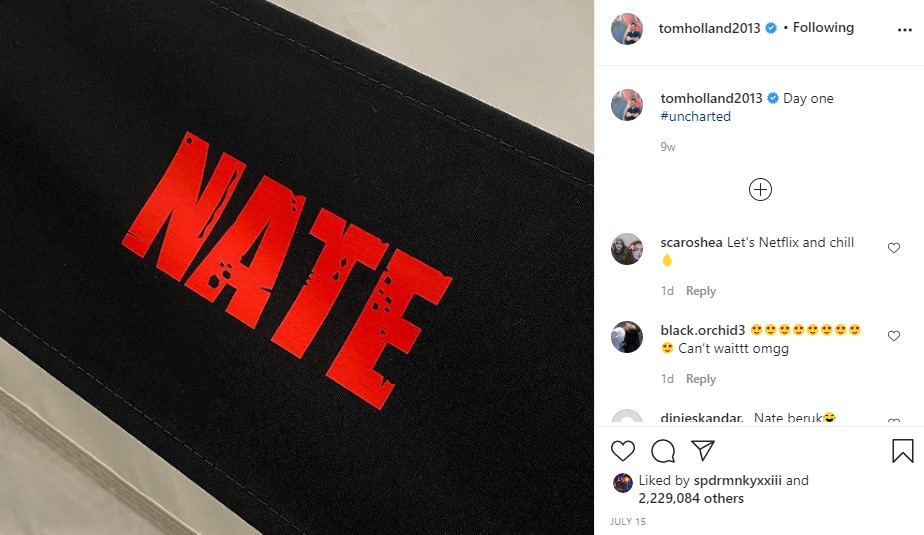 Uncharted is based on the popular video game franchise
The Uncharted movie is based on the popular video game franchise and has been described as featuring a new story that focuses on the young thief Drake and his first encounter with the professional rogue, Sullivan.
Holland plays the young Nathan Drake as "Nate" grows into becoming the treasure hunter everyone knows from the video games.
The film also stars Antonio Banderas in an unknown role, Tati Gabrielle and Sophia Ali.
Uncharted is directed by Ruben Fleischer, who directed the first Venom movie for Sony, and gets released on July 16, 2021, the former release date for Spider-Man 3, which now gets released Dec. 17, 2021.
Tom Holland can also be seen along with new Batman Robert Pattinson in The Devil All the Time out now on Netflix, has Cherry in the works with the Russo Bros., and Chaos Walking also starring Star Wars actors Daisy Ridley and Mads Mikkelsen comes out Jan. 21, 2021.
In addition to Uncharted, Mark Wahlberg has Good Joe Bell out now, and Wahlberg will be starring in the new sci-fi thriller Infinite with Dylan O'Brien, and The Six Billion Dollar Man, a remake of The Six Million Dollar Man.