The Mandalorian Nielsen ratings have seen a big drop of nearly 40% from the Season 2 finale to the Season 3 premiere.
In December 2020, the week when the Season 2 finale of The Mandalorian was released, Dec. 14-20, the show secured the top spot on the Nielsen ratings weekly U.S. streaming chart with 1.34 billion minutes viewed, which marked the first time a non-Netflix show took the top spot.
However, it's a different story for the start of The Mandalorian Season 3, as the first episode that debuted on March 1 during the week of February 27 – March 5, 2023, The Mandalorian only has 823 billion minutes viewed, which is a drop of 38.5% in minutes viewed.
Worth a mention is that the ratings aren't just for one single episode and take into account all the available episodes viewed, so back at the Season 2 finale in December 2020, more people could have been watching additional episodes compared to the start of Season 3.
However, the Season 2 numbers saw The Mandalorian average around a billion minutes viewed each week, with the Season 2 premiere week having 1.032 billion minutes viewed, so we see there is some kind of decline by at least around 20%.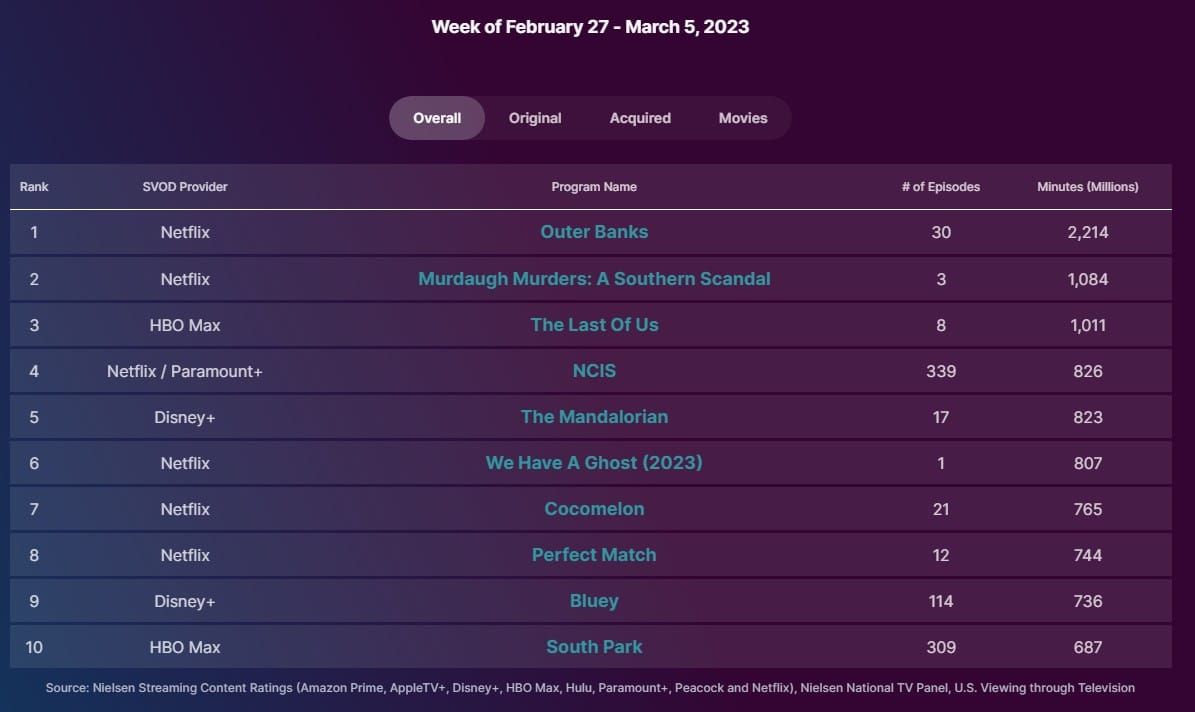 Are The Mandalorian ratings cause for concern?
There will be a cause for concern if the minutes viewed don't increase or even decrease for The Mandalorian Season 3 in subsequent weeks (look for next week's Nielsen ratings numbers for more), which is something suggested by various insiders and scoopers who have basically said the ratings are a disaster.
Samba TV actually reports The Mandalorian Season 3 premiere was watched by more households than the Season 2 finale, 1.6 million to 1.1 million, so again, we'll have to see what the Nielsen ratings report in the coming weeks for a better picture but so far, the Season 3 Nielsen numbers are off compared to Season 2.
It has been over two years since The Mandalorian Season 2 aired and fans have been put off by The Book of Boba Fett which was terrible save for those two Luke episodes, Obi-Wan was mediocre at best and people tuned out Andor (it's a good show, just stick with it), so maybe fatigue is setting, fatigue of poor quality that is.
The Mandalorian Season 3 premiere episode also happens to be the lowest-rated on Rotten Tomatoes and IMDb.
Disney CEO Bob Iger has said he is taking a careful look at Star Wars, so there is obviously something wrong, and it has been reported Disney ordered Lucasfilm to cancel a planned Indiana Jones series to concentrate on fixing Star Wars and even that if the head of Lucasfilm, Kathleen Kennedy, doesn't get a new Star Wars movie released soon (it has been four years) she will be removed from her position.
Star Wars Celebration Europe takes place next week where new announcements are expected with further information on their upcoming shows including Ahsoka, Skeleton Crew, and The Acolyte.