It's claimed that Jon Favreau and Dave Filoni will be moving to the movie side of things for Star Wars, which adds fuel to the rumors that Kathleen Kennedy's role at Lucasfilm is diminished.
The rumor comes via YouTuber Grace Randolph on Twitter.
"Whoa – I hear Jon Favreau and Dave Filoni are in talks to head over to the movie side of Star Wars," Randolph tweeted Tuesday. "That would be BRILLIANT."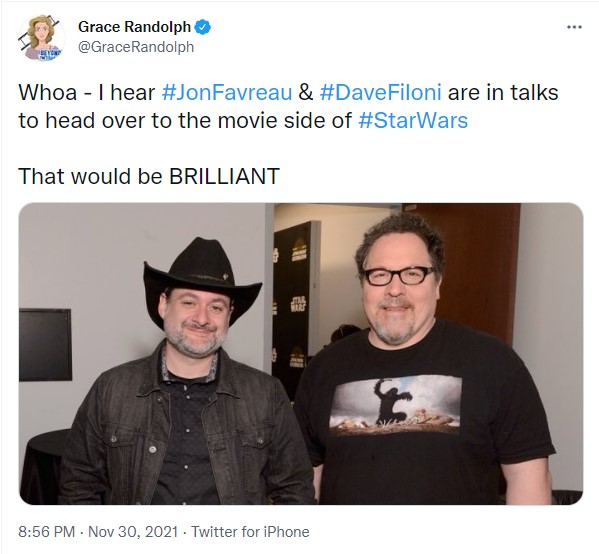 Star Wars: Kathleen Kennedy could be out
Of course, the pair are known for creating the smash-hit Star Wars series on Disney Plus, The Mandalorian, and are behind the spinoffs which include The Book of Boba Fett that gets released next month and the Rosario Dawson live-action Ahsoka series that is in the works.
Both are lifelong Star Wars fans, and Filoni is also the Executive Creative Director at Lucasfilm and helped develop the popular Star Wars: The Clone Wars animated series and Star Wars Rebels.
Interestingly enough, the rumor follows the Patty Jenkins Star Wars: Rogue Squadron movie getting canceled, a film under Kennedy.
Presently, and following the release of Star Wars: The Last Jedi, there are no new Star Wars movies in development.
Regarding Kathleen Kennedy, rumors have offered that a Star Wars "civil war" has been taking place at Lucasfilm between Kennedy and her camp, and Favreau and Filoni, which if this rumor is true means Favreau and Filoni have "won."
The rumor also follows the recent release of the Disney investor report which showed that Disney Plus subscriptions have significantly slowed, so much so, that Wall Street investors are now doubting Disney Plus and the ability of the Star Wars and Marvel brands to create enough subscriber interest.
Now Jon Favreau and Dave Filoni are said to be tackling Star Wars movies, which would be huge, and we can also guess they would still be involved with the TV side of things on Disney Plus for Star Wars.
Under Kathleen Kennedy, Disney Star Wars took a beating as Kennedy's approach wasn't in line with any of the previous George Lucas movies and was rejected by the fans. Kennedy and her production team are also said to have butted heads with many of Kennedy's choices to tackle her Star Wars projects, which includes the most recent reason why Patty Jenkins left, as it is reported Jenkins departed Disney Star Wars over "creative differences."