It's claimed that Kathleen Kennedy has renewed her Lucasfilm contract with Disney for another three years which includes Star Wars and Indiana Jones.
The info comes from two separate sources, as Disney leaker WDWPro first claimed Kennedy silently renewed her contract, and then in the article from former Hollywood Reporter editor Matthew Belloni about how the Star Wars movies should be taken away from Kathleen Kennedy, which follows the Patty Jenkins Rogue Squadron film getting canceled, it's also said:
Kennedy has a lot of good things happening at Lucasfilm, and I'm told she recently re-upped her deal for another three years.
Kennedy's renewed her contract back in 2018 for three years, which meant she could have left Lucasfilm this year, but apparently she's sticking around until 2024.
While a lot of fans are upset by the news, it's not necessarily all that bad.
Kathleen Kennedy contract extension might not be all bad for Star Wars
If it is true and Kathleen Kennedy did renew her Lucasfilm contract and Disney didn't make a big announcement about it, that's pretty huge and is telling.
Why not announce it?
Obviously, because Disney has been feeling the heat about its Star Wars brand and realizes fans don't like Kennedy at all and that it hasn't been successful. There has been lots of behind-the-scenes drama and problems from the get-go, and Star Wars hasn't been as successful as Disney has hoped, which is evident by the fact that following The Last Jedi, Disney investor reports confirmed Star Wars was going downhill (the same is now happening with Marvel). Sure, Star Wars has made billions of dollars, but it should have made more (Disney is a corporation after all), and it's not bringing in Disney Plus subscribers.
Following the most recent release of its investor report, a pair of Wall Street analysts admitted they have doubts about Disney Plus and are skeptical about both the Star Wars and Marvel brands' ability to build an audience comparable to Netflix, and coupled with the amount of Disney Plus subscribers growth slowing, Disney stock has dropped as a result.
Disney can only keep putting out bad content for so long until its bottom line takes a hit, and then investors react, which is playing out now.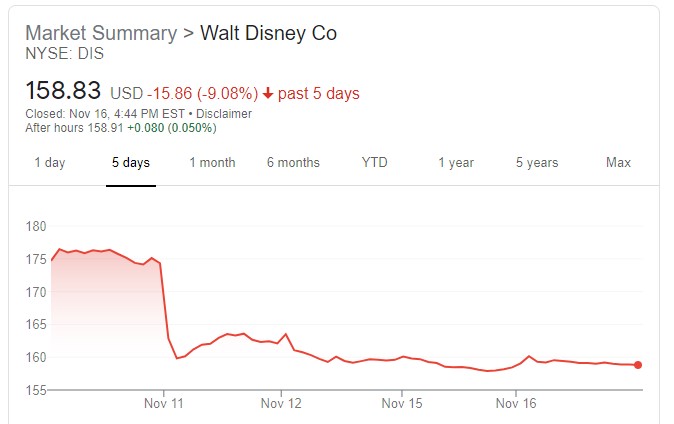 Disney stock down following most recent investor report
Kathleen Kennedy likely has little involvement with Star Wars
So what's going on with Kathleen Kennedy?
With Rogue Squadron canceled, presently, there are no new Star Wars movies in production. The Rise of Skywalker came out in 2019, so if by chance, a new Star Wars movie starts filming sometime next year, more than likely it won't see the light of day until 2024. That's five years without a Star Wars movie, and 2024 is when Kennedy's contract will be up again, so we see how things are lining up. Remember how at one time a new Star Wars movie was supposed to be released every year?
Kennedy has a lot of pull in Hollywood, so it seems as if Disney is letting her finish Indiana Jones 5, and regarding Star Wars, she looks to be involved with the Obi-Wan Kenobi series, hence the Darth Vader vs. Obi-Wan fan service, and also with Andor and The Acolyte (I'll be surprised if The Acolyte sees the light of day).
Kathleen Kennedy looks to have nothing to do with the shows from Dave Filoni and Jon Favreau with The Book of Boba Fett, The Mandalorian, and Ahsoka, so the writing is on the wall that her involvement with Star Wars is at a bare minimum.
The Rian Johnson Star Wars trilogy is again said to be canceled, Patty Jenkins is no longer involved with Rogue Squadron, Kevin Feige's Star Wars movie isn't in production and has recently been said to have dropped Eternals director Chloe Zhao, and the Taika Waititi Star Wars movie looks to be years away as well — with the latter two possibly happening following Kennedy leaving Lucasfilm or near the end of her tenure.