We may have the answer why the Venom move won't be rated R–because Spider-Man might make an appearance.
While promoting the movie, director Ruben Fleischer may have inadvertently dropped a bomb when he attempted to sidestep questioning about Spider-Man appearing in the film.
"I honestly don't know what I'm allowed to say," Fleischer told the LA Times. "I mean, I know the answer — I've seen the movie. But I don't want to get in trouble for saying something I'm not supposed to."
It seems pretty obvious if Spider-Man wasn't in the movie that it would be a simple "no," but it has been rumored Tom Holland actually filmed scenes, just not as Spider-Man, but as Peter Parker.
It has also been reported that Sony is currently developing their big SUMC, where they want Spider-Man and Venom to crossover, with not only each other, but other characters from Marvel Studios including the Avengers, which is why Venom won't be rated-R.
The previous report made mention that Sony doesn't want Venom to be too dark and gory as it "could preclude other film match-ups, not just with Peter Parker's alter-ego, but also with other members of the extended" MCU.
It's said Tom Hardy and director Ruben Fleischer have been working to inject humor into the story of journalist Eddie Brock whose body and mind are taken over by an alien symbiote.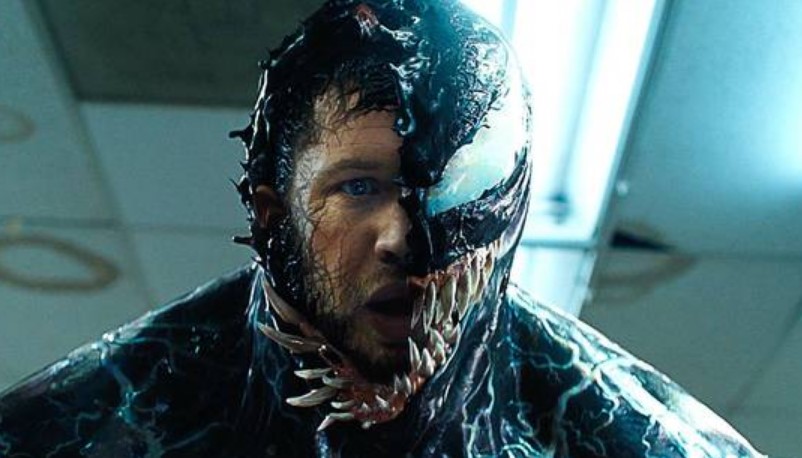 So assuming Venom isn't rated-R and the Spider-Man rumors are true, we see Sony wants to keep a fine line between making the symbiote too dark or too much like a Marvel "popcorn" flick.
"I feel like the casting, the aesthetic and the character himself all combine to make something that just feels different," Fleischer told the Times. "Tonally it doesn't remind you of other movies. It doesn't feel like we just tried to do what everyone else is doing…. The DC universe is so aggressively dark and the Marvel universe has become so light. It was kind of exciting to craft something that just felt a little bit more real and grounded and in our world."
Venom
The film has an October 5, 2018 release also starring Michelle Williams, Riz Ahmed, Scott Haze, Reid Scott and Ron Cephas Jones, with the movie described as: One of Marvel's most enigmatic, complex and badass characters comes to the big screen, starring Academy Award nominated actor Tom Hardy as the lethal protector Venom.
Watch the trailer: