Sony continues expanding their Spider-Man cinematic universe as it is learned a Madame Web movie is in development from the writers of Morbius, Matt Sazama and Burk Sharpless.
In the comics, Madame Web is actually a mutant who has precog powers and has been an ally of Spider-Man at times and is involved with the various Spider-Woman characters.
The character first appeared in The Amazing Spider-Man #210 (November 1980) created by Denny O'Neil and John Romita Jr.
Madame Web, aka Cassandra Webb, is a paralyzed, blind, telepathic, clairvoyant, and precognitive mutant, that works as a professional medium. She once helped Spider-Man locate two missing persons, and while doing so, was able to discern the true identity of Spider-Man, though later she lost her memory of his identity.
As she is paralyzed, her husband created a life support system that resembles a spider's web, hence the name Madame Web.
Regarding Spider-Woman, she is the grandmother of the fourth Spider-Woman, the supervillain Charlotte Witter, and she has passed her powers to the second Spider-Woman, the superheroine Julia Carpenters.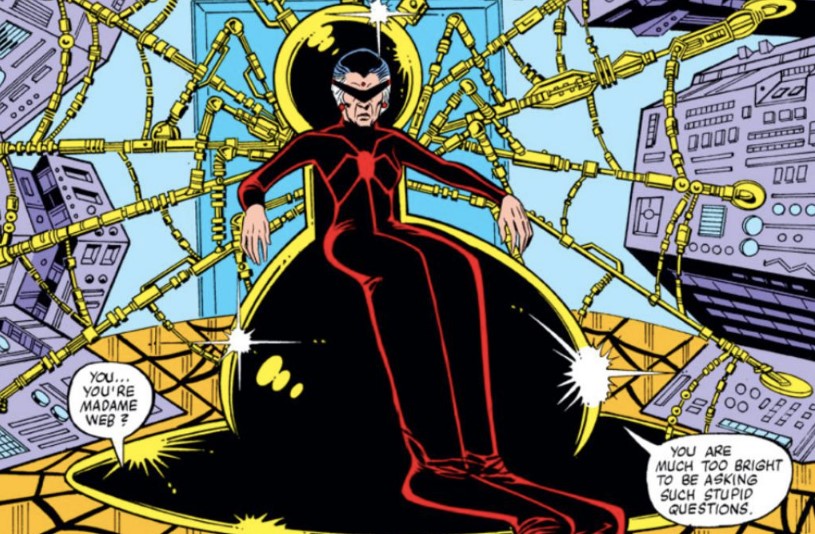 Madame Web added to Sony Spider-Man Universe
What is also rather interesting about Madame Web is that she has been involved in storylines dealing with the multiverse, including in the Spider-Man: Shattered Dimensions video game.
It could be possible that Sony may be using the Madame Web movie to bring in live-action versions of other Spider-Man characters, including Miles Morales.
In addition to Madame Web being in development, Sony has the Jared Leto Morbius movie coming out July 31, 2020, the Venom sequel on October 2, 2020 and is developing movies for Kraven the Hunter, Black Cat, Silver Sable and more.
Spider-Man 3 is also in the works and will feature Tom Holland, with the character presently out of the MCU as talks have broken down between Sony and Disney Marvel.
(via Collider)