Happy birthday to Ryan Reynolds who turns 44 years young today and who also happens to "like" a Green Lantern Snyder Cut tweet.
A photoshopped image of Ryan Reynolds as Green Lantern with the Snyder Cut of the Justice League was tweeted to the actor wishing him a happy birthday.
"HBD Ryan Reynolds — May (most of your) wishes come true," tweeted Fandom.
Fans on the DC_Cinematic Reddit were quick to pick up that Reynolds saw the tweet and gave it a "like."
Ryan Reynolds likes a Green Lantern Snyder Cut Happy Birthday tweet: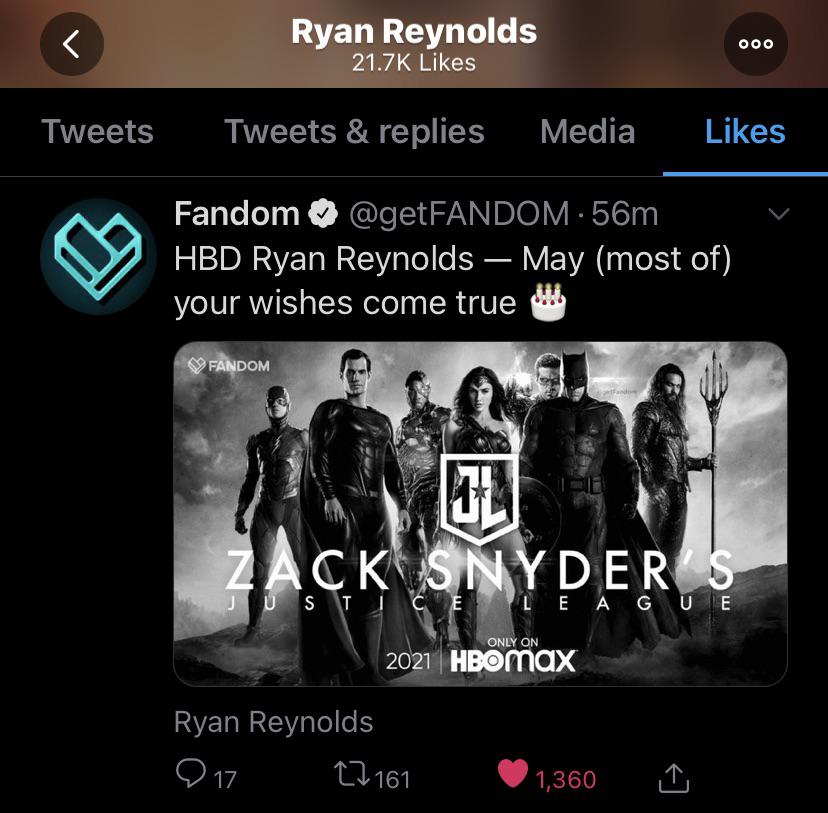 Ryan Reynolds rumored back as Green Lantern for Snyder Cut
Ryan Reynolds has been rumored to return as Green Lantern from the 2011 movie for the Snyder Cut for some time.
Recently saw it also rumored that a big announcement would likely be coming soon, which follows the news of Zack Snyder bringing back Jared Leto as Joker as well as Joe Manganiello as Deathstroke.
Of course "liking" a tweet doesn't necessarily confirm anything, but for fans that are hoping the rumors are true, Reynolds has previously supported the Snyder Cut.
Back at the CCXP convention in 2019, Reynolds name-dropped the Snyder Cut to the roar of the crowd.
In addition to Ryan Reynolds as Green Lantern, there are lots of rumors surrounding the Snyder Cut, as it's thought that if the Snyder Cut is a huge success that it will lead to a "Snyder Verse" exclusively on the HBO Max streaming service which will involve additional projects including Justice League movies, a Ben Affleck and Joe Manganiello Batman spinoff series, possibly a solo Deathstroke series, and maybe even the Jared Leto Joker will continue on in HBO Max projects.
Today also happens to be Emilia Clarke's birthday, which Reynolds had some fun with:
Excited to announce February 29th as Emilia's new birthday. Congratulations! ——

— Ryan Reynolds (@VancityReynolds) October 23, 2020