Robert Downey Jr. took to the stage as a surprise guest at the Rolling Stones concert at the Rose Bowl to announce that NASA has named a Mars rock after the famous rock band.
The official NASA Jet Propulsion Laboratory YouTube channel posted video of the event (watch below) noting:
Before The Rolling Stones took the stage at the Rose Bowl Stadium for a concert on Aug. 22, 2019, actor Robert Downey Jr. announced to the crowd that a rock on Mars had been named for the band by NASA's Mars InSight lander team. InSight's retrorockets sent "Rolling Stones Rock" rolling about 3 feet (1 meter) as the spacecraft touched down on Mars on Nov. 26, 2018. It's the farthest NASA has seen a rock roll after landing a spacecraft on another planet. A little larger than a golf ball, the rock is about 2.2 inches (5.5 centimeters) in diameter and 1 inch (2.4 centimeters) in height. A series of divots marked its course after being set in motion by the landing. The Jet Propulsion Laboratory (JPL), a division of Caltech, manages InSight for NASA. JPL is located about three miles away from the Rose Bowl in Pasadena, California.
The video shows that Robert Downey Jr. came out on stage giving the sign of the horn as well as playing air guitar and making the peace sign, waving to the crowd and holding a fist in the air.
"Yeah! Alright. Wow. Let me take this in," the star of the Avengers: Endgame said. "I don't know if y'all are aware, but it is Full-Circle-Thursday. I've been entrusted with gathering support for a very cool and cosmic cause."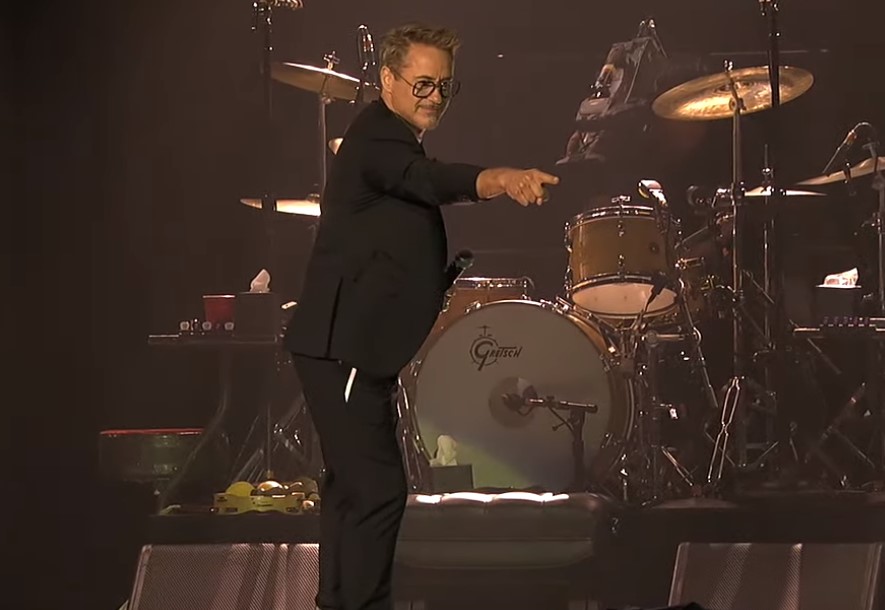 Robert Downey Jr. announces the Mars Rolling Stones Rock at the Rose Bowl
Robert Downey Jr. continued with mention he loves an origin story.
"In 1964, two epic launches occurred. The first Rolling Stone album! And Mariner 4, which was the first Mars flyby satellite, but here's the synchronistic part, recently NASA's first interplanetary West Coast launch to Mars was a resounding success. Kind of like the 'No Filter Tour,'" Downey Jr said. " While landing on the Red Planet's surface, it displaced a rock that rolled a fair distance in view of its onboard cameras. Some scientists at NASA's jet propulsion laboratory, in a fit of fandom and clever association, they put forth, 'Why don't we name it Rolling Stones Rock?'"
Robert Downey notes that Charlie, Ronnie, Keith and Mick weren't opposed to the notion, but "in typical egalitarian fashion they suggested I assist in procuring 60,000 votes to make it official. So that's my mission."
Robert Downey Jr. then asked the Rose Bowl crowd, "All those in favor of naming it Rolling Stones Rock say 'aye!'
"Good, I second the motion," he continued. "Can we move to close the vote with an exuberant cheer on 3? I think it needs to be heard on Mars. '3-2-1! Hey-ya-yo!" Downey Jr. cheered. "Alright, this was rad. Thank you for letting me be a part of history. It is going to be a great show! As usual!"
Check it out: