The petition to remove Amber Heard from Aquaman 2 has reached a record high, which follows the verdict being read in the Johnny Depp defamation lawsuit moments ago.
The jury found in unanimous favor of Johnny Depp and awarded the actor $15 million while also stating Amber Heard acted with malice and that her statements made in the Washinton Post Op-Ed are false.
As a result, the "Remove Amber Heard from Aquaman 2 Petition" (via change.org) continues to climb as it is now over 4.44 million signatures and is fastly closing in on 4.5 million signatures.
"Amber Heard has been exposed as a domestic abuser by Johnny Depp," states the petition which is aimed at DC and Warner Bros. "In his $50 million lawsuit, Johnny Depp describes many incidents of domestic abuse that he suffered at the hands of his (then) wife Amber Heard, including one incident where she punched him twice in the face and another where she shattered his finger with a vodka bottle, and his finger had to be surgically reattached. He will bear the scar from that for the rest of his life."
The petition continues, "Also, Amber Heard was arrested in 2009 for abusing a former domestic partner, Tasya Van Ree, demonstrating a repeated pattern of abuse by Amber Heard. Since Heard's divorce from Johnny Depp, she has systematically crusaded to ruin Depp in Hollywood, repeating multiple accounts of fake incidents in which she had actually abused Johnny Depp, but lied and created false accounts of him being the abuser. About the incident during which she shattered the bones in Johnny Depp's finger and nearly severed it, causing Depp to require surgery to reattach and repair it, Heard presented a false story claiming that he cut off his finger himself, dipped it in paint and scrawled obscenities all over the walls."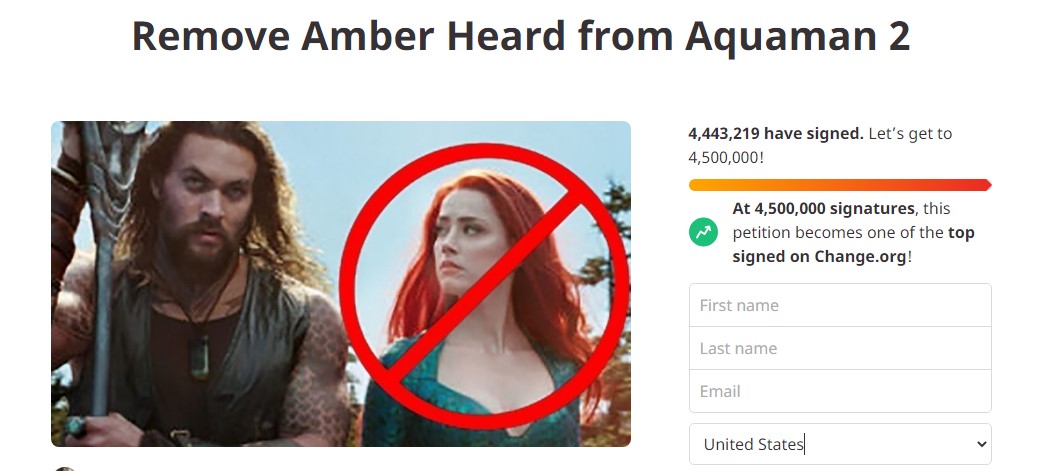 Amber Heard spoils Aquaman 2
During the six-week trial, it came out that Amber Heard's role as Mera in Aquaman 2 has been greatly reduced compared to the first movie. Johnny Depp's legal team had the current head of DC films, Walter Hamada, take the stand to testify the reason Amber Heard's role as Mera has been reduced is due to her lack of chemistry with star Jason Momoa. Hamada also rebutted statements made by Heard that she had been released from her DC contract.
The trial also saw a witness for Amber Heard reveal specific spoilers in regards to Mera in Aquaman 2 in that Amber Heard and Mera only briefly appear in the beginning and at the end of the film, with something about a hospital and a baby being involved. Heard and the witness also testified that early drafts of the scripts had Mera involved in a big battle at the end of the movie, but Hamada revealed the movie is more of a buddy comedy surrounding Jason Momoa as Aquaman and Patrick Wilson as Orm.
Aquaman and the Lost Kingdom is directed by James Wan and has a March 17, 2023 release date.